Traditional Southern preparation of black-eyed peas calls for long, slow simmering with fatback, salt pork, ham hocks, or bacon. But black-eyed peas – they're actually beans! – are equally delicious flavored without animal protein.
This pantry-friendly recipe uses warm Greek spices brightened with a splash of fresh lemon juice. It's ready within an hour (depending on how fast you chop the vegetables) and it even tastes better the next day.
Serve with warm pita bread or your favorite grain for a satisfying, nourishing meal.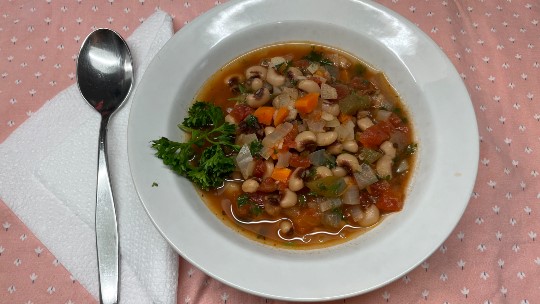 VEGAN GREEK-STYLE BLACK-EYED PEAS
Ingredients
1 Tbsp. olive oil plus more for drizzling
1 large onion, chopped
1 green bell pepper, seeded and chopped
1 carrot, peeled and diced
4 garlic cloves, minced
15 oz. can diced tomatoes with juices
2 cups vegetable broth
1 bay leaf
1 1/2 tsp. ground cumin
1 tsp. dried oregano
1/2 tsp. paprika
1/2 tsp. red pepper flakes
Salt and pepper to taste
2 15-oz. can black-eyed peas, drained and rinsed
1 cup chopped parsley
Juice of one lemon
Instructions
In a large saucepan, heat oil over medium heat. Sauté onion, bell pepper, and carrot until tender, about 5 minutes. Add garlic, tomatoes with juices, vegetable broth, bay leaf, cumin, oregano, paprika, red pepper flakes, and salt and pepper. Raise heat to medium-high and bring mixture to a boil. Stir in black-eyed peas. When mixture is almost to a boil, cover and reduce heat to low. Simmer 25 minutes, stirring occasionally. Remove from heat and stir in parsley and lemon juice. Drizzle each serving with olive oil, if desired. Makes 6 servings.
Hungry for more?
Looking for more meatless (but delicious) recipes? We've got you covered!
black bean enchilada casserole
Black beans are the star of this enchilada casserole. It's easy to make and sure to please anyone in the mood for Mexican food.
mini pepper stuffed "carrots"
These mini peppers stuffed with your favorite cheese are adorable and tasty.
oven-broiled shishito peppers
You may have seen these slender, green peppers in the store or served blistered at restaurants. Once you see how easy they are to prepare at home, you'll be eating them whenever you find them at the store.
papaya salsa
When you decide to to grill fish or chicken outside, make this refreshing salsa to serve with it.
pineapple macadamia nut energy balls
Need a little boost before your workout? How about a pick-me-up to get you through the afternoon? Try a couple of these sweet, nutty morsels to nourish body and mind.
potato spinach frittata
Need to cook a quick meal? Go to your refrigerator and grab eggs and almost any leftovers and make a frittata. Here's a basic recipe to use as a guideline.
taro hummus
Here's a great recipe for taro hummus. Serve as a dip for vegetables or spread it on crackers.
tofu poke
Try this recipe for a tasty dish usually reserved for fish eaters. The key is to buy fried tofu, which can be found at local grocery stores.
ulu fries
Fries made with ulu, or breadfruit, are easy to make and delicious. Candes and Poet Gentry of Eat Pono share their recipe for ulu fries and discuss the history of breadfruit in Hawaii as well as its versatility.
vegan chickpea burgers
Who says burgers have to made out of beef? Not us! Try these hearty vegan chickpea burgers. Bonus: You'll also find our recipe for In-N-Out copycat burger sauce.
bean burger
If you're cutting down on meat or want to eat more plant-based foods, you can have it your way with this vegetable bean burger recipe.
watermelon & cucumber gazpacho
The best part of this refreshing watermelon and cucumber gazpacho? No cooking required! Simply blend everything together and chill.