Some vegan or vegetarian burgers try to mimic the flavor and texture of beef burgers. If you're not into animal protein, your veggie burger doesn't need a meaty texture. All it needs is deliciousness.
This recipe calls for chickpeas and fresh shiitake mushrooms. Adjust spices to your taste.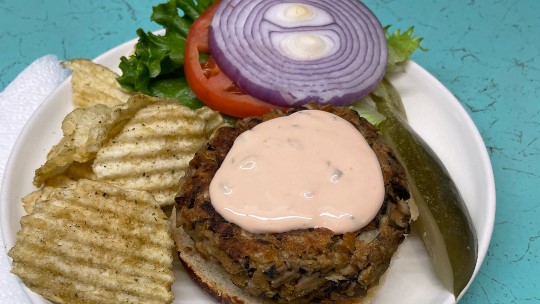 VEGAN CHICKPEA BURGERS
Ingredients
15 oz. can chickpeas, drained and rinsed
1 lb. fresh shiitake mushrooms
2 Tbsp. olive oil, divided
1/2 cup chopped red onion
1/2 tsp. cumin
1/4 tsp. cayenne
1/2 tsp. smoked paprika
1 tsp. salt
1/2 tsp. pepper
3 garlic cloves, minced
3 Tbsp. almond or oat flour
2 Tbsp. nutritional yeast
Instructions
In a medium bowl, mash chickpeas with a fork or potato masher. Set aside. Remove stems from mushrooms and discard. Finely chop the caps. Heat 1 tablespoon of the oil in a large skillet over medium heat. Add mushrooms, onion, cumin, cayenne, paprika, and salt and pepper. Sauté about 10 minutes, stirring frequently, until mushrooms have cooked down. Stir in garlic and cook 1 minute. Turn the heat off and add almond flour, nutritional yeast, and mashed chickpeas. Mix thoroughly and form into patties. Heat remaining oil in a skillet over medium heat and brown patties about 3 minutes on each side. Serve with the following sauce, if desired. Just mix all ingredients in a small bowl. Makes 5 servings.
Copycat In-N-Out burger sauce
1/2 cup vegan mayonnaise
3 Tbsp. ketchup
2 Tbsp. relish
1 1/2 tsp. white wine vinegar
1 tsp. sugar
Hungry for more?
Check out our recipes for more yummy, plant-based meal ideas and snacks.
black bean enchilada casserole
Black beans are the star of this enchilada casserole. It's easy to make and sure to please anyone in the mood for Mexican food.
cottage cheese loaf
Here's a vegetarian "meatloaf" made with the unlikely (but delicious) combination of cottage cheese and Special K cereal. And pecans. This may be the best faux meatloaf you've ever had.
egg drop soup with spinach and tofu
Spinach and tofu give this spin on egg drop soup a heartiness that will fill you up.
green shakshuka
Here's a delicious way to put more dark, leafy greens on your plate – green shakshuka is a variation of the traditional dish, which features eggs poached in a chunky tomato and red bell pepper sauce. Swap out the chard and zucchini with whatever you have in the fridge.
pantry-friendly pumpkin curry
If you're looking for fast and convenient weekday meal, try this healthy pumpkin curry. It's an easy, plant-based dish that comes together in one pot.
potato spinach frittata
Need to cook a quick meal? Go to your refrigerator and grab eggs and almost any leftovers and make a frittata. Here's a basic recipe to use as a guideline.
quinoa and cranberry stuffed acorn squash
Halved and baked acorn squash stuffed with a savory quinoa filling make a festive main or side dish.
ulu fries
Fries made with ulu, or breadfruit, are easy to make and delicious. Candes and Poet Gentry of Eat Pono share their recipe for ulu fries and discuss the history of breadfruit in Hawaii as well as its versatility.
vegan kabocha and red lentil stew
This tasty and filling vegan stew includes kabocha, red lentils, carrots, and spinach.
vegan yellow tempeh curry
Tempeh is a fermented soybean product with a pleasant "chew." This recipe substitutes tempeh for tofu in a flavorful Thai yellow curry.
vegetarian kimchi stew
Our kimchi soondubu jjigae is a simple stew for those who crave spicy. Enjoy it with a bowl of hot rice.
veggie bean burger
If you're cutting down on meat or want to eat more plant-based foods, you can have it your way with this vegetable bean burger recipe.