Going to a potluck? Here's a casserole that's easy to make and transport. It can double as an entrée or side dish to satisfy meat-eaters and vegetarians alike. To tame the heat, substitute Monterey jack for the pepper jack cheese.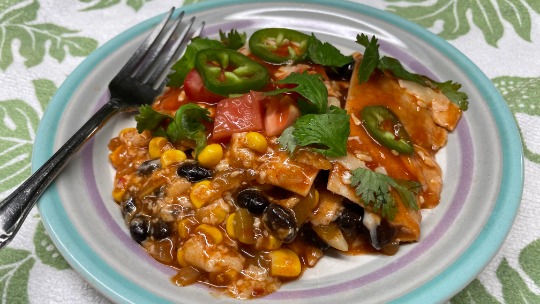 BLACK BEAN ENCHILADA CASSEROLE
Ingredients

1 Tbsp. olive oil
1 medium onion, chopped
4 garlic cloves, minced
2 tsp. cumin
2 tsp. chili powder
15 oz. can black beans, drained and rinsed
15 oz. can corn, drained
7 oz. can diced roasted green chiles, drained
1/2 tsp. salt
Freshly ground black pepper
Cooking spray
28 oz. can enchilada sauce
9 corn tortillas, halved
8 oz. pepper or Monterey jack cheese, shredded
Garnish
Chopped cilantro
Diced tomatoes
Sliced jalapeno
Diced avocado
Nonfat sour cream
Instructions
In a large nonstick skillet, heat olive oil over medium-high heat. Sauté onion until translucent, about 5 minutes. Add garlic, cumin, and chili powder, stirring constantly for 1 minute. Reduce heat to medium and stir in black beans, corn, and green chiles. Remove from heat and season with salt and pepper.
Prepare a 13-by-9-inch baking pan with cooking spray. Spread about 2/3 cup enchilada sauce in the pan, then place six tortilla halves in a single layer on the sauce. Spread half of the bean mixture evenly on the tortillas then add 2/3 cup enchilada sauce. Sprinkle with 1/3 of the cheese.
Repeat layers with six tortilla halves, remaining bean mixture, 2/3 cup enchilada sauce, and 1/3 of the cheese. Add remaining tortilla halves, enchilada sauce, and cheese. Cover with foil and bake in preheated 350 F oven for 25 minutes or until cheese is melted and sauce is bubbly.
Let stand 10 minutes then garnish as desired. Makes 12 servings.