When they're not dyeing eggs or searching for them in the backyard, round up the kids and have them help make these fun and easy Easter-themed recipes. These treats are almost too cute to eat. Almost.
EASTER BUNNY CHOW
Instead of puppy chow, also known as muddy buddies, we're making bunny chow. Pastel candies replace regular ones for a delightful spring snack.
Ingredients
1/2 cup creamy peanut butter
1/4 cup butter
1 cup milk chocolate chips
1 tsp. vanilla
9 cups rice or corn cereal
2 cups powdered sugar, sifted
1 cup Easter candies
Spring or Easter sprinkles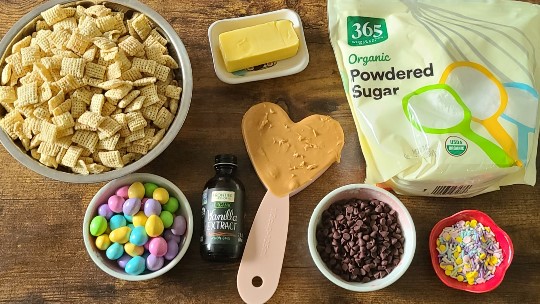 Instructions


Combine peanut butter, butter, and chocolate chips in a microwave-safe bowl. Microwave 1 minute at 50% power, then stir until melted. Depending on your microwave's wattage, you may need to microwave again in 30 second increments until mixture is melted. Add vanilla and stir.

Place cereal in a large bowl and pour chocolate mixture on top. Mix until cereal is evenly coated. Add powdered sugar and toss until evenly coated. Add Easter candies and sprinkles.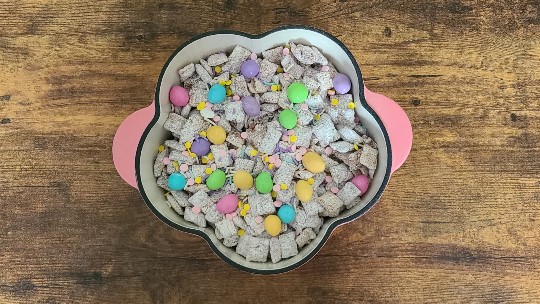 Don't forget to let your little ones taste their creation!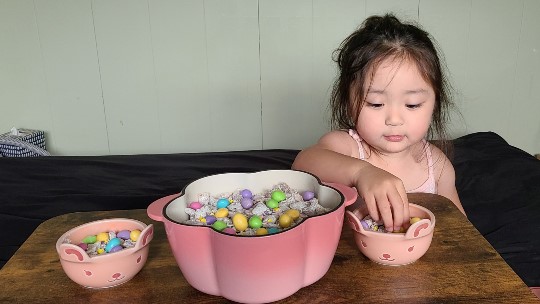 RICE CEREAL NESTS
Who doesn't love crispy rice treats? You only need a few ingredients and there's no baking involved. Kids will enjoy decorating the nests with candy eggs and edible grass.
Ingredients
3 Tbsp. butter
10 oz. bag marshmallows
6 cups crispy rice cereal
Edible grass
Chocolate egg candies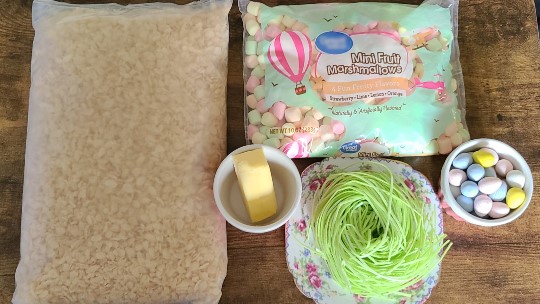 Instructions


In a saucepan, melt butter over medium heat. Add marshmallows and stir until there's no lumps. Place cereal in a large bowl or baking pan and pour the marshmallow mixture over. Mix well.

While mixture is still warm, spray a mini-muffin pan with cooking spray and add cereal. Press the middle of each with your thumb or the back of a spoon.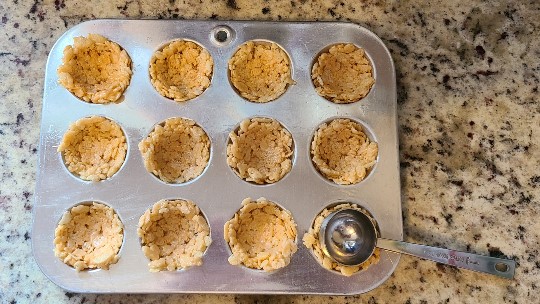 Cool completely before removing from pan. Decorate with edible grass and chocolate eggs.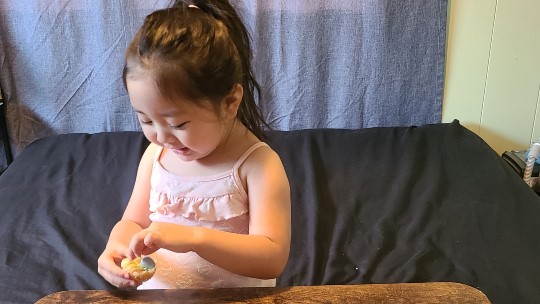 Enjoy!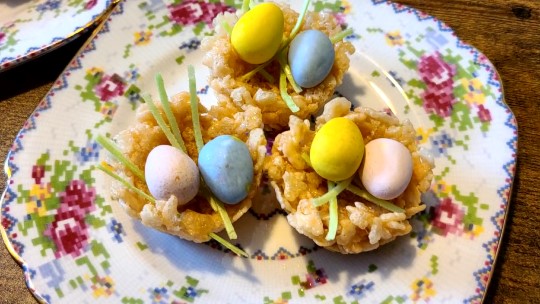 MINI PEPPER STUFFED "CARROTS"
If you need a break from sweets, but you're not ready for a meal, snack on these mini peppers stuffed with cheese.
Ingredients
Mini orange bell peppers
1 bunch parsley, dill, or cilantro
Spreadable cheese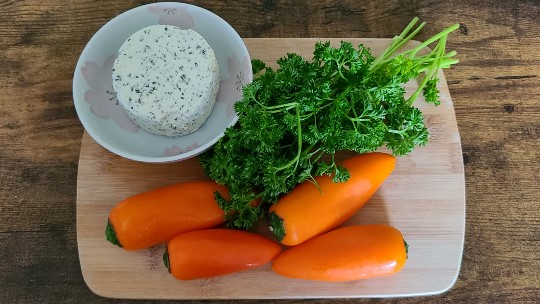 Instructions
Lay peppers on cutting board and slice lengthwise. Remove seeds. Fill peppers with cheese. Pull off a few pieces of parsley and press on top of peppers. Cover and chill until ready to serve.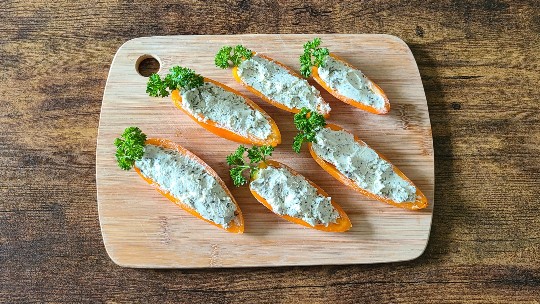 Your guests won't be able to resist your variety of Easter snacks!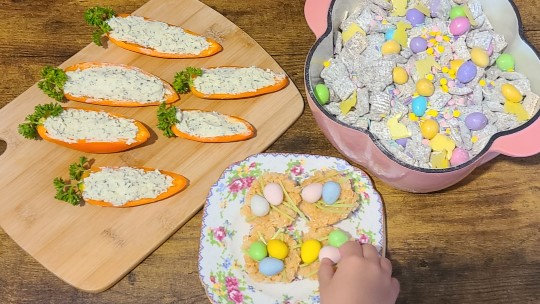 HARD-BOILED EASTER EGGS
If you boiled a lot of eggs for egg hunts, you may not know what to do with your abundance of eggs. Continue the Easter festivities with this easy and adorable food craft.
Ingredients
Hard-boiled eggs
Black sesame seeds (or chia seeds or chopped olives)
Fresh rosemary
Carrot (sliced into tiny triangles)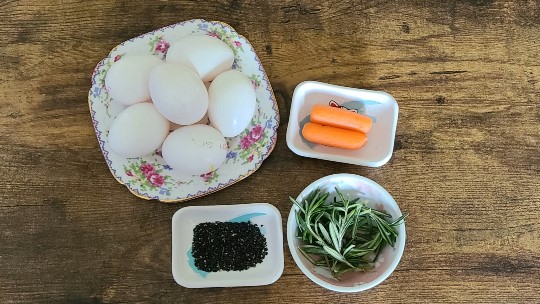 Instructions
To make the bunny: Slice a hard-boiled egg in half lengthwise. On one egg slice, add black sesame seeds for the eyes, rosemary for the whiskers, and carrot for the nose. Cut the second egg slice in half to form the ears. Place above the bunny's face.
To make the chick: Slice a hard-boiled egg in half crosswise. To cut smoothly through the yolk, spray your knife with cooking spray. Decorate the yolks with black sesame seeds for eyes and carrot for the beak.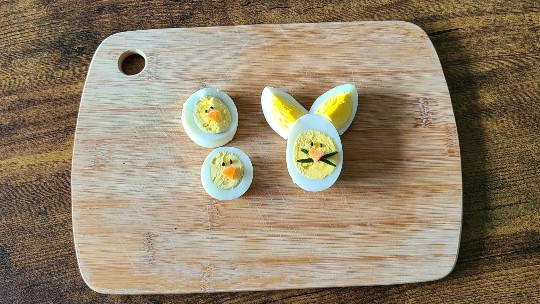 Serve and enjoy!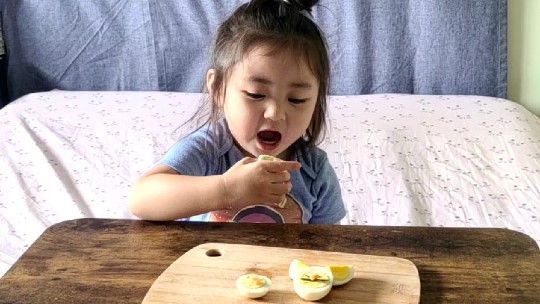 Discover more
Here are more Easter crafts and recipes:
3 easter treats for your keiki
7 steps for a perfect boiled egg
a fun twist on traditional easter lamb
avocado deviled eggs
diy craft stick easter basket
diy egg carton easter chicks