The summer sun and soaring temperatures can not only leave you dehydrated, they can do a number on your skin.
This vitamin-packed gazpacho helps repair some of that damage, thanks to ingredients like watermelon, cucumber, and tomatoes. Deeply red-hued fruits like watermelon and tomatoes contain lycopene, a skin-friendly antioxidant that research shows can protect against the harmful effects of UV rays. Known for their refreshing properties, cucumbers carry numerous health benefits due to their high-nutritional profile. For example, the beta carotene in cucumbers can help fight cell-damaging free radicals.
The best part of this refreshing soup? No cooking required! Simply blend everything together and chill. (We mean the soup, but you can, too!)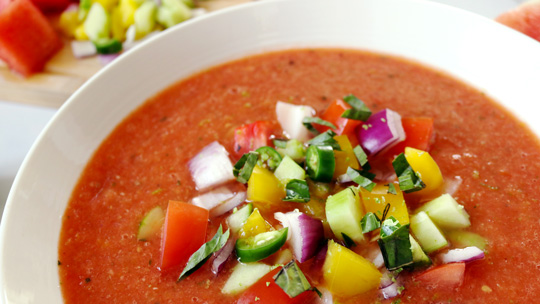 WATERMELON & CUCUMBER GAZPACHO
Ingredients
4 cups cubed seedless watermelon
1 English cucumber, peeled and chopped
2 medium tomatoes, chopped
1 small yellow bell pepper, chopped
1/2 red onion, chopped
1 serrano pepper, chopped
1 garlic clove
1 handful basil, finely chopped, plus more for garnish
2 Tbsp. champagne vinegar
2 Tbsp. avocado oil
1 tsp. sea salt
1 tsp. black pepper
1 Tbsp. lime juice
Zest from 1 lime
Instructions
Set aside half of the chopped cucumber, tomatoes, bell pepper, and red onion. Place remaining half in a blender. Add watermelon, serrano pepper, garlic, basil, vinegar, oil, salt, pepper, and lime juice. Blend until smooth. Taste and adjust seasonings, if needed.
Pour into a large bowl and stir in the reserved chopped vegetables. Chill at least 3 hours or overnight. Garnish with lime zest and fresh basil before serving. Makes 6 servings.