Consider this a basic frittata recipe that's subject to your whims, preferences, and whatever's in the fridge. Substitute mushrooms for potatoes or kale for spinach. Leave out the green onion if you hate it. How about leftovers such as taco filling, tofu stir-fry, or shredded rotisserie chicken? It's all up to you.
POTATO SPINACH FRITTATA
Ingredients
Olive oil
2 red potatoes, diced (unpeeled)
Baby spinach
Green onion, chopped
Salt and pepper
4 eggs
2 egg whites
Shredded cheddar cheese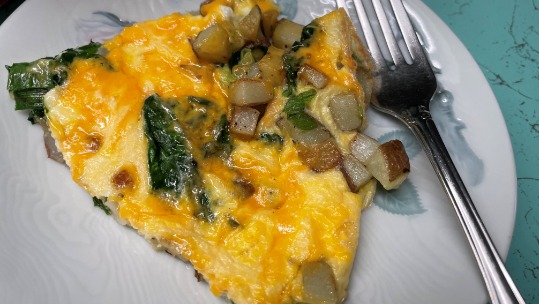 Instructions
In an ovenproof skillet, heat a little olive oil over medium heat. Add potatoes and cook, stirring frequently, until potatoes are tender. Add a big handful of spinach and some green onion. Season to taste with salt and pepper. Cook and stir until spinach is wilted. Beat eggs and egg whites together in a bowl. Pour into skillet and distribute evenly. Sprinkle with cheese. Place skillet under a preheated broiler for a few minutes until eggs are puffy and cheese begins to brown. Makes 4 servings.