Why are shishito peppers often served blackened and blistered? We can only guess the answer. Because they're kind of boring any other way?
While most recipes call for stovetop preparation, we found that oven broiling produces equally blistered results with less smoke. Will you be the lucky person to get the one pepper in 10 that's spicy? Make this recipe and eat at least 10 to find out.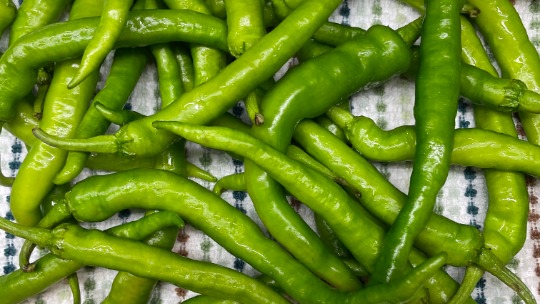 OVEN-BROILED SHISHITO PEPPERS
Ingredients
8 oz. shishito peppers
1 Tbsp. olive oil
Lemon wedges
Flaky sea salt
Instructions
Preheat broiler on high and place oven rack in the highest position. Wash peppers and pat dry in a clean dishtowel. In a medium bowl, toss peppers with oil. Place peppers in a single layer on a broiler pan. Broil 5 minutes until blackened. Watch carefully! Flip peppers and broil an additional 2 to 5 minutes. Transfer peppers to serving dish and dress with a squeeze of lemon and a sprinkling of flaky salt.
Shishito Pepper Challenge
A few HMSA employees tested the odds and took the Shishito Pepper Challenge! See if any of the peppers turned out to be spicy!