Here's an ono appetizer, from the Kakaako Fire Station, 3rd Platoon, that requires very little cooking. Make it for gatherings with family and friends this football season. No matter who wins the game, this dish will be a winner!
Ingredients
1 package corn tortillas
1 lb. fresh ahi, 1/8-inch cubes
1 small sweet onion, chopped
6-8 stalks green onion, chopped
Sriracha mayonnaise
Wasabi mayonnaise
Unagi sauce
Furikake
Instructions
Cut tortilla wrappers into 8 even pie-shaped pieces and fry in avocado or sesame oil. Be careful not to burn tortillas. Lay the fried tortillas on a baking pan.
Evenly spread the ahi and sweet and green onions over the tortillas. Drizzle with Sriracha and wasabi mayonnaise. Put unagi sauce in a pastry bag or plastic bag with a small hole in the corner. Drizzle sauce over nachos. Sprinkle furikake on top.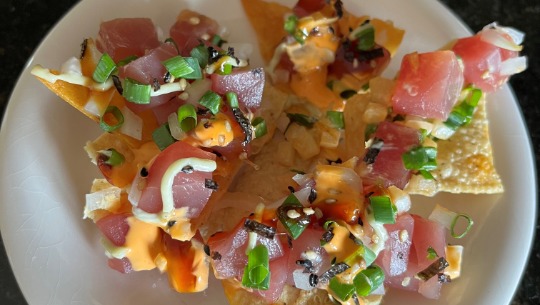 Hungry for more?
Check out some of our other delicious recipes:
baked crab wontons
Since this local version of a crab rangoon is baked, it's a little more healthy than its fried counterpart and still just as tasty.
caldo verde (portuguese green soup)
This is a traditional soup from Portugal made with potato and kale. Also known as "the hangover soup," people who've been out drinking will eat this soup in the morning to sober up.
chicken spaghetti squash casserole
First, cook your spaghetti squash in an electric pressure cooker.! Then, instead of serving it with spaghetti sauce, make it into a casserole with some chicken, cheese, and Greek yogurt.
healthy and delicious chili
This simple slow cooker chili is a popular weeknight dinner and can also feed a crowd! Customize it by adding some jalapeno, cilantro, or cheese.
kalua pork carnitas
This recipe pulls inspiration from traditional Hawaiian and Mexican cuisine. A homemade tropical and refreshing mango salsa adds more island flavors while providing a bright sweetness to counter the pork.
lemon bowtie pasta salad
See what's cooking in the kitchen of HMSA's Board of Directors. Staci Fujikawa shares her family's favorite recipe for this delicious and refreshing pasta salad.
mediterranean baked opah
The Mediterranean Diet is a delicious, sustainable way to eat for life. This recipe features opah, aka moonfish, a tender white-flesh fish that's mostly caught in Hawaiian waters.
oven-roasted chicken shawarma
Craving some flavors of the Middle East? Here's a recipe for chicken shawarma that's oven roasted. Highly recommend some tzatziki on the side and fresh lemon wedges … and rice pilaf, hummus, warm pita, cucumber, tomatoes, and kalamata olives.
pinwheel sandwiches
You may have seen these delightful spirals in the prepared food section of a grocery store or at potlucks. However, these pinwheel sandwiches are so easy to make and customizable that you'll want to make them on a regular basis.
slow-cooker french dip sandwiches
Sandwiches come in all shapes, sizes, flavors, and temperatures. Here's a recipe for a warm, meaty sandwich to dip in a beer-injected jus (sauce).
tacos to go
Start with a small bag of corn chips and invite everyone to add their favorite ingredients. You're serving veggies and lean protein in a way that's convenient, delicious, and fun.
tea-poached salmon
Nourish your body from the inside out with this spa-inspired recipe that features clean, wholesome ingredients prepared with simplicity and ease in mind.
tofu poke
Tofu poke is a great alternative to poke made with fish. The key is to buy fried tofu, which can be found at local grocery stores.

ulu chowder
Ulu, or breadfruit, is a nourishing, hearty fruit found throughout Hawaii. Here's a local spin on corn chowder, which substitutes ulu for potatoes.
vinha d'alhos
Vinha d'alhos (pronounced VEEN-a doshe) is a traditional Portuguese dish. It's also a local favorite served during the holidays in many Portuguese households throughout Hawaii.