They say the kitchen is the heart of the home. That's why Staci Fujikawa cherishes the time she spends cooking with her two daughters.
When Fujikawa isn't working as director of Human Resources at Iolani School, you can find her helping her daughters dice, chop, and stir. Their shared activity started during the pandemic shutdown.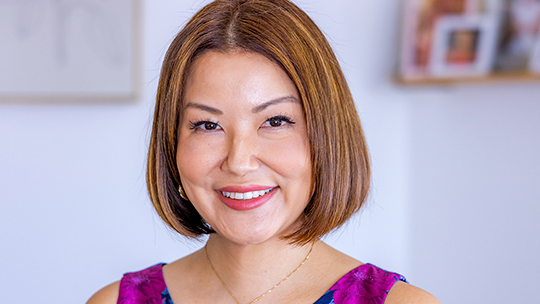 Staci Fujikawa of HMSA's Board of Directors.
"I was never a good cook," says Fujikawa, HMSA's new Board member. "Because we were home all day during the pandemic, it was a nice activity to do together. It bonded us and I learned a lot alongside my daughters. I wasn't just showing them. And even when a recipe doesn't turn out the way we anticipated, it's part of the fun and learning experience. Cooking healthy, delicious meals is a lesson that can last them a lifetime."
Among their family favorites are chicken adobo, furikake chicken, and the pasta salad recipe below.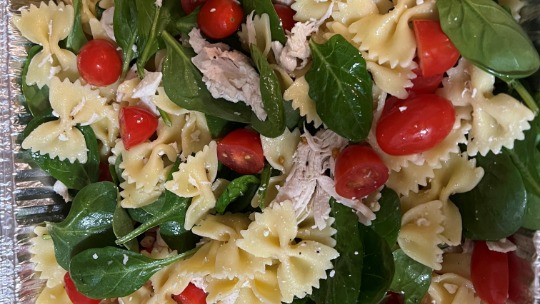 Lemon bowtie pasta salad
Recipe courtesy of Staci Fujikawa
Ingredients
16-oz. package farfalle (bow-tie) pasta
1/2 cup extra virgin olive oil
Juice of 2 lemons
Lemon pepper to taste
Salt to taste
3 cups shredded cooked chicken breast
2-3 handfuls baby spinach
1 cup feta cheese
1 cup halved grape or cherry tomatoes
Instructions
Cook pasta according to package directions. While pasta is cooking, whisk together olive oil, lemon juice, lemon pepper, and salt. Set aside.
When pasta is cooked, drain and transfer to a large bowl. Add dressing and toss to mix well. Let stand until cool. Add chicken, spinach, feta, and tomatoes. Toss gently to mix.
Get to know Fujikawa
Watch Fujikawa and her daughters make this recipe at home and talk about serving on the HMSA Board of Directors.
Hungry for more?
Check out these salad and dressing recipes:
chef alan wong's honey lime vinaigrette
The UH Hilo Adopt-a-Beehive program in partnership with Chef Alan Wong connects people in Hawaii and around the world. Try this recipe from Wong, which he makes with UH Hilo honey, to add a touch of sweetness to any meal.
chinese cabbage salad
This tasty salad made with Chinese cabbage, also known as napa cabbage, is great way to add vitamins, minerals, and fiber into your diet.
chopped tofu salad
The perfect no cook weeknight meal, this chopped tofu salad is equal parts filling and delectable. Top it off with a creamy cilantro lime dressing for maximum appeal.
fall kale salad
This healthy, easy kale salad is a perfect balance of sweet, tangy and peppery flavors.
garlicky kale salad
Give your salad routine a boost with this tasty nutrition powerhouse.
homemade italian dressing
Use this multipurpose Italian salad dressing on greens or as a meat marinade for grilling.
papaya seed dressing
Save a little of your breakfast papaya to make this easy salad dressing. You can even use some of the seeds!
roasted red pepper salad dressing
This roasted red pepper salad dressing is a great way to sneak one more vegetable into your salad. Because what better way to top off veggies than with more veggies?
salads for people who hate salads
Even if you're not a salad person, you may enjoy these simple, but delicious salads, which include kale and chicken avocado salad, quinoa and cranberries green salad, taco salad, crab cobb salad, and shrimp cabbage salad. Bonus: A super simple mustard dressing.
shrimp and edamame salad
This flavorful salad makes a perfect light meal when the weather's warm. And there's no need to turn on the stove.
soy ginger salad dressing
This soy ginger salad dressing is not only good for topping salads, it can also be used as a marinade for tofu, seafood, or meat.
summery citrus salad
Need something quick and easy to take your next potluck? Try this four-ingredient fruit salad.
Photos: Lew Harrington