Kale, kale, the gang's all here!
When I was given this recipe from a friend I'll admit I was a bit skeptical, but I fell in love at the first bite. Now, I double the recipe so I can make a lot! I'm lucky enough to live on the Big Island where I have access to lots of farmers and farmers markets.
Begin by washing the kale thoroughly and drying in a salad spinner, or however you choose to dry your greens. The first time I made this recipe, I ripped the leaves into pieces. It was ok, but involved a lot of chewing. The second time, I sliced the kale thinly. You might think it would get soggy, but nope! Kale can take it.
For the dressing, get a nice big bowl and whisk all the ingredients minus the kale. Taste as you go to adjust to your liking. I personally add more lemon and garlic. I store my dressing in a glass jar in the fridge because I normally don't use it all. It depends on how much kale I have.
When dressing your salad, start with a little dressing and work it into the kale with your hands. Kale is a little tough and this helps to soften it a bit. The nutritional yeast makes it taste like it has cheese, even though you haven't added any. I hope you enjoy this salad as much as my family does!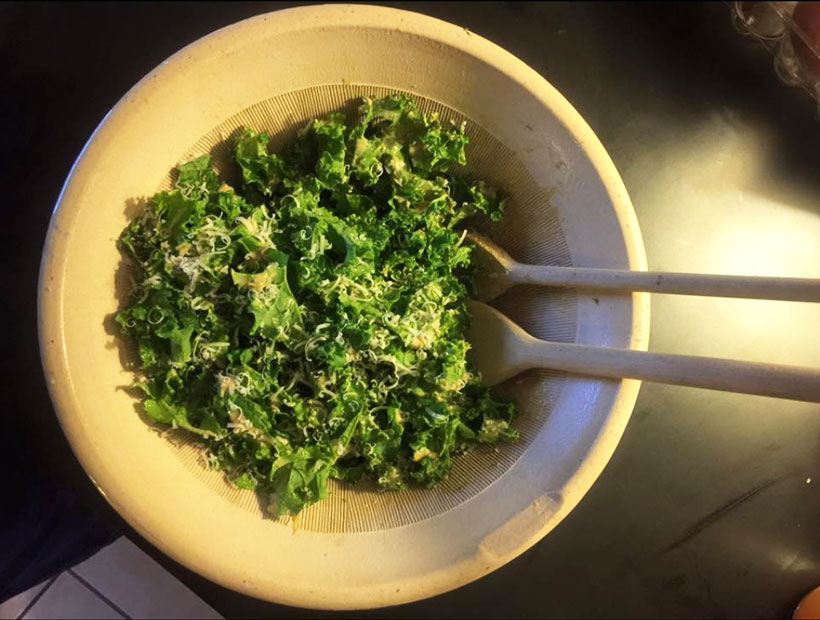 Garlicky Kale Salad
2 bunches kale, washed and dried
4 Tbsp tahini
4 Tbsp apple cider vinegar
4 Tbsp liquid amino acid
4 garlic cloves, minced
8 Tbsp nutritional yeast
4 Tbsp fresh lemon juice
Thinly slice kale and place in large serving bowl. Whisk together last six ingredients to taste, massage into kale.
Jana Harshey is a semi-retired Firefighter/EMT/Emergency Room Tech who moved from Alaska to the Big Island to pursue her passions of cooking, gardening, and photography. She is a mother to three grown children and grandmother to five beautiful grandchildren, and enjoys teaching them as young as possible to eat good food for a healthy lifestyle.