Cooking and baking are not only fun for kids, these activities can also aid in early childhood development and teach them about nutrition.
In honor of Mother's Day, round up the keiki and have them pitch in with these easy and delicious recipes. Encourage them to help regularly in the kitchen and you may be giving yourself the priceless gift of a year-round kitchen helper.
BANANA FRENCH TOAST
French toast is a yummy breakfast staple. Adding bananas gives the dish a nutritional boost as it contains potassium, fiber, and more. Plus, if you have cookie cutters, you can make fun shapes Mom will love!
Ingredients
2 eggs, beaten
1/4 cup milk
1/2 tsp. vanilla extract
1/2 tsp. cinnamon
4 slices whole wheat bread
Cooking spray
Bananas, sliced
Cookie cutters (optional)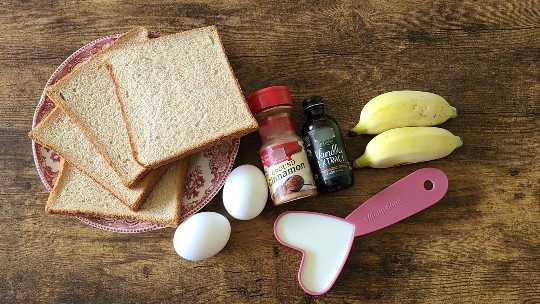 Instructions
In a bowl, beat eggs with milk, vanilla, and cinnamon. Dip bread into mixture for a few seconds, turn to coat. Heat a nonstick skillet over medium-low heat and prepare with cooking spray. Place dipped bread into skillet and cook until golden brown on both sides.
Optional: Use cookie cutters to make fun shapes.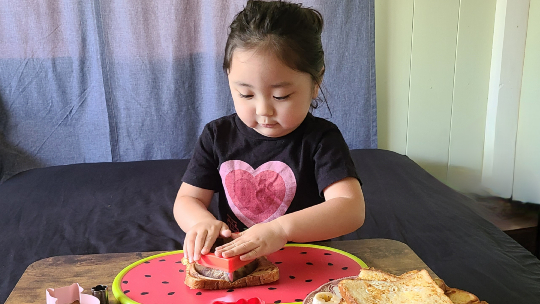 Top with sliced bananas. If you have mini cookie cutters, you can make fun shapes with the banana, too!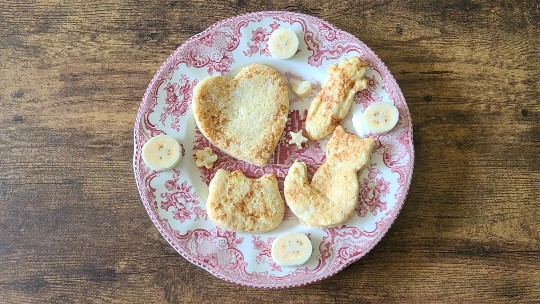 If you use cookie cutters, don't discard the unused parts of the bread and bananas. They're still delicious!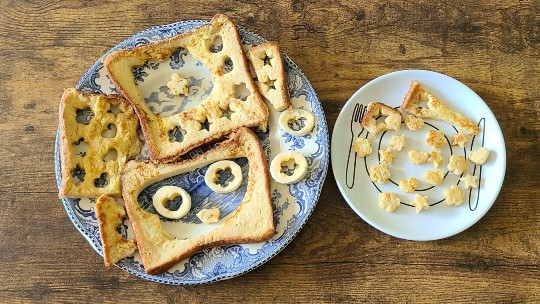 YOGURT PARFAIT
Not only is this refreshing treat tasty and easy to make, it's also completely customizable. Swap the vanilla yogurt for Mom's favorite flavored yogurt or use her preferred cereal instead of granola. And be sure to choose fruits that she likes.
Ingredients
Vanilla yogurt
Granola
Assorted fruit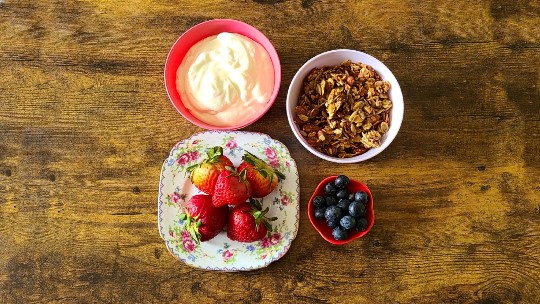 Instructions
In a cup or bowl, layer yogurt, cereal, and fruit.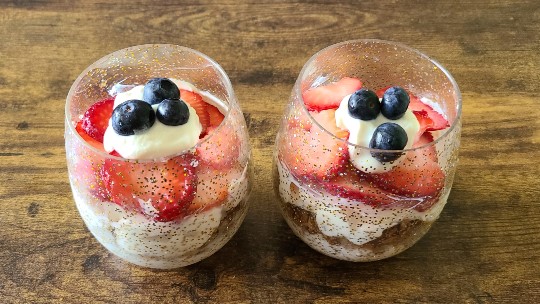 Grab a spoon and taste the parfait before serving!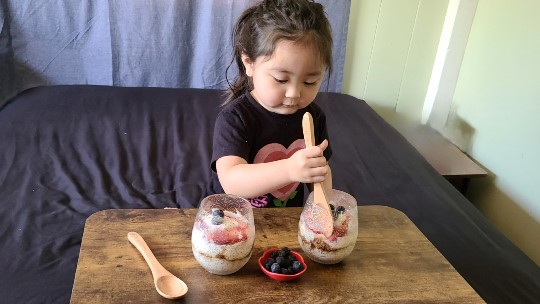 SILLY PEANUT BUTTER CRACKERS
These cute snacks are fast and easy to assemble. Bonus: They're sure to put a smile on Mom's face!
Ingredients
Crackers
Creamy peanut butter
Blueberries
Strawberries, sliced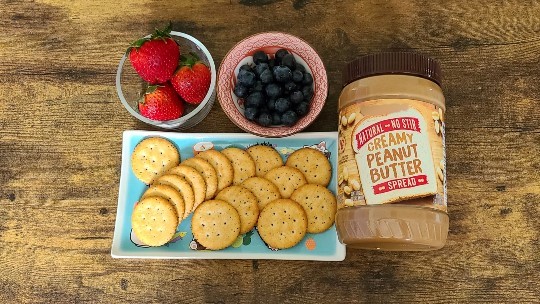 Instructions
Cover each cracker with peanut butter. Add blueberry eyes and a strawberry mouth.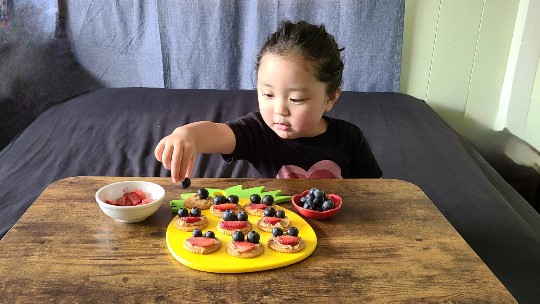 Marvel at your creation!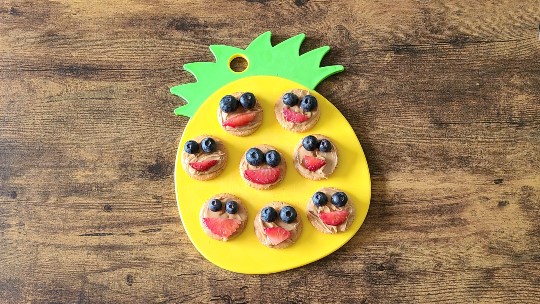 Taste before serving.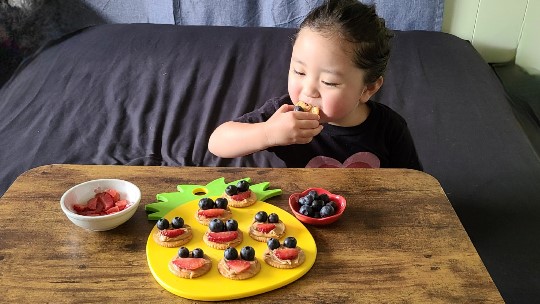 PINWHEEL SANDWICHES
You may have seen these delightful spirals in the prepared food section of a grocery store or at potlucks. However, these pinwheel sandwiches are so easy to make and customizable that you'll want to make them on a regular basis.
Ingredients
Large tortillas
Cream cheese
Cucumbers, peeled and thinly sliced
Deli ham
Sliced cheese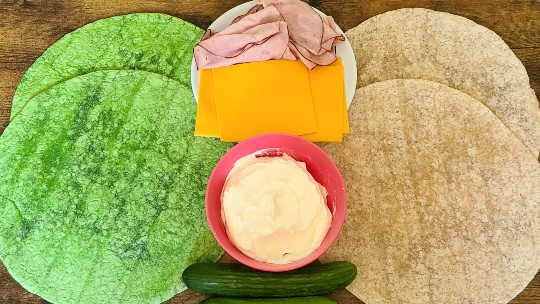 Instructions
Spread cream cheese on tortilla. Add ham and cheese or cucumbers. Roll tightly. Tip: To help keep the pinwheels intact, wrap the rolls in plastic wrap and refrigerate 2 hours before slicing.
Arrange on plate with love.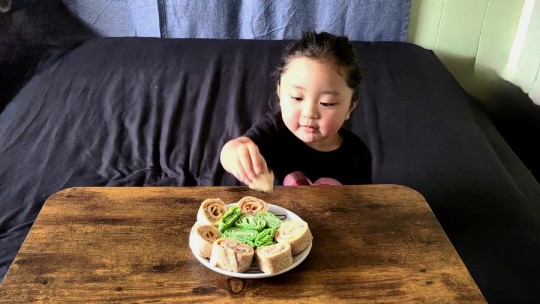 Impress Mom with your lovely pinwheel sandwiches.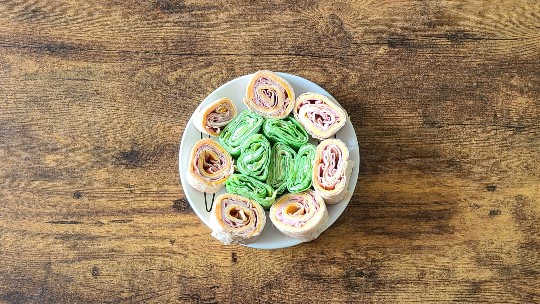 VANILLA MUG CAKE WITH SPRINKLES
Mug cakes are a great alternative to making an entire cake. It requires just a few ingredients, you don't need an oven, and there are minimal dishes to wash. Plus, they're delicious, indulgent, and portion controlled.
Ingredients
4 Tbsp. all-purpose flour
1 Tbsp. sugar
1/2 tsp. baking powder
4 Tbsp. milk
1 1/2 Tbsp. flavorless oil (sunflower, vegetable, coconut)
1/4 tsp. vanilla extract
2 tsp. sprinkles plus more for decorating
Frosting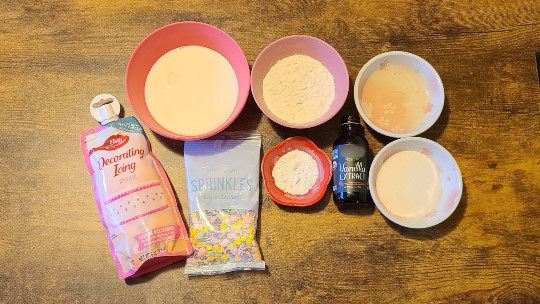 Instructions
In a microwavable mug, stir together flour, sugar, and baking powder. Add milk, oil, and vanilla and mix well. Stir in sprinkles. Microwave about 1 minute at 100% power. Cook time will vary depending on the wattage of your microwave. If necessary, microwave in 30-second increments until cake is firm. Let cake cool for about a minute. Decorate with frosting and sprinkles.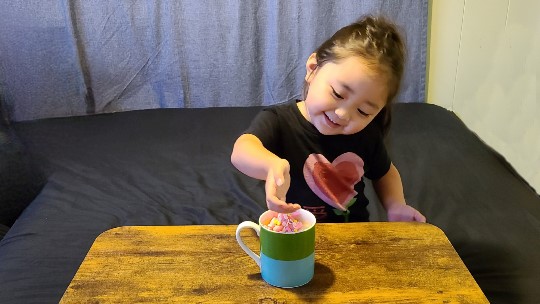 Present your yummy creation!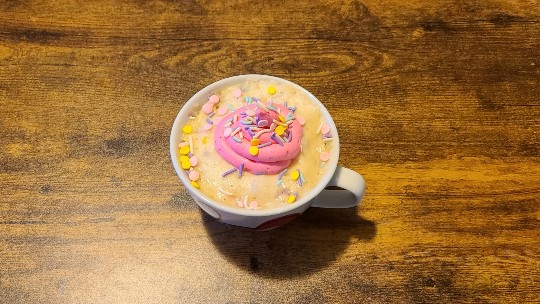 Happy Mother's Day!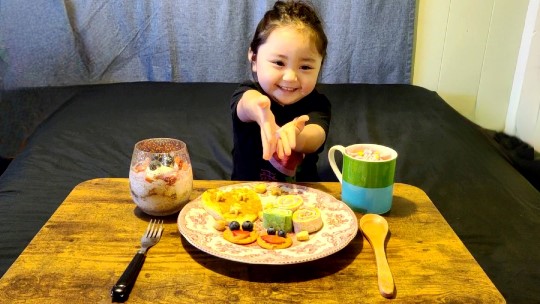 Mother's Day crafts
A homemade gift is more meaningful than a store-bought gift! Here are some ideas for crafts you can make for Mom or any special person in your life.
cinnamon honey fall face mask
Give the gift of pampering with this easy mask made out of ingredients you already have!
decoupage collage
Turn cherished photos into a work of art you can display anywhere.
felt rose pencil topper
Making this simple felt rose pencil topper will impress anyone who's lucky enough to receive one!
mother's day earring holder
This DIY ombre earring holder made with craft sticks is quick and easy.
mother's day fuzzy yarn lei
Create a beautiful handmade lei in only 5 minutes!