Craving flavors from the Middle East? Here's an easy recipe for chicken shawarma. It's not exactly quick, but marinating and oven-roasting means lots of time to do other things.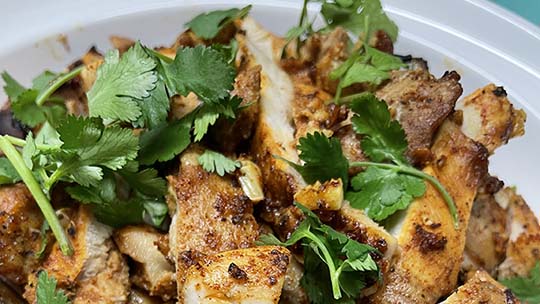 Ingredients
Juice of 2 lemons
1/3 cup olive oil
6 garlic cloves, minced
1 tsp. Hawaiian salt
2 tsp. freshly ground black pepper
2 tsp. cumin
1/2 tsp. turmeric
1/4 tsp. red pepper flakes
2 lbs. boneless, skinless chicken thighs
Cooking spray
1 red onion, peeled and quartered
2 Tbsp. chopped cilantro
Instructions
In a medium mixing bowl, whisk together lemon juice, olive oil, garlic, salt, pepper, cumin, turmeric, and pepper flakes. Add chicken and toss to coat well. Cover and refrigerate at least 1 hour or up to 12 hours.
Preheat oven to 425 F. Prepare a rimmed baking sheet with cooking spray. Remove chicken from marinade and place on baking sheet. Toss onion with remaining marinade and place on baking sheet with chicken. Discard unused marinade. Roast chicken about 25 minutes until cooked through. Remove from oven and let rest a few minutes. Slice chicken against the grain. Transfer chicken to serving platter with the roasted red onion. Garnish with cilantro. Makes 5 servings.