What's your go-to method of cooking spaghetti squash? If you're accustomed to roasting it in the oven, you may want to try it in an Instant Pot. It's quicker and the clean-up is easier.
And after you cook a squash, use it in this Chicken Spaghetti Squash Casserole.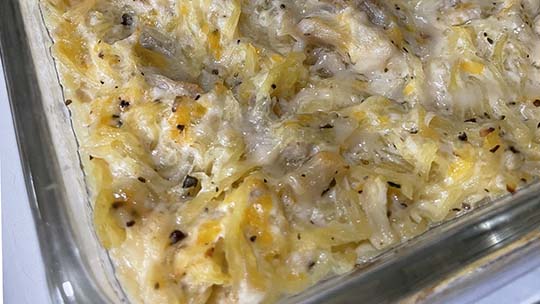 INSTANT POT SPAGHETTI SQUASH
Ingredients
1 spaghetti squash
1 cup water
Instructions
Cut squash in half.* Remove seeds and discard (or roast!). Place trivet in pot and add water and squash. Close and seal the lid. Set timer to 7 minutes on manual at high power. When time is up, quick release the pressure. Use a fork to gently pull the squash flesh from the skin and to separate the flesh into strands. Discard skin.
Tip: A small spaghetti squash (3 pounds or less) will yield about 4 cups.
*Cut crosswise for long strands; cut lengthwise for short strands.
CHICKEN SPAGHETTI SQUASH CASSEROLE
Ingredients
4 cups cooked spaghetti squash
2 cups shredded or diced cooked chicken
1 cup plain low-fat Greek yogurt
4 oz. sharp cheddar, shredded
1 tsp. dried basil
1 tsp. garlic powder
1/2 tsp. pepper
Cooking spray
2 Tbsp. grated Parmesan
Instructions
Preheat oven to 400 F. In a medium bowl, mix spaghetti squash with chicken, yogurt, cheddar, basil, garlic powder, and pepper. Transfer to 11-by-7-inch baking dish prepared with cooking spray. Sprinkle with Parmesan and bake 30 minutes. Makes 6 servings.