Here's a fun way to serve up tacos after the soccer game. Swap out taco shells for small bags of corn chips and pile on the toppings. Convenient, delicious, and fun.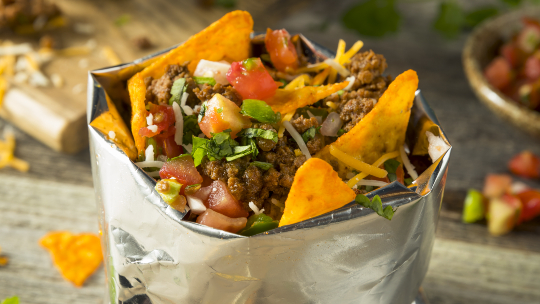 Ingredients
2 lbs. ground chicken or turkey breast
2 packets reduced sodium taco seasoning
15 small bags (1 oz.) corn chips
Shredded iceberg lettuce
Chopped tomatoes
Shredded Mexican cheese blend
Salsa
Nonfat sour cream
Instructions
In a large nonstick skillet, prepare protein according to instructions on the taco seasoning packet. Cool. Pack in ice chest with remaining ingredients.
After the game, offer soccer players a bag of chips. Instruct them to gently crush the chips in the unopened bag, open the bag and add 1/4 cup protein and desired toppings.