Soothing chamomile tea creates the base for an aromatic poaching liquid seasoned with other earthy flavors like garlic, ginger, green onion, and sesame. As the salmon cooks, it absorbs some of this broth, resulting in a satisfying, richly complex main course.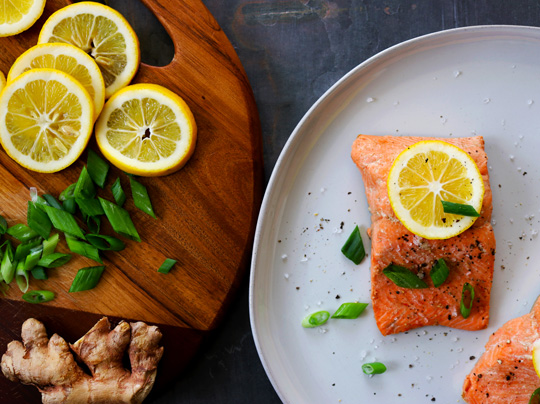 TEA-POACHED SALMON
Ingredients
2 garlic cloves, thinly sliced
1 Tbsp. minced fresh ginger
2 stalks green onion, thinly sliced on the diagonal, plus more for garnish
5 cups water
5 chamomile tea bags
1 tsp. sesame oil
4 6-oz. skin-on salmon fillets
Salt and pepper
Lemon slices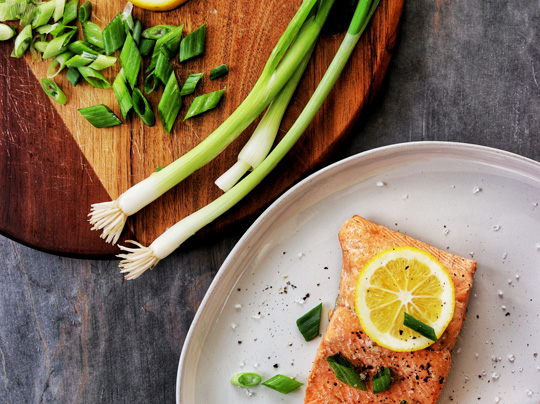 Instructions
Combine garlic, ginger, green onion, and water in a large, deep sauté pan. Bring to a boil over high heat. Reduce to low and simmer 10 minutes. Remove from heat, add tea bags, and steep 5 minutes.
Remove tea bags, add sesame oil, and return mixture to simmer over low heat.
Arrange salmon fillets in the sauté pan skin-side down. Add more water as needed to completely cover fish. Cover and cook 8 minutes or until fillets are opaque and firm. Gently transfer fillets to a plate or cutting board; remove and discard the skin.
Season salmon with salt and pepper to taste. Garnish with lemon slices and green onion. Makes 4 servings.