Exhausted. Defeated. Over it.
As the COVID-19 pandemic drags on, many people are mentally fatigued as a result of this extended period of stress.
"There have been multiple studies across the world demonstrating that people are reporting increased symptoms of anxiety and depression and increased use of substances such as alcohol and drugs," says James Westphal, M.D., medical director at Beacon Health Options®.
While the global pandemic has touched all corners of the Earth, the way stress has affected individuals differs dramatically. While one person may manifest stress in the form of skin rashes, headaches, and weight gain, another person might experience insomnia, depression, or post-traumatic stress disorder. And then there are those who may find their well-being actually improves during times of prolonged stress.
"The concepts of well-being and psychological symptoms of distress are related, but the response to stress is different among people," Dr. Westphal says. "I have not seen a study that assesses well-being before the epidemic and during the epidemic. It is tempting to say that well-being has decreased because stress effects are increasing, but we don't know."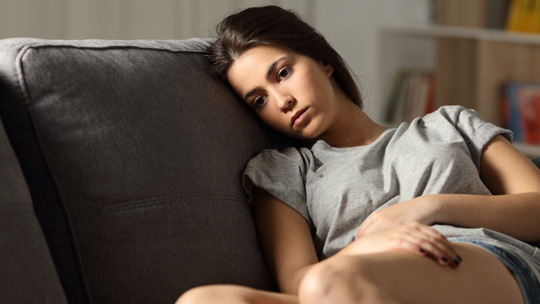 Signs of mental fatigue can include tiredness, irritability, problems falling or staying asleep, and a lack of interest in activities you used to enjoy.
The impact on younger generations
"Pediatricians are seeing more children with mental health, educational, and behavior concerns," says Cathy K. Bell, M.D., a board-certified child and adolescent psychiatrist with the Kahala Clinic for Children & Family.
Dr. Bell and her colleagues say this influx in mental fatigue in young patients can be attributed to the disruptions caused by the COVID-19 pandemic, to include the following situations:
Lack of daily routines.
Increased screen time.
Decreased exercise and physical activity.
Later bedtimes.
Poor quality of sleep.
Isolation from friends and loved ones.
Confinement to space with family 24/7.
"These stressors are affecting everyone, regardless of age or socioeconomic status," Dr. Bell says, adding, "Middle school, high school, and college students are being affected the most since social and peer connections are so important during these developmental stages."
Adolescents and young adults also are more aware of major stressors like finances, work, relationships, and health and will experience anxiety over their futures and how to balance it all.
And even if children aren't directly aware of money worries or work issues, they pick up on these stressors from adults.
"Parents are stressed out with the constant challenges and changes. COVID isn't some market crash or natural disaster whose wrath lasts hours or days; it has been more than a year, and instead of abating, COVID continues to be a moving target," Dr. Bell says. "It's beyond meeting basic needs of food and shelter. Never before have so many simply feared for their lives."
How to turn stress into strength
Dr. Bell says the long-term effects this pandemic leaves on small children depends on the adults in their lives. "If the adults can manage health, finances, and stress, then the children will follow that lead," she says.
A key indicator of how a person reacts to stress is resiliency. As luck would have it, you can strengthen your resiliency with the same exercises used to increase well-being.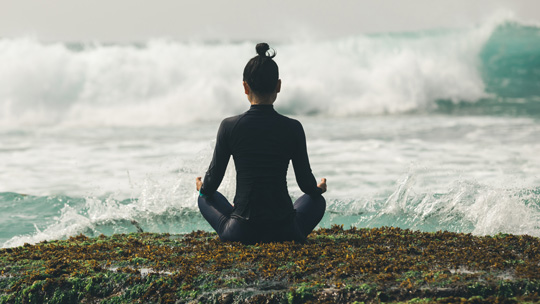 A mindfulness practice can build up your mental resiliency.
"Learn to be positive and grateful every day. Keep in daily contact with friends and family through the phone or internet. Stay physically fit, especially through aerobic exercise three to four times per week. Eat a healthy diet, keep mentally active with a hobby, decrease media exposure, and find a higher purpose. Cultivating these habits will increase your resilience and support your coping with whatever the future brings," says Dr. Westphal.
"The youth growing up during this pandemic have the potential to be the resilient generation, not spoiled and self-centered," Dr. Bell adds.
Drs. Westphal and Bell suggest more tips here:
Practice mindful breathing.
"Your breathing patterns can either increase or decrease the amount of stress you experience," says Dr. Westphal. "Most people breathe through their chest and breathe too rapidly. Slowing down your breathing and using your belly or diaphragm to breathe will help."
Dr. Westphal adds there are apps, books, and courses that can assist with breathwork and mindfulness techniques.
"How you think about things also decreases or increases your stress responses. Breathing is easiest to learn and will have immediate effects. Mindfulness is a more long-term time investment, but the positive effects are more enduring."
Enjoy the great outdoors.
Go outside and get some sun! Emerging research shows being outside surrounded by nature improves mood, lowers blood pressure and stress hormone levels, and promotes an overall feeling of calm.
"Excessive screen time interferes with socialization and academic success," Dr. Bell says.
For some, resuming outside activities you participated in pre-COVID might cause additional anxiety. Dr. Bell says to find a balance between safety and sanity. Continue to practice social distancing and masking around those you don't know, and reassure children that they can be safe and still have fun.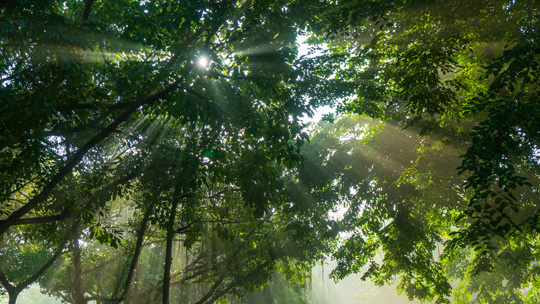 Forest bathing (or shinrin-yoku) has been shown to provide healing benefits for both the mind and body.
Nurture a sense of belonging.
"We need community, family, and social connections," Dr. Bell says. "We evolved to be social beings, and we learn best relationally. We develop best when we maintain healthy relationships."
Seek out opportunities for connection. Extracurricular activities, hobbies, and community groups give you the chance to meet others who share similar interests. You know you'll have at least one thing in common with people you meet in a cat fanciers' group or running club.
Feeling like you're part of a group also helps build self-competence and confidence. These two traits experts say can enhance resiliency because people with higher confidence levels are more likely to keep stress in perspective, set reasonable expectations, and ask for help when needed.
Move your body.
Exercise works as a double whammy against stress. Not only does physical activity increase levels of feel-good neurochemicals like serotonin and gamma aminobutyric acid, moving your body releases muscle tension and diverts your attention from the thing that was worrying you.
If you're nervous about heading back to the gym or if your child's sports team hasn't resumed regular practice, there are other ways to get active. Dr. Bell suggests alternative sports like skateboarding and surfing. (Don't forget to buy protective gear like helmets, knee and elbow pads, and sunscreen!)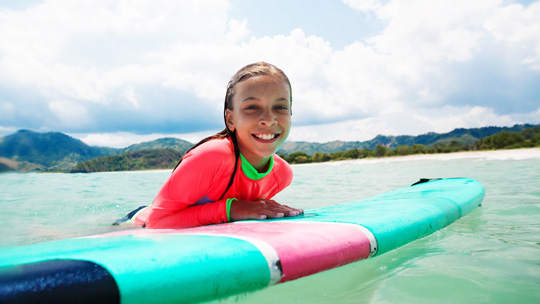 Double your dose of happiness with surfing! Riding the waves isn't only a fun workout, it gets you out of the house for a few hours as you soak up some sunshine.
Look on the bright side of life.
Start by expressing gratitude for the basic necessities: Safety, health, shelter, food, water, and people who love and care for you.
"I encourage adults to find the silver lining as much as possible and model resilience and flexibility for our children to see," Dr. Bell says. "When children are appropriately supported by parents, caregivers, and other healthy adults through stressful times, this is what we call 'healthy stress' as opposed to 'toxic stress,' which leads to negative physical and mental health outcomes."
When to seek professional help
Building resilience can take time, and some people may need professional assistance strengthening this mental muscle.
Signs to watch for that indicate someone may be struggling with stress include:
Withdrawing from other people or snapping at them.
Becoming tearful (seemingly out of the blue).
Being indecisive or inflexible.
A change in sleep patterns; having trouble falling and/or staying asleep.
Experiencing sexual problems.
An increase in alcohol use or smoking; substance abuse.
If you or someone you know is having difficulty dealing with stress, contact your primary care provider. They will be able to offer suggestions for a treatment plan and additional assistance, if necessary.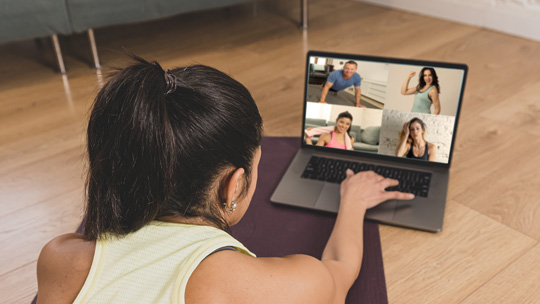 Sometimes we can use a little help from our friends. If you recognize symptoms of distress or depression in a loved one, let them know they are not alone and help is available.
If you experience suicidal thoughts or fear for the safety of someone you know, call 911 immediately.
The National Suicide Prevention Lineline is available 24/7 to provide free, confidential support for anyone in distress. Call 1-800-273-8255 or go online to chat with a trained crisis worker.
Other community resources available to help with stress can be found at:
HMSA offers members access to programs and services to enhance well-being, find support, and address health conditions.
Hawaii CARES provides a team of trained, experienced professionals to help individuals in times of a mental health crisis 24 hours a day, seven days a week. Call 808-832-3100 or 1-800-753-6879.
HMSA's Online Care® gives you access to a doctor 24/7, 365 days a year from the convenience of your home. Providers are Hawaii licensed and offer emotional support, stress and anxiety management, and couples or family counseling, among other services. You must be in Hawaii to use HMSA's Online Care. A copayment may be charged depending on your health plan.