The Hawaii Ulu Cooperative is on a mission to make it easier for more people to eat more ulu, kalo, uala, and palaai (breadfruit, taro, sweet potato, and pumpkin, respectively). The farmer-owned co-op collects these staple crops and minimally processes them, packages and freezes them, and distributes them in "recipe-ready" packages to grocers statewide.
Given the hardy, long-lived, climate-friendly trees that bear a bountiful supply of fruit almost year-round, ulu remains the co-op's flagship product. But that doesn't mean you can't get a whole ulu at your favorite farmers market and cook it the traditional way – pulehu, or fire-roasted.
"Pulehu ulu is probably my favorite way to enjoy breadfruit," says Kenta Nemoto, the co-op's marketing manager. "It's so soft and doughy when done right, like the inside of a malasada."
Nemoto learned this technique from Uncle Ricky Rocker, an ulu ambassador who's eaten ulu as a significant part of his diet for 50 years.
Properly cooked pulehu ulu will form a charred, black shell. But not to worry ... peel the skin off to reveal fragrant, starchy flesh with a rich flavor and gooey consistency.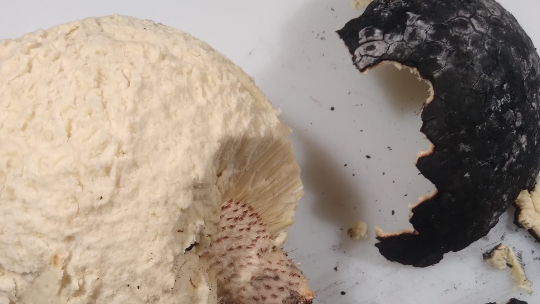 Read more about the Hawaii Ulu Cooperative at their website. Order products online and see recipes, too.
PULEHU ULU: FIRE-ROASTED BREADFRUIT
Ingredients
1 firm, mature ulu
Instructions
Prepare a campfire, bonfire, or large grill (without the grate) with wood and charcoal. Place the whole fruit in the fire for 50 minutes, turning every 5-10 minutes to ensure even roasting. Remove ulu from the fire and let rest 10 minutes. Peel off the charred skin while the ulu is hot or warm.
Serve pulehu ulu with a simple citrus-based or coconut milk sauce or mash it into paiai. Or mix it with chopped onion, minced garlic, and fresh herbs, form into patties and brown in a skillet.
See Uncle Ricky's detailed instructions on the co-op's website.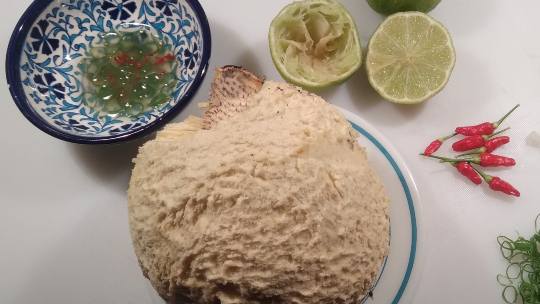 Discover more
Check out some of our other recipes for healthy and easy meal ideas.
eat pono's ulu fries
Fries made with ulu are easy to make, delicious, and a healthier alternative to potatoes. Candes and Poet Gentry of Eat Pono share their recipe for ulu fries and discuss the history of breadfruit in Hawaii as well as its versatility.
ke anuenue ulu salad
If you're a fan of potato or macaroni salad, you'll enjoy this colorful version made with ulu.
natto cheese toast
If you're a natto fan, you probably eat this fermented soybean product on rice. But the next time you eat natto, try it on toast with cheese.
poke nachos
Poke is delicious. Nachos are delicious. Now combine the two and you have poke nachos! A Honolulu firefighter shares this recipe for poke nachos.
skillet ulu
Looking for an easy yet scrumptious side dish that isn't made out of rice or potatoes? Then try this recipe for skillet ulu.
tofu poke
Try this recipe for a tasty dish usually reserved for fish eaters. The key is to buy fried tofu, which can be found at local grocery stores.
ulu chowder
Chowder is a comfort food enjoyed throughout the world. Here's a local spin on corn chowder, which substitutes ulu for potatoes.
ulu hummus
Pairing ulu with protein-packed hummus makes for a balanced, plant-based dish. Best of all, it's easy to make! Dip your favorite veggies like carrots, celery, or cucumbers for a filling and healthy meal.
ulu mash
This easy recipe for ulu mash is a tasty alternative to mashed potatoes. The ulu comes out so creamy and delicious, you won't even miss the potatoes.
veggie fries
Change up you french fry game and make some oven-baked veggie "fries." Root vegetables work the best. Results may be even crispier if you have an air fryer!