Need something for your New Year's Eve potluck but don't want to make the same 'ole potato mac salad? Try ulu. You can still make a salad. Just use ulu in place of potato or macaroni.

What's ulu?
Commonly known as breadfruit, ulu is a sustainable, locally grown starchy fruit. A longtime staple in Pacific Island cuisine, ulu is low in fat and a good source of fiber, calcium, and potassium.

How do I cook with ulu?
Ulu can be steamed, boiled, roasted, or fried. It's used in soups, salads, casseroles, and desserts. Use ulu in place of potato in stew or croutons in stuffing. You can pound it into poi.

Where can I get ulu?
You can buy ulu at many farmers markets. Some grocery stores sell them, but it's best to call first to see if they have it. Better yet plant your own ulu tree. Each tree can produce about 100-150 fruits a year. Ask a friend or neighbor with an ulu tree in their yard.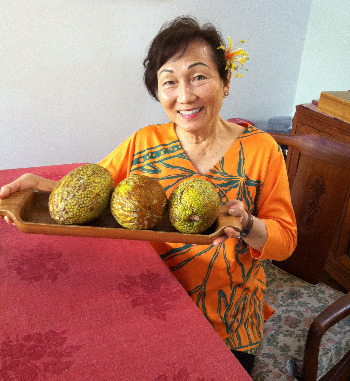 Meet Aunty Ulu
One of the champions of ulu is Manoa resident Helen Nakano. Nicknamed "Aunty Ulu," she visits schools, community organizations, and churches promoting the benefits of ulu. She's involved in ulu cooking demonstrations and partnered with the Living Life Source Foundation Center on free ulu tree giveaways earlier this year in Manoa. This weekend she made a big pot of ulu stew for four Micronesian homeless families in the Family Promise program at Manoa Valley Church.

"We need to eat more ulu," said Nakano. "It's fine for people with diabetes and it's gluten free. It's more nutritious than white rice or potatoes. Best of all, ulu is so ono."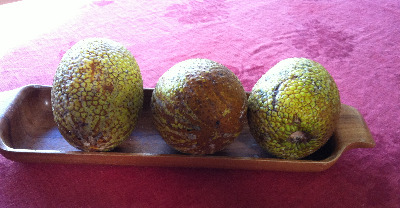 Learn more about ulu and get ulu recipes at Breadfruit Institute of the National Tropical Botanical Garden at breadfruit.org.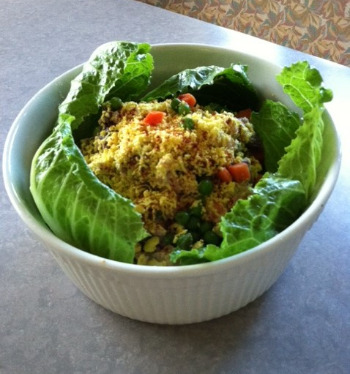 Ke Anuenue Ulu Salad
Try Helen "Aunty Ulu" Nakano's ulu salad recipe at your next potluck. Nakano calls this recipe anuenue (rainbow) because of its different colors.
• 1 ripe ulu (slightly soft to the touch, like a ripe avocado)
• Vegetable oil
• 2 Okinawan sweet potatoes
• 2 eggs, hard-cooked, peeled, and chopped
• ½ cup chopped onion
• ½ cup chopped celery
• 1 cup frozen peas, parboiled
• 2 carrots
• ½ cup mayonnaise
• 2 Tbsp. yellow mustard
• 2 Tbsp. sweet pickle relish
• Vinegar
• Hot sauce
• Salt and pepper
• Paprika

Scrub skin of ulu with a brush and dry. Slice off stem end of the ulu and cut a cross on the opposite end. Rub ulu with vegetable oil and place in a roasting pan. Bake in preheated 350-degree oven for one hour. It's done when steam comes out from both ends. Set aside to cool. While ulu is baking, peel potatoes and carrots and cut into bite-sized cubes. Steam or boil until tender. Allow to cool.

Slice ulu in half and cut out the core and seeds. Cut skin off and dice into bite-sized cubes. Place ulu and potato in a medium-sized bowl.

Add eggs, onion, celery, peas, carrot, mayonnaise, mustard, and relish.

Add a dash of vinegar, hot sauce, and salt and pepper to taste. Combine well. Sprinkle with paprika.

What's your favorite ulu recipe?