Are you the type of person who simply must have fries with their burger? Crispy, delicious, fried sticks of potatoes?
Nothing can beat french fries, but for a change of pace, try some oven-baked veggie "fries." Coating sticks of vegetables with panko seems to be the only way to get crispy results from the oven. Veggie fries prepared in an air fryer should be crispier than these oven-baked guys.
Spice it up
Basic seasoning of salt and pepper will do nicely, and so will most any herb or spice. We had Aleppo pepper and harissa on hand and put them to use with good results. You could try:
Oregano.
Smoked paprika.
Ready-made blends such as Italian, taco, or Montreal steak seasoning.
Curry powder.
Must. Have. Dip.
Since these veg fries are a little bland, a dipping sauce makes for more-scrumptious bites. Here are some suggestions:
Sriracha or wasabi mayo.
Salad dressing such as ranch, blue cheese, or thousand island.
Dips such as clam, onion, queso, tzatziki, or green goddess.
Cocktail sauce.
Parsnips
If you've never cooked with parsnips, you're missing out! This root vegetable resembles a white carrot, but tastes more a like a sweet potato.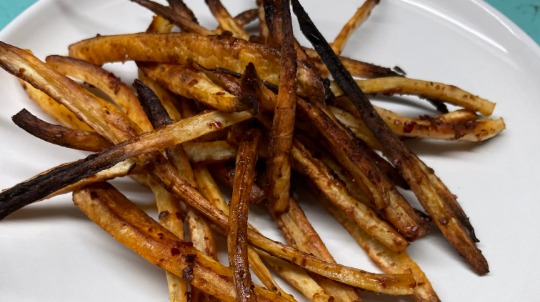 Peel and slice parsnips about 1/4-inch thick. Coat in a mixture of harissa and olive oil. Bake at 425 F for 10 minutes, turn them over, then bake 10 minutes more. These crisped up a little only because they're nearly burnt.
Okinawan sweet potato
This purple potato is not only delicious, it boasts nutritional benefits. Sweet potatoes contain vitamin A, vitamin C, and manganese and are a good source of copper, dietary fiber, vitamin B6, potassium and iron. Okinawan sweet potatoes also contain anthocyanin, an antioxidant that gives the potatoes their bright purple flesh.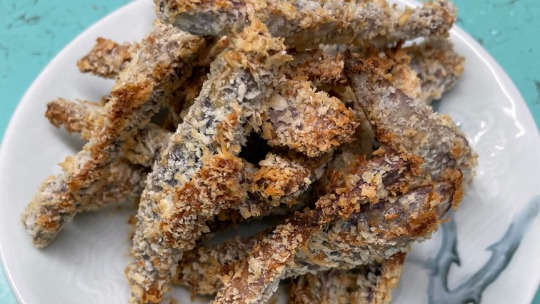 Peel and slice Okinawan sweet potato about 1/4-inch thick. Dredge in cornstarch, dip in beaten egg, then coat with panko mixed with grated Parmesan. Bake at 425 F for 10 minutes, turn them over, then bake 10 minutes more.
Taro
Taro, or kalo in Hawaiian, is a tropical plant popular in local cuisine. With a starchy texture similar to potatoes, taro has a mildly sweet, nutty flavor.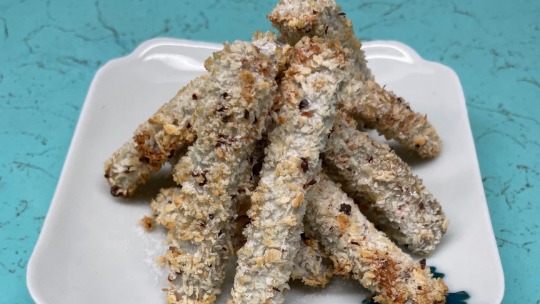 Peel and slice taro about 1/4-inch thick. Dredge in flour, dip in beaten egg, then coat with panko mixed with Aleppo pepper. Bake at 425 F for 10 minutes, turn them over, then bake 10 minutes more.
Haricots verts
French green beans are slightly longer and skinnier than their regular green bean counterpart. Both types of beans contain vitamin B, C, and K and minerals such as magnesium, iron and manganese.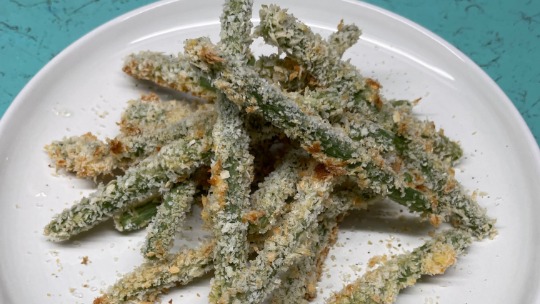 Trim both ends of haricots verts. Dredge in cornstarch, dip in beaten egg, then coat with panko mixed with garlic salt. Bake at 425 F for 10 minutes. Don't need to turn!
Plaintains
Though plantains look similar to bananas, they're delicious and nutritious in their own right. Plantains are a good source of fiber and are naturally low in fat.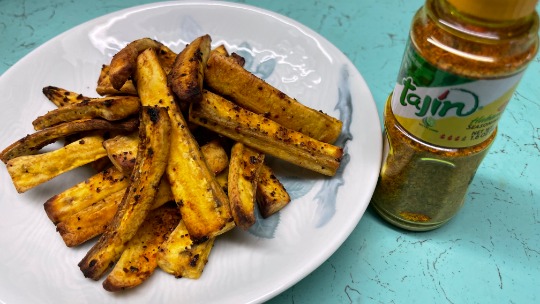 Our plantain that was just starting to turn yellow ... peel and slice, toss in olive oil, then arrange on rimmed baking sheet. Sprinkle with Tajin. Bake at 425 F for 10 minutes, turn them over and bake 10 minutes more.
Want more veggies?
Here are more ways to eat more vegetables:
eat pono ulu fries
Fries made with ulu, or breadfruit, are easy to make and delicious. Candes and Poet Gentry of Eat Pono share their recipe for ulu fries and discuss the history of breadfruit in Hawaii as well as its versatility.
cauli-rice: It's rice-less rice!
Cauli-rice is a simple and healthy rice alternative. Watch this video and see how simple "ricing" a head of cauliflower is! Basic cauli-fried rice is also included.
green shakshuka
Here's a delicious way to put more dark, leafy greens on your plate – green shakshuka is a variation of the traditional dish, which features eggs poached in a chunky tomato and red bell pepper sauce. Swap out the chard and zucchini with whatever you have in the fridge.
mini pepper stuffed "carrots"
These mini peppers stuffed with your favorite cheese are adorable and tasty.
oven-broiled shishito peppers
You may have seen these slender, green peppers in the store or served blistered at restaurants. Once you see how easy they are to prepare at home, you'll be eating them whenever you find them at the store.
spicy pickled onions
Here's an easy (no cooking required!) recipe for pickled onions. Make it as spicy as you want or not at all. For tastiest results, use local sweet onions such as Maui or Ewa Sweet.
vegan kabocha and red lentil stew
This tasty and filling vegan stew includes kabocha, red lentils, carrots, and spinach.
vegetarian kimchi stew
Our kimchi soondubu jjigae is a simple stew for those who crave spicy. Enjoy it with a bowl of hot rice.
watermelon & cucumber gazpacho
The best part of this refreshing watermelon and cucumber gazpacho? No cooking required! Simply blend everything together and chill.