Here's a classic corn chowder with a local twist -- ulu, or breadfruit, appears as a potato substitute in this hearty soup, perfect for rainy days and cool nights.
Choose an ulu that is somewhat green and firm. Once picked, breadfruit ripens quickly, so plan to use it before it turns soft and sweet. Here are a few tips for cooking ulu:
Microwave. Poke holes around whole ulu with a fork and microwave on high 10 minutes, flipping it over halfway through.
Boil. Cut ulu into large pieces, cover with boiling water, and cook 30 minutes over medium heat.
Oven roasting. Place halves cut-side down on a greased baking sheet and bake at 375° for 45-55 minutes or until fork tender.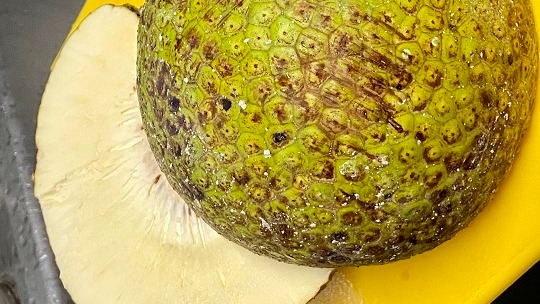 Ingredients
4 slices bacon, diced
1/2 onion, chopped
2 stalks celery, chopped
1 carrot, peeled and chopped
2 cups water
1 tsp. salt
1½ cups milk
½ medium-sized cooked ulu, cored, peeled, and diced
1 cup corn, fresh if possible
Black pepper
Chopped fresh parsley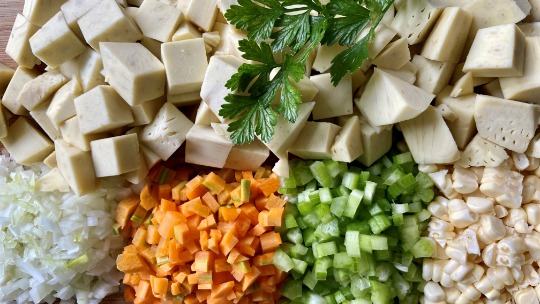 Instructions
In a large saucepan, fry bacon until light brown. Add onions, celery, and carrots and cook until tender. Add water and salt. Simmer until vegetables are soft. Add milk, ulu, and corn and heat through.
Season with pepper to taste. Garnish with chopped parsley, if desired.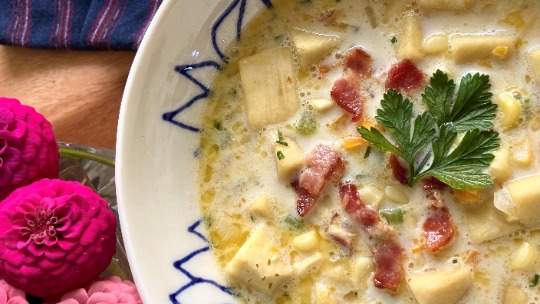 HMSA member Carla Kuo is a mom, blogger, amateur gardener, and cook in Hilo. Inspired by local produce and her random food cravings, she enjoys posting about her culinary and garden adventures on Facebook and Instagram at @yardtotablehawaii and at yardtotablehawaii.com.