Each year on May 5, families in Japan and Hawaii celebrate Children's Day. Known as Kodomo no Hi in Japanese, this is a day to honor the health and happiness of children.
Around this time of year, you may see colorful streamers of koi, or Japanese carp, hanging in front of homes and throughout neighborhoods. These streamers, or koinobori, are symbols of the hope that children will grow up healthy and strong.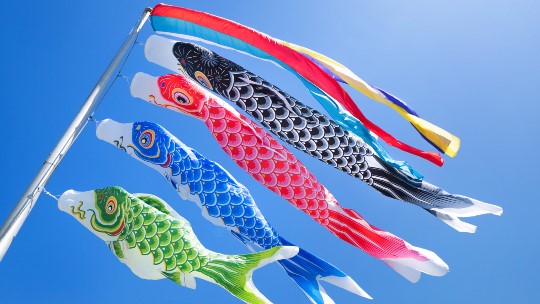 Boys' Day to Children's Day
Since girls have their own day of celebration on March 3, it's natural to assume that there's a Boys' Day, too. That was the case up until 1948, when the Japanese government changed Boys' Day to Children's Day to lift the spirits of the people after World War II.
A symbolic fish
The koi is not only Japan's national fish, it's an important part of the culture. They swim against the current and are regarded as resilient creatures that embody courage, strength, and success through perseverance. Koi can also grow very large and live long lives, symbolizing vitality and longevity.
In Buddhism, koi is a sign of courage and represents fearlessness while making one's way though "an ocean of suffering." Their slow, graceful movement convey peace and tranquility.
Let your fish flag fly
Traditionally, koinobori were displayed on a pole with a yaguruma, or a pair of arrow-spoked wheels topped with a ball-shaped spinning vane. A black koi representing the father of the household flies at the top of the pole followed by smaller red koi to represent the eldest son and additional blue, green, purple, and orange flags for subsequent sons. However, over the years, the symbolism evolved to the red koi representing the mother and the rest of the flags representing the children.
These days, there seems to be more creative freedom when it comes to koinobori. It doesn't matter what color they are, what kind of material they're made of, or if they're big or small. What matters is that they make you happy.
Make your own koinobori
With our downloadable pattern and some simple supplies, you and your family can make your own koinobori.
Supplies
White or colored paper/cardstock
Crayons or markers
Scissors
Glue or tape
Wooden chopsticks
Streamers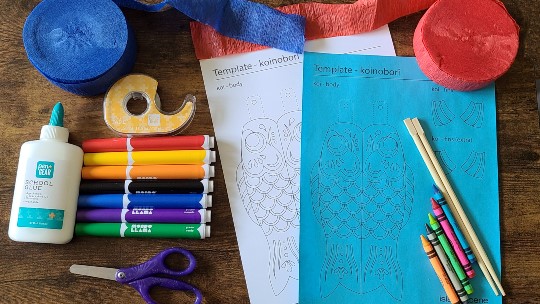 Instructions
Print koinobori pattern on paper or cardstock. Color with crayons or markers. Cut out and attach fins with tape or glue. Add streamers and attach to a chopstick.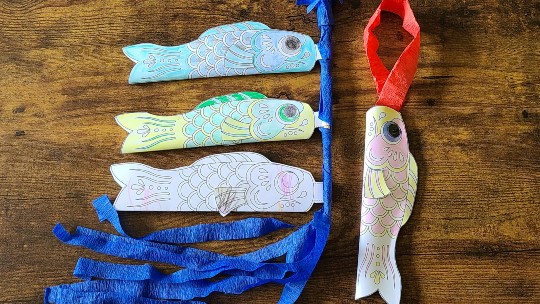 Father and son fun
Watch fathers and sons Yovo and Makani Stefanov and Kenyon and Lennox Tam create Children's Day memories as they make their own koinobori.
More kid-friendly activities and recipes
Get the keiki involved in the kitchen or keep them busy with these activities and crafts.
campfire nachos
Why limit cooking to the kitchen? You can make these fun, easy, and delicious nachos in your backyard. Add your favorite healthy foods to kick up the nutrition and flavor.
chichidango recipe
Chichidango is a sweet, chewy, and delicious treat. Join mother and daughter duo, Courtney and Cassidy, as they demonstrate how to make chichidango for Girls' Day.

diy earring holder
This DIY ombre earring holder made with craft sticks makes for a quick and easy gift.
diy marble magnets
Here's a craft project that kids can do with a little parental help. These marble magnets make good party favors as you can produce a maybe of them in a short time.

diy valentines day window clings
Though these are Valentine's Day-themed window clings, you can make any shape you want for year-round fun!
Koinobori designed by Megan Wakayama.