My first memory of Girls' Day is from the third grade in school. On March 3, instead of the girls putting their chair on their desk at the end of the day like usual, our teacher made the boys do this daily chore. The boys complained and the girls basked in this small moment of glory. It wasn't until years later that I learned what Girls' Day is all about.
My mom didn't like to bake, but she loved making mochi, especially chi chi dango. Whenever someone would compliment her, she'd say, "It's just sugar and mochiko." I'd tasted the same Japanese treat from stores, craft fairs, and friends. But it never tasted as good as my mother's. I wondered if she had a secret ingredient.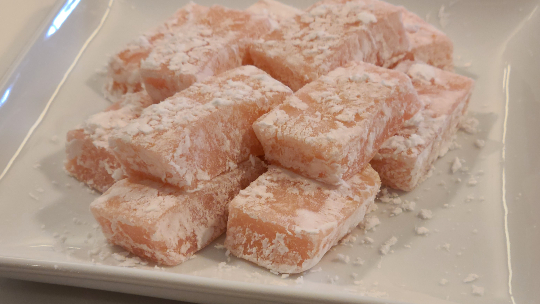 I spent hours watching her make chi chi dango every year in the days leading up to Girls' Day. She meticulously measured and mixed the ingredients, slowly poured the mixture into a baking pan, and sliced each piece with precision and care. "Girls' Day is important," she said. "It's a time to wish girls good health and happiness for the coming year."
Young me didn't understand the correlation between the chi chi dango and good health. So when my mother tried to teach me how to make it, I made a mess measuring the mochiko, left lumps in the mixture, and rushed to cut the chi chi dango so I could quickly eat some. I remember asking my mother, "What does it matter? It'll taste the same, right?" I had the answer to my question when I tasted my own creation: No.
It wasn't until 30 years later, when I had a daughter of my own, did I attempt to make chi chi dango. Though my mother had passed away many years ago, I was determined to make something worthy of her memory. This time, I measured way more carefully, mixed until the lumps were gone, and meticulously cut it into perfect little rectangles. The result? The chi chi dango was more successful than my childhood attempt. Maybe it was because I finally realized that perhaps my mother's secret ingredient was love.
Ingredients
1 lb. sweet rice flour (mochiko)
1 1/2 cups sugar
1 tsp. baking powder
14-oz. can coconut milk
1 3/4 cups water
Red food coloring
Cooking spray
Potato starch (katakuriko)
Instructions
Preheat oven to 350 F. In a medium bowl, stir together mochiko, sugar, and baking powder. Add coconut milk, water, and three drops red food coloring. Mix well until smooth. Pour into a 13-by-9-inch baking pan prepared with cooking spray. Cover with foil. Place baking pan in a large roasting pan and add water to the roasting pan about 1/2-inch high. Bake 1 hour 15 minutes. Remove foil and allow to cool. Cover with foil and let rest overnight.
Use a plastic knife to cut mochi into pieces. Dredge in katakuriko.
Girls' Day in Hawaii
Learn more about Girls' Day from the Japanese Cultural Center of Hawaii. See how Girls' Day originated in Japan and why we celebrate it in Hawaii.
Family activities
If you're looking for a way to spend quality time with the family on Girls' Day or the next time everyone is free, check out these family-friendly activities:
hiking kaena point trail with kids
hiking puu pia trail with kids
hiking the manoa falls trail with kids
makiki valley loop trail