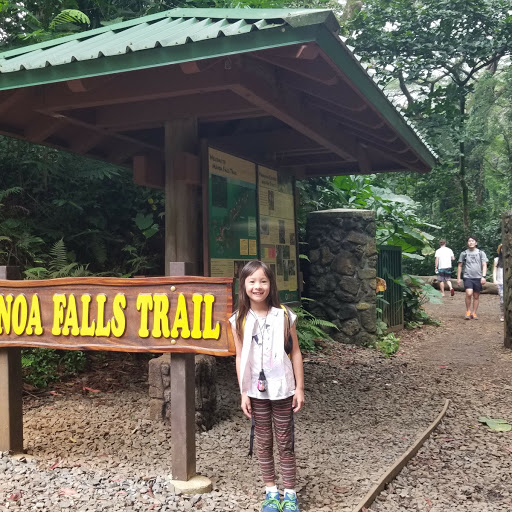 If you feel a little nature deprived and want to do something fun and active with your children, I highly recommend hiking the Manoa Falls Trail. Just drive to the end of Manoa Road past Manoa Elementary and as the road narrows you'll see a parking lot next to the Treetops Restaurant, where an attendant will collect a $5 fee. A short walk on a paved road from the lot will take you to the entrance of the trail. The trail takes about an hour for most adults. With kids in tow and lots of picture taking, expect to spend at least two hours for the total 1.6 mile out-and-back hike. You'll travel up an elevation of approximately 800 feet but the views alone make this hike definitely worth it.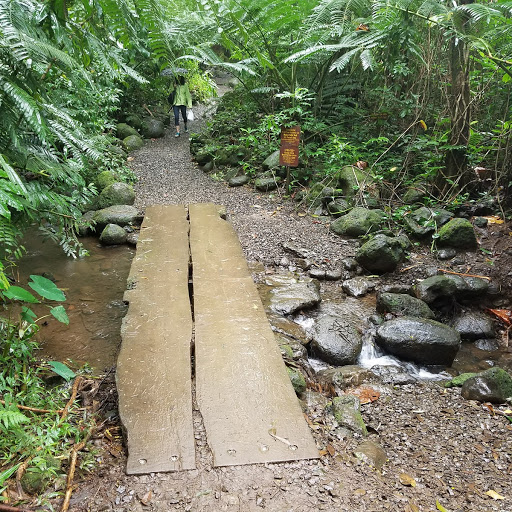 The path is well maintained with bridges over streams and man-made stairs in the steep areas. I instantly regretted not applying mosquito repellant since I had a bunch of little bites on my exposed calves before we got half-way up to the falls. I would recommend hiking shoes or at least shoes with grip on this trail, as you'll slip and slide if you wear slippers.
The hike is just gorgeous, you'll hear the rush of water and if you look up near the end of the trail you'll see the falls peeking through the lush greenery! What makes this trail unique is how relaxing it was seeing very vibrant green and lush trees, much more than other hikes I've taken my kids on in Oahu. We started out with a light drizzle and a full rainbow greeting us on the way past a set of bathrooms you can use before heading out. We wanted to see a full waterfall so we went after it had been raining, but the forecast was for a clearer sky the day we hiked. I wouldn't suggest going while it's raining hard, especially with children.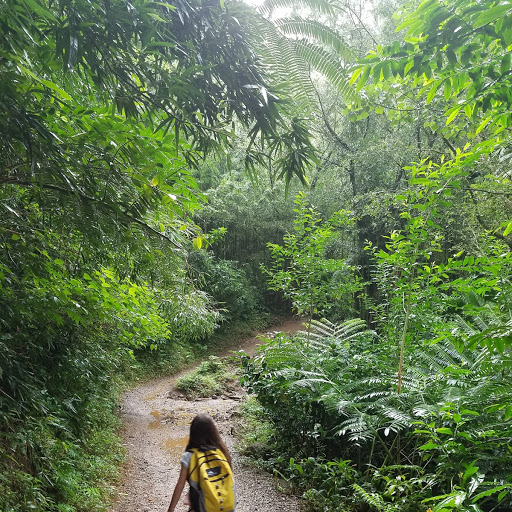 This trail is great for older kids who will appreciate the scenery – the rainforest view, the plants, the sounds of chirping birds, and the waterfall at the end is a real treat. My seven-year-old daughter enjoyed walking through the part of the hike with a lot of bamboo and crossing under trees that had vines. She kept saying how she felt as though we were on a jungle adventure. When I told her they filmed parts of Jurassic Park here, she kept saying she expected a dinosaur to come dashing out from behind some plants at every turn. We saw other hikers with little ones as young as two or three years of age and even a few that were hiking with their dogs, it was an easy enough hike for most people to do. All in all, a great workout and nice way to spend an afternoon with your kids!