It's spoOoOky season. Pumpkin spice and everything nice. The witching hour is upon us. It's fall, ya'll. Whatever your favorite saying of the season is, the bottom line is that Halloween is almost here! Eeeeek!
Unfortunately, we can't help you with your last-minute costume. You're on your own there. However, if you're looking for a quick, stress-free, festive dish that will make you the star of Halloween parties, look no further — we've got just the thing.
Charcuterie boards or grazing boards are a collection of meats, cheeses, savory accompaniments, sweet accompaniments, and crackers. To make it healthier, we jammed ours with lots of fresh fruits and veggies. Trust us — you'll be the belle of the Halloween ball with this collection of sweet and savory treats.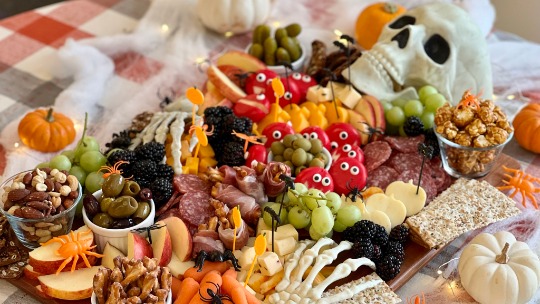 Here are the ingredients we used:
Meats: Prosciutto, salami
Cheeses: Cheddar or Colby, Edam, Muenster
Fruits: Blackberries, grapes, apples
Veggies: Baby carrots, pickles, olives
Grains and nuts: Multigrain crackers, pretzels, mixed nuts
Sweets: Caramel popcorn, honey, fig jam
Make it spooktacular:
Use skeleton décor as a base for the board and place ingredients around it.
Cut firm cheeses with a pumpkin-shaped cookie cutter.
Wrap some of the pretzels with prosciutto to make them look like bones.
Cut the wax-covered Edam cheese to look like ghouls and decorate with candy eyeballs.
Place cobwebs and fairy lights around the board.
Watch us build our Halloween charcuterie board:
food safety tips
The last thing you want at your spooktacular Halloween party is for you or your guests to end up with a foodborne illness. Follow these simple food safety tips from the Hawaii Department of Health to keep your ghoulish grazing board free from bacteria:
Always wash your hands carefully with soap and water before handling food and after handling raw meats or using the bathroom.
Wash all fruits and vegetables thoroughly under clean, running water prior to preparation.
Previously chilled food should be held at 41 F or lower by nesting dishes in containers of ice.
Portion food in small serving trays or dishes and replace every two hours.
Perishable foods should not sit at room temperature for more than two hours unless they are kept hot or cold.
Perishable foods that have been sitting out for less than two hours can be packed away for leftovers. Place food in shallow containers and refrigerate promptly. Consume leftovers within three to four days.
For serving and plating, don't use a cutting board that was previously used for cutting raw meat, poultry, or seafood. There may be residual bacteria that could lead to cross contamination. Always wash cutting boards or serving trays with hot, soapy water before and after each use; then rinse with clear water and air dry or pat dry with clean paper towels.
Find more food safety tips from the Hawaii Department of Health's Food Safety Branch.
more Halloween tricks and treats
Looking for more fun Halloween activities and snacks? Check out these articles for inspiration: