Halloween is just around the corner and I found the cutest little kitty treat container that the kids can make. This quick and easy craft requires a few common household items and takes just minutes to complete. In fact, it's so simple, my 11-year old son, Jaxon, offered to help with the demo!
What you'll need:
Cardboard roll (toilet tissue roll)
Black acrylic paint
Paint brush
Scissors
Pipe cleaner (approximately 6")
Metallic or paint pen
Googly eyes
Craft glue (or hot glue gun)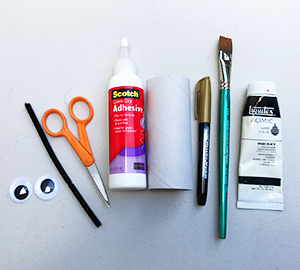 Step 1
Snip one end of the tube approx 1 inch deep about 8 times. It'll look like a wind sock. On the other end, flatten the top of the tube then puff back open. Using the fold as a guide, press down each half into an arc. Repeat on the other half. The concave arcs creates the ears.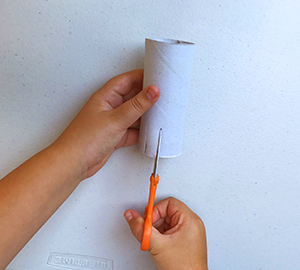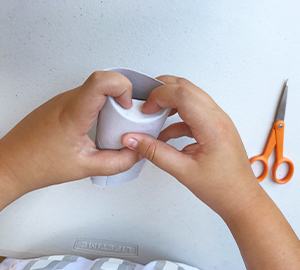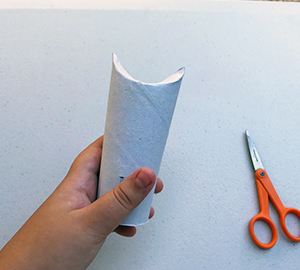 Step 2
Now the fun part, painting! First, unfold everthing you just did; it'll make it easier to paint. Using the black paint (or any preferred color) brush over the entire outer tube. Let dry.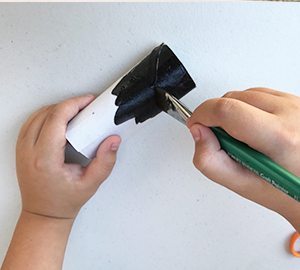 Step 3
On the snipped end of the tube, fold down the strips toward the center of the tube. When all strips are folded they should form a solid bottom. Secure with glue. (I found it easier using the hot glue gun.)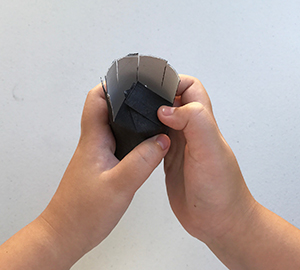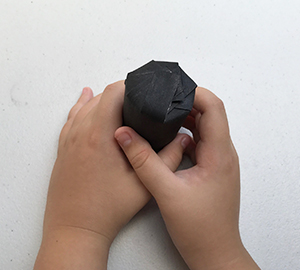 Step 4
Decorate! Using the fold lines, reshape the head/ears of your cat. Glue on the eyes and draw in the whiskers with the metallic/paint pen. Puncture a small hole into the backside of your cat. Curl the pipe cleaner and insert into the hole. Secure with glue.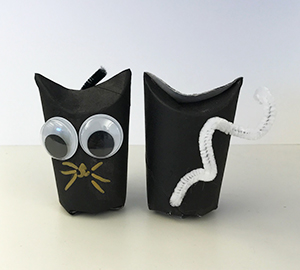 Done! They're ready to fill with treats. Pass these out and I'm sure you'll be able to avoid those tricks!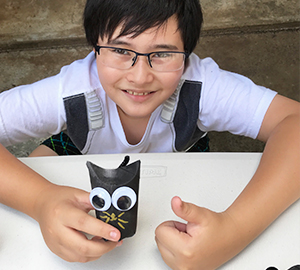 Great job, Jaxon! :)