A dog found as a stray who gets so excited his tail wags nonstop. A cat whose eyes had to be surgically removed, but that doesn't stop him from playing. A dog who's timid, but willing to approach a kind stranger and lick their hand. They're all animals with their own stories and they all need a loving, forever home.
According to the American Society for the Prevention of Cruelty to Animals, more than 6 million animals enter shelters nationwide every year. About 4 million are adopted. April 30th is recognized as National Adopt a Shelter Pet Day. It encourages people to visit a shelter and help the millions of animals in need of a home.
Inside Hawaiian Humane Society
On a sunny Monday morning, Hawaiian Humane Society's Moiliili campus is buzzing with activity. Staff members and volunteers wash out kennels, play with cats, cuddle with rabbits, and take dogs out for a stroll. They're ensuring the animals are healthy, safe, and comfortable while waiting for their forever family.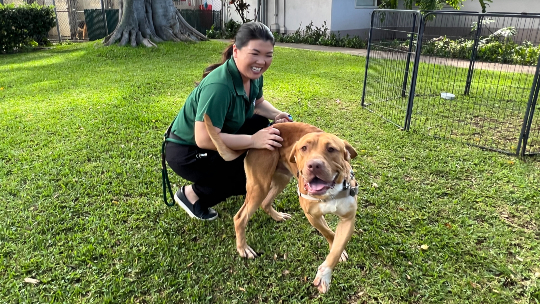 Brandy Shimabukuro with Kwai.
The reasons for surrendering a pet vary. Owners may be unable to care for them anymore or they're moving and can't find a pet-friendly home.
"Hawaiian Humane Society is all about animals for people, people for animals. We want to provide a space for families who must make difficult decisions when they come to us," says Brandy Shimabukuro, manager of communications at HHS. "We're providing services with compassion and without judgment."
The campus is split into several houses, separating larger dogs from smaller ones, and giving shy cats their own living space while outgoing ones live together.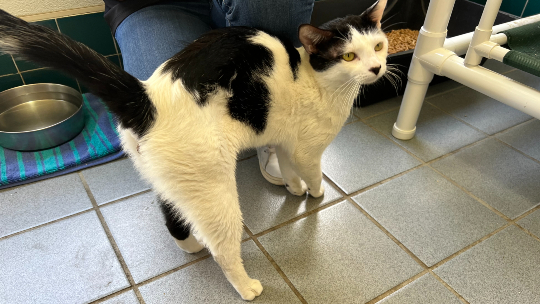 Hart inside Cat House Green.
"We try to create the best outcomes to meet the specific needs of the animals," Shimabukuro says.
Animals are never put down at HHS due to lack of space and there's no time limit for their stay at the shelter. That means it can get crowded and HHS is currently overcapacity with their shelter dog population. It still takes in animals on an emergency basis, but needs the community's support.
Adopt an animal
If you're looking to adopt, the adoptions team will help you find a pet that's a perfect match for your family and lifestyle.
There are some things to keep in mind as you do your research. Shimabukuro says families should make the decision together and make sure they have the time, finances, and resources to provide the best possible environment for the animal. Research the animal's temperament and make sure it'll fit your lifestyle.
"When you decide to adopt, the dog or cat also chooses you," Shimabukuro says. "Give them the space and time they need to thrive in their new home and then some beautiful things will happen."
Power of fostering
If you're unable to adopt, you can foster. HHS just introduced its Couch Crashers foster program last October that lets you give a shelter dog a brief respite from the shelter setting, helping them relax, learn new skills, and shower them with the love they need.
The couch crasher will stay with you for at least three days, though the average is between one to two weeks. You could become a foster fail, which despite its name, is not a failure.
"It's tough not to fall in love when you're opening your home to a dog. We're seeing many people who ultimately want to keep their fosters, though that isn't a requirement of participating as a Couch Crasher foster," says Shimabukuro. "You're making such a huge impact on this animal because you're setting them up for success. Ultimately finding a loving home for these dogs is so fulfilling and rewarding."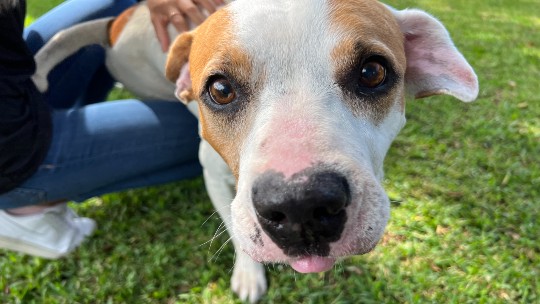 Hugo playing on HHS campus.
Other ways to help
HHS is always looking for volunteers. There are a variety of roles available based on your skill levels or what you're able to do physically.
Education is also a top priority for the organization's mission. The goal is to promote the human-animal bond and the humane treatment of all animals. That's why their education team goes to schools and talks to students about kindness, responsible pet ownership, and careers with animals.
"Being able to reach children and instill those values is incredible because that means we're fostering the next generation of animal welfare champions," Shimabukuro says.
Learn more
Check out this video for more information on the Couch Crashers fosters program and how animals can help improve your quality of life.
Check out more pet-related articles
call of the calico kittens
emergency preparation for your furry friends
find your 'tonks' at the humane society
fireworks are no fun for pets
hiking with dogs: 7 safety tips
hope through action
how to foster kittens
howliday gifts for pets
hurricane preparedness for pets