If you love animals and are looking for a way to care for them without a long-term commitment, consider fostering. That's what Jennifer Farey decided to do.
Room for more
Already the owner of a gray tabby named Lilly, Farey thought she was set. However, when she saw that Maui Humane Society had a fostering program, she had a change of heart. "I knew I could do more," Farey says. "I thought fostering kittens would be good for me, Lilly, and the kittens who need love, care, and sometimes medicine."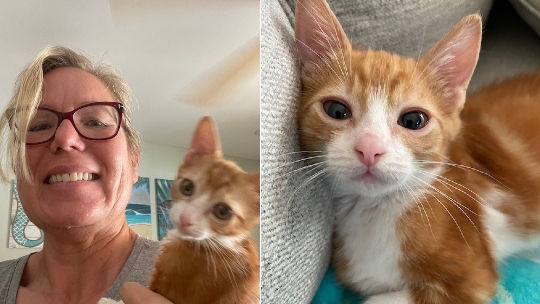 Farey and her first foster kitten.
An easy process
She signed up for the fostering program and met with a coordinator to go over expectations, tips, and support. After that, Farey was added to a distribution list where she'd receive text messages and emails about available animals. "It was easy to choose kittens that fit into my household," Farey says.
Once she let MHS know she was interested in fostering a specific kitten or kittens, they arranged a time for her to pick them up. "They provide everything you need to take care of the kittens, even toys!" Farey says. "Maui Humane Society makes it so easy."
The time commitment varies with each situation and depends on the foster animal's age and medical condition. "My first foster kitten was with me for three weeks," Farey says. "My current kittens have been with me over a month."
A range of needs
Farey has taken care of a wide variety of kittens, from bottle babies to kittens with upper respiratory infections who need medication to healthy kittens that just need time to grow before they're adopted.
"My first foster kitty had a URI. That involved eye drops twice a day and oral medicine once a day for 10 days," Farey says. "The two sisters I have now came to me healthy, but ended up with a digestive imbalance. I had to administer an antibiotic once a day for five days."
A rewarding experience
While it's nice to have kittens in her home to brighten her day, Farey believes that the best part about fostering kittens is "watching their health improve and see them feel better and get stronger." She's even bought cat furniture and toys for her dedicated fostering room. "Playtime is fun for both the humans and fuzzballs. It's a win-win situation."
Farey encourages anyone who has room in their heart and home to consider fostering animals. "When kitten season hits, the shelters get bombarded," she says. "Providing a foster home is a wonderful way to ease the burden on them. It's also a great way to help to socialize kittens that were born in the wild and are very fearful of humans."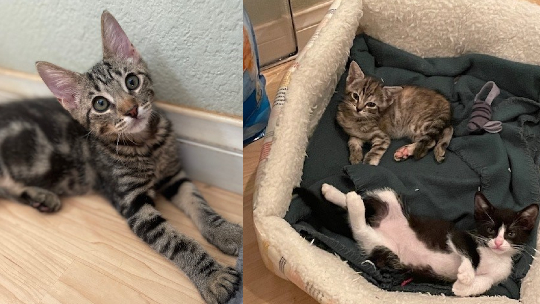 Kittens enjoying their temporary home in the Farey residence.
Fostering tips
Now that Farey has been fostering kittens for nearly two years, she has a few tips for anyone starting out.
Don't be afraid to get attached. "I think sometimes the mindset when fostering animals is to keep from getting attached since we know the situation is temporary," Farey says. "But it's important to allow yourself to bond with the kitties and love them." While this may make it more difficult to say goodbye when the time comes, Farey says that making a deep connection is beneficial to the kittens and their progress.
Make time to play. An important aspect of fostering animals is making an effort to have fun together. "Animals need to be stimulated," Farey says. "Watching a kitten fly through the air after a dangling mouse toy is just as much fun for them as it will be entertaining for you."
Share the love. Farey recommends introducing your fosters to your friends and family. "This helps so much with their socialization," she says. "The more people they get to be around, the more comfortable they'll become."
Fostering resources
Farey chose Maui Humane Society because she lives nearby and wanted to support their mission. "They're so supportive and make fostering easy," she says. "But if you do your research, you can find an organization that makes sense for you."
In addition to Maui Humane Society, there are a variety of groups that offer fostering programs:
Hawaii Animal Rescue Foundation
Hawaii Dog Foundation
Hawaii Island Humane Society
Hawaiian Humane Society
Kohala Animal Relocation and Education Service
Lucky Paws Animal Foundation
Hawaii SPCA
Oahu SPCA
Paws of Hawaii
Photos courtesy Jennifer Farey