It was 24 years ago in early September when a hurricane named Iniki struck the islands. Just when we thought it would play nice and pass to the south of us, it took an almost perfect 90 degree turn north and zeroed in on Kauai. Of all the islands, Kauai suffered the most damage and many parts of the island were quite devastated.
In the days after the hurricane, I heard a news report about the many pet dogs and cats that were lost during the chaos of the storm and were running wild. The Kauai Humane Society (KHS) was a very small operation back then, and the magnitude of the problem was more than they could handle. A call went out for support and donations to help the organization.
Being the animal lover that I am, I went into action and collected about $200 from myself and my office mates, then sent the money to Kauai. It was a small amount for the cause, even in 1992, but I like to think I (and my coworkers) contributed to the shelter's growth and success since then.
A few months ago, I had an opportunity to visit the Lihue animal shelter for the first time. Their current building was built in 2001, and features a spacious dog park next to it and room for the occasional rescued horse in the back. The facility itself presents a neat, welcoming picture for visitors.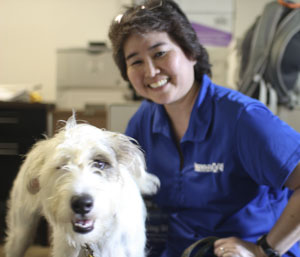 When the KHS development director, Laura Lee, took us on an informal tour, I was impressed with how clean and orderly the rooms, cages, and pens were. Lee said, "I'm proud of the staff, honestly. They come in at 5:00 every morning. We have two shifts and all I get from people is how clean the facility is and how efficient the staff is, and how open they are. It's hard labor and hard work. What they do is amazing."
(Above: Blogger Jamie poses with Rascal, KHS development director Laura Lee's sweet dog.)
"We accept every animal," Lee explained. "It does not matter if it's injured, has babies or not. And we make sure that pet owners are well-informed of how to take care of their animals."
Several of their programs are aimed at helping owners keep their pets, she said. "We have safety net programs, such as the pet food bank. There are four on the island and we provide pet food for people who are financially struggling. We also offer low-cost vaccinations every first and third Saturday for $15. We also offer spay and neuter surgeries. We want people to be able to keep their pets."
Because Hurricane Iniki played a big part in the history of KHS, and because we're still well within hurricane season, I turned the focus of our interview to hurricane season and preparedness.
Lee said she and her staff do keep on heightened alert during this time of the year, since Kauai is often a target of storms and hurricanes. "As far as hurricane season, I'm always on the lookout, because the facility would be impacted."
"We have a large basement downstairs in case we have to shelter some of the animals. We cannot shelter people because it doesn't have an elevator, but we can shelter the animals. We work with the Red Cross and the hurricane preparedness people and make sure information is put on their websites," she said.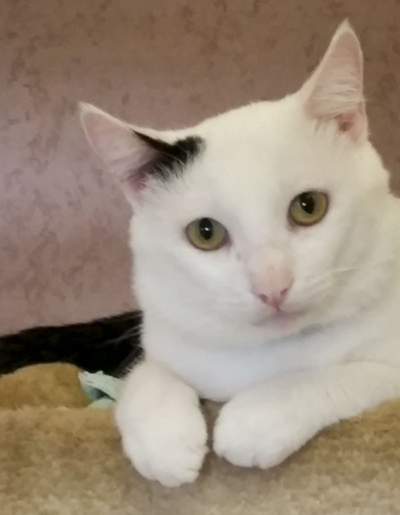 They also use social media to remind people to be prepared. "On Facebook and Twitter, as well as our website, we do say, 'OK, it's hurricane season. Let's get going and get your stuff ready!'"
(At right: One of the many wonderful animals available for adoption at the Kauai Humane Society.)
In Hawaii, hurricane season is from June through November. I asked Lee if she had advice for pet owners. "I would definitely say microchip your pet," she said, "because they may escape if they are scared of lightning or thunder. If you go to the shelter and decide to leave your pet at home, put a sticker up that says: My pet is inside."
She added, "We always tell people to stock up on food, because, as you know, when a hurricane hits, we could be stuck on this island with no shipping access. Paper towels and toilet paper are the most common things people buy when the tropical storm comes, every single time. That's for people, but for animals, it would be the food, fresh water, and a carrier. Those are the three things we say to have. Also, any medicine that your animals are on. Stock up on those things before the hurricane comes."
To learn more about the Kauai Humane Society, visit www.kauaihumane.org. They are also on Facebook, Twitter, and Instagram.
For hurricane preparedness tips for pets and owners on Kauai, the American Red Cross offers an informational brochure. For information on the other islands, check online resources for the animal shelter near you.
Photo on Well-Being Hawaii's home page: Blogger Jamie holding Joshua, another adorable animal at KHS who's waiting for his furever home.
All photography (except for photo at top) by Fernando Pacheco. Top photo of the KHS building provided by the Kauai Humane Society.