One of the joys of being a dog owner is having a partner in crime to adventure with. In Hawaii, there are countless outdoor activities dog owners and dogs can both enjoy safely!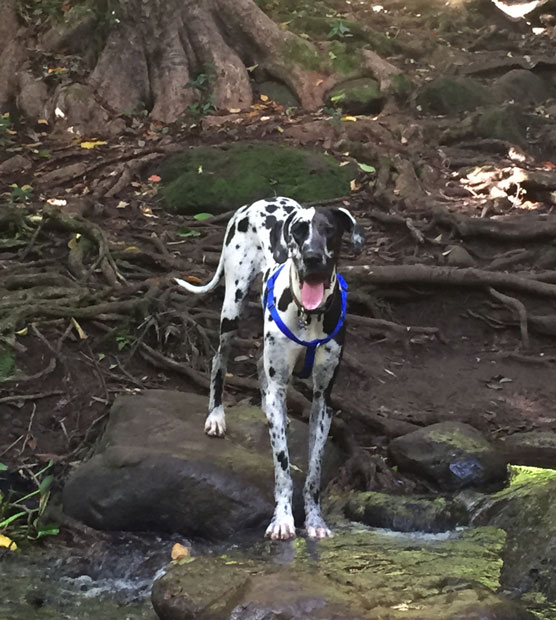 One of my favorite activities to do with my dog is taking him on hikes with my fiancé. Our dog is an energetic 2-year-old Great Dane named Bixby. Shortly after arriving to Oahu we learned firsthand the danger of hiking in Hawaii with a dog. We embarked one morning on the Lanikai Pillboxes (Ka'iwa Ridge Trail) trail. The trail is about 1.6 miles, which is shorter than the length of our usual daily walk. Halfway up the trail we could tell he was starting to get hot. The trail was completely exposed to the sun with no shade on a particularly hot July day. By the time we made it to the first pillbox Bixby was thoroughly worn out and instantly laid down in the shade of the shadow of the pillbox. We rested with him for 30 minutes and gave him plenty of cool water to drink. Fellow hikers stopped to ask if we were alright. As we descended the trail, we had to stop numerous times for Bixby to lie down and drink water. At one portion of the trail Bixby even found a mud pit to cool down in.
Situated closely to the Lanikai Pillboxes Hike, Kailua Animal Clinic is very used to treating dogs for heat related injuries caused by the hike. Dr. Candice Denham, veterinarian at Kailua Animal clinic, said these cases are most prominent during the summer months. Elevated body temperatures in dogs can cause comas, strokes, seizures, organ damage, and severe cases can even be fatal.
There are several levels of heat exhaustion and it is important to notice the signs early on: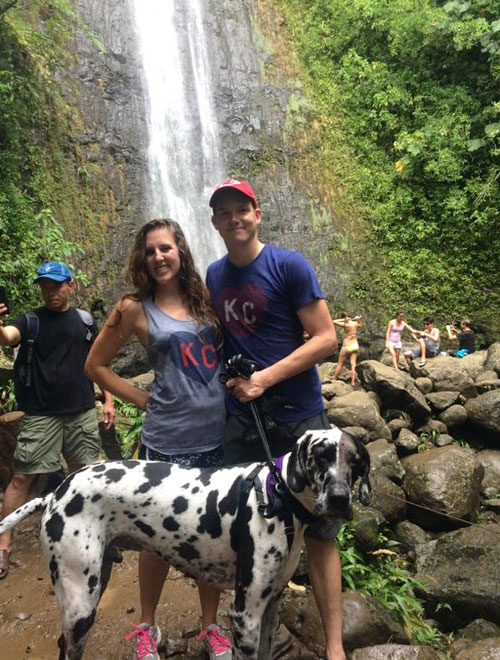 · Panting
· Red tongue and gums
· Fatigue
· Collapsing
Dr. Denham advised that most owners are able combat possible heat exhaustion by lowering their dogs' internal body temperatures. She says to start, find a shady area for your dog to rest. Give your dog plenty of cool, not ice cold, water to drink. In addition, apply cool water to your dog topically. If conditions don't improve, call your vet.
To avoid putting your pup in a comprising situation follows these tips from Paws on the Path hike leader Michelle Sullivan:
· Research and select appropriate hikes and trails that suit your dog's activity level. Make sure the hike has plenty of shade and is not too exposed.
· Avoid hiking during the hottest part of the day.
· Be equipped with plenty of cool water.
· If the hike or trail is paved, be sure to test the pavement for heat retention. Place your hand or barefoot on the surface of the pavement. If it is too hot for your skin it is too hot for your dog.
· Make sure your dog is up to date on all vaccines, most importantly leptospirosis for any puddles or bodies of water you may encounter.
· Keep your dog on a leash and wear reflective gear if hiking during the evening. You could run into other animals, hunters or traps.
· Never embark on a hike alone.
After our experience on the pillboxes, my fiancé and I are both more cautious when selecting dog-friendly hikes to go on. Our favorites include Manoa Falls and Judd Trail. On Oahu, Michelle from Paws on the Path also recommends the Maunawili Demonstration Trail, Kealia Trail, and Aiea Loop Trail.
Share your favorite dog friendly hikes in the comments below or on our Facebook page!