Hawaii's active hurricane season shows no signs of slowing down. With hurricane preparation on many people's minds, it may be time to ask yourself whether you have a plan for your furry friends.
"If you're in an unsafe situation, it's not safe for your pets, either. We encourage people to have a plan and think it through now," said Jacque Vaughn, community relations director at Hawaiian Humane Society. "Do you have enough crates, food, medication, collars, and other needed supplies for your animals? You'll need to bring all your own supplies to the shelters."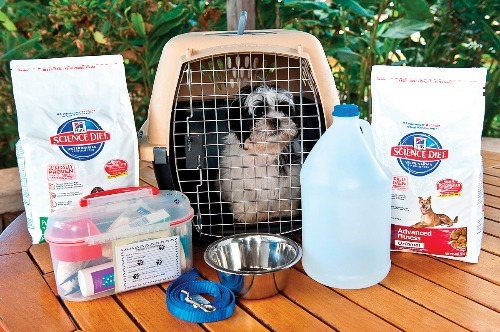 Photo courtesy of Hawaiian Humane Society.
The Hawaiian Humane Society encourages all pet owners to be prepared in case of a natural disaster. The organization has a list of Oahu pet-friendly emergency shelters on its website. All pet owners should check the list and requirements prior to going to a shelter.
The Hawaiian Humane Society asks that you please don't bring your pets to them during an emergency because its first responders will be deployed to emergency shelters to assist with your pets there.
In addition to your own hurricane disaster preparedness kit, make sure you have one ready for your pet(s). The kit should include:
♦ 7-10 days of food and water (in sealed containers), food and water bowls, treats, and can opener
♦ Leash and collar with updated ID and license tags
♦ Bedding, towels, and toys
♦ Medications
♦ Cat litter (in sealed container) and litter pans
♦ Cleaning supply for crates and liter boxes
♦ Grooming supplies
♦ Vaccine records, photos of your pet, veterinary information, and other important paperwork
♦ First aid kit
You can download the Hawaiian Humane Society's disaster preparedness brochure here.
There's also a new emergency service called Smart911. The online database, which is run by Rave Mobile Safety, allows users to input personal information of their choice. The information is used by first responders in the event of an emergency call. Pet owners can include pet information in their profiles so that responders will know how many animals should be accounted for in an emergency.