Maui onions are grown on the slopes of Haleakala. Ewa Sweet Onions are grown on the leeward side of Oahu. No matter where you get your local-grown sweet onions, you'll want to try them pickled, chilled, and spicy hot.
And if slicing onions stings your eyes and makes you cry, try this hack from TikTok … place a wet, crumpled paper towel on the cutting board between you and the onion. It works for some people.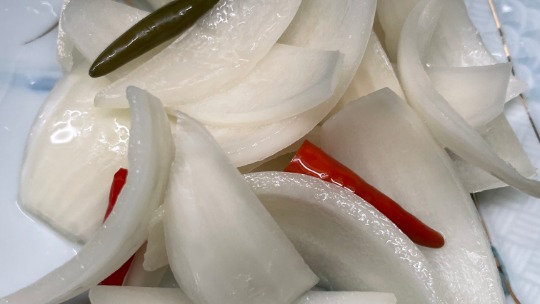 Ingredients
2 medium Maui or Ewa Sweet onions
8 Hawaiian chili peppers*, stemmed and coarsely chopped
1 Tbsp. Hawaiian salt
1/4 cup sugar
3/4 cup white vinegar
3/4 cup boiling water
*Adjust quantity according to your heat tolerance.
Instructions
Peel onions and slice each into eight wedges. Pack into a quart-sized jar with chili peppers. Add salt, sugar, and vinegar. Pour boiling water almost to the top of the jar and cover tightly. Let stand at room temperature 24 hours, shaking occasionally. Refrigerate.
In the mood for more pickled food? Check out our recipes for Vietnamese daikon and carrot pickles. Pile on a banh mi for a delicious crunch. If kimchi is on your mind, you'll enjoy our recipes for napa cabbage kimchi and vegetarian kimchi stew.