I grew up in the South, where my taste buds developed independent from the influences of most fermented foods. But my Korean college roommate changed that.
Every time she went home, her angel of a mom gave her a massive container of homemade kimchi. At first, I was wary of the wilted cabbage, then I was curious, and then I was hooked. After graduation, there was a distinct lack of kimchi in my life. Every time I ate something I thought, "If only I had kimchi, this would be perfect!"
Kimchi is the best. Period. I'm a little obsessed (…just a little).
What more could you want in a food? It's crazy healthy, with enzymes and good bacteria that help your body; it's great with any heavy meal because the spicy, fresh taste cuts through fat and refreshes your palate; and it's amazingly versatile and can be used in soups and other dishes.
Two years ago, I finally bit the bullet and decided to make this seemingly intimidating dish. It's actually not that complicated – it just takes time. Now I make it every few months, enlisting friends' help to make the process go faster, and then split the rewards.
So what are you waiting for? Get a friend and get fermenting!
---------------------------------------------------------------------------------------------
This recipe makes about 8 pounds of kimchi.
Original recipe from Maangchi
INGREDIENTS
For salting cabbage:
•

6 pounds Napa cabbage (3 to 4 heads of medium cabbage)
•

½ cup Kosher salt
For making paste:
•

2 cups water
•

2 Tbs. mochiko flour
•

2 Tbs. turbinado sugar
•

2 cups radish matchsticks
•

1 cup carrot matchsticks
•

8 green onions, chopped
•

1 cup Asian chives (buchu), chopped
•

1 cup water dropwort (minari), chopped
•

¾ cup garlic cloves (about 24 garlic cloves)
•

3 tsp. ginger
•

1 medium onion
•

½ cup fish sauce
•

¼ cup fermented salted shrimp with salty brine, chopped
•

2 cups hot pepper flakes
DIRECTIONS
Prepare and salt the cabbage: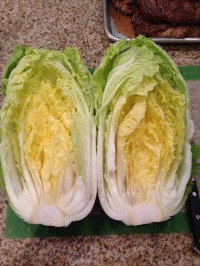 1. Split the cabbage in half without shredding its densely packed leaves: Cut a short slit in the base of the cabbage, grip either half, and then gently pull the halves apart so the cabbage splits open. Do this again so all your cabbage is cut into quarters.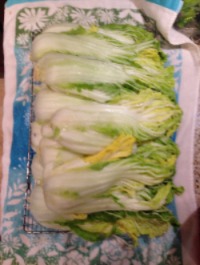 2. Rinse the cabbage in a large basin of water before sprinkling the salt between the leaves. Lift up each leaf to make sure it's all salted.
Use more salt closer to the stem where the leaves are thicker.
3. Let the cabbage rest for two hours. Turn it over every 30 minutes so everything's well-salted.
4. Wash the cabbage a few times under cold running water to remove the salt and any dirt. Place them in a strainer over a basin so they can drain well.
While the cabbage is salting for two hours, prepare the paste: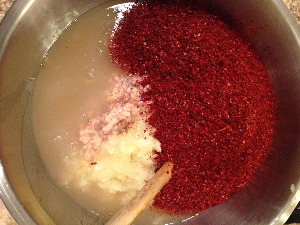 1. Combine the water and the mochiko flour in a small pot. Mix well over medium heat for about 10 minutes until it starts to bubble. Add the sugar and cook for one more minute, stirring. Remove from heat and let it cool completely.
2. Put garlic, ginger, and onion in food processor and pulse until finely minced.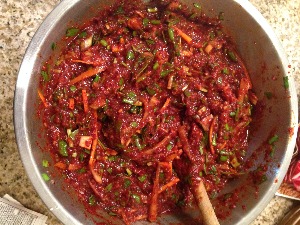 3. Pour cooled mochiko mixture into a large mixing bowl. Add minced garlic, ginger, and onion; fish sauce; fermented salted shrimp; and hot pepper flakes. Mix well until mixture turns into a thin paste.
4. Add radish, carrot, green onion, Asian chives, and water dropwort. Mix well.
Make the kimchi:
1. Spread some paste on each cabbage leaf. When every leaf in a quarter is covered with paste, wrap it around itself into a small packet, and put it into your jar.
2. Eat right away or let it sit for a few days to ferment. The warmer and more humid the weather, the faster your kimchi will ferment. Once it starts to ferment it will smell and taste sour, and pressing on the top of the kimchi with a spoon will release bubbles from beneath.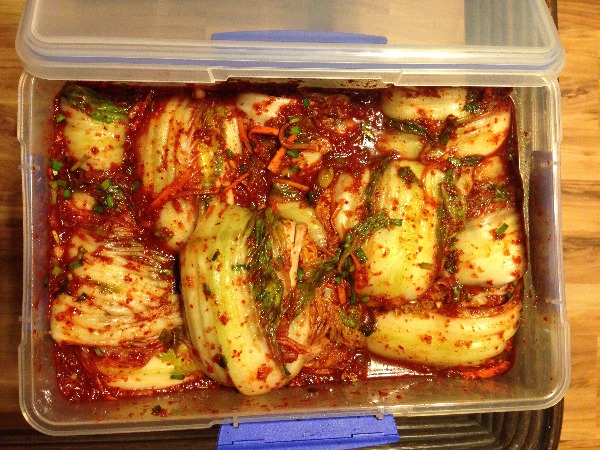 The finished product! Store it in a BP-free plastic container or glass or earthenware jars.