As temperatures rise this summer, it's important to keep hydrated. While water is always a good choice, sometimes you may want something different. Enter roasted barley tea, or "mugicha" in Japanese. This refreshing, caffeine-free tea is a popular staple in Asian countries like Japan, Korea, and China.
Ai Tanaka, tea lover and Organizational Development and Effectiveness senior business partner at HMSA, shared memories of drinking mugicha while growing up in Japan. She also showed us how she prepares this delicious tea.
Toasty flavor of childhood
While children in Hawaii enjoy drinking lemonade, fruit punch, and POG to keep cool, Tanaka grew up drinking mugicha in Japan. "It's the perfect thirst quencher," she says. "I drank it every day!"
During the hot and muggy summers of Japan, iced mugicha was a necessity. "And during the cold months, we drank it hot," Tanaka says. "It warmed us from the inside out."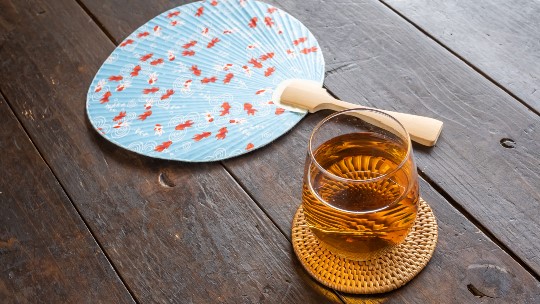 Unlike green and black teas that are made from the Camellia sinensis plant, mugicha is made from barley. When this cereal grain is roasted, it produces a unique, toasty flavor.
Health benefits
Tanaka drinks mugicha every day because it's delicious, calorie-free, and has health benefits. "Mugicha doesn't contain caffeine and it's good for digestion, the immune system, and may prevent tooth decay," she says. "That's why it's one of my favorite drinks."
Here's more information about the health benefits of barley tea:
Anyone who is on a gluten- or grain-free diet or has celiac disease should avoid mugicha since barley contains gluten,
How to prepare mugicha
"I can still picture my grandma in Japan making mugicha from scratch by boiling roasted barley kernels in a big kettle," Tanaka says. "But today, for convenience, I buy mugicha tea bags that are made with crushed barley. It stills tastes delicious." Luckily, a few Asian grocery stores in Hawaii carry mugicha teabags. And best of all, it's economical and easy to prepare.
"For cold brew, fill a container with water, about one liter, add a mugicha tea bag," Tanaka says. "Let it steep for a few hours or overnight in the refrigerator. That's it!"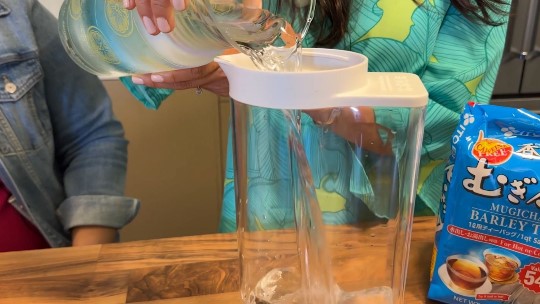 "Since there's no preservatives in the tea, mugicha will only last for a few days in the refrigerator," Tanaka says. "So, drink up!"
For hot brew, add hot water and a mugicha tea bag into a heat-proof container or kettle. Let steep three to five minutes and enjoy.
Tea time
Watch as Tanaka introduces mugicha to HMSA Social Media and PR Specialist, Jessika Orozco. Find out what Orozco thinks of roasted barley tea!
Discover more to eat and drink
diy summer ice cubes
Beat the heat this summer and stay hydrated with flavored ice cubes. Freezing your favorite fruits, vegetables, and herbs in ice cubes can elevate a basic glass of water to a fun summer treat. The possibilities are endless!
healthier party mix
Substituting a few ingredients can make traditional party mix a little healthier without sacrificing flavor. Follow our recipe or use it as a base for your favorite party mix ingredients.
mexican wedding cookies
Heather Roylo, HMSA web senior tech business analyst, shares her recipe for Mexican wedding cookies that has been in her family for more than 50 years.
tea time in hawaii
Watch Ai Tanaka share her love of matcha and herbal, loose leaf, and cold brew tea.