Each year during the holidays, Heather Roylo and her family organize a cookie bake. They make and enjoy cookies that have been in the family for generations. "I love baking for the holidays," Roylo says. "It's a family tradition I always look forward to."
One of her favorite recipes is for Mexican wedding cookies. "They have lots of different names, like snowball cookies or Russian tea cakes," Roylo says. "My grandmother typed out the recipe and called them 'Russion Wafers.'"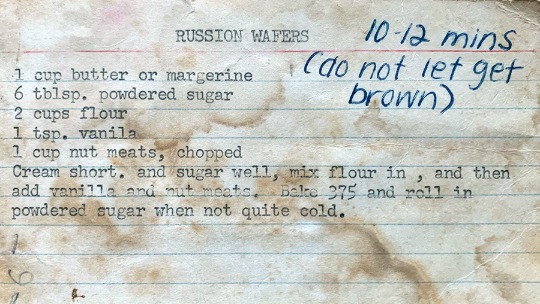 Roylo's grandmother typed the original recipe.
Since the recipe doesn't include a lot of details, Roylo and her mother, Maryann, have since added some. And while most recipes call for pecans or "nut meats" as Roylo's grandma wrote on her recipe card, Roylo found a way to make it a little more local. "I like to use macadamia nuts," she says. "They give the recipe an island twist."
Here's Roylo's updated Mexican wedding cookie recipe:
Ingredients
1 cup butter, softened
6 tbsp. powdered sugar (plus extra for sifting and dredging)
1 tsp. vanilla extract
2 cups all-purpose flour
1 cup finely chopped macadamia nuts
Instructions

Preheat oven to 375 F. In a medium bowl, cream butter and sugar. Stir in vanilla. Add flour and blend well. Be careful not to overmix. Stir in nuts. Roll dough into 1-inch balls and place on a parchment-lined cookie sheet. Flatten balls slightly. Bake 10-12 minutes until set but not brown. Cool until warm, then sift powdered sugar over the tops and dredge to coat bottoms. Makes about 36 cookies.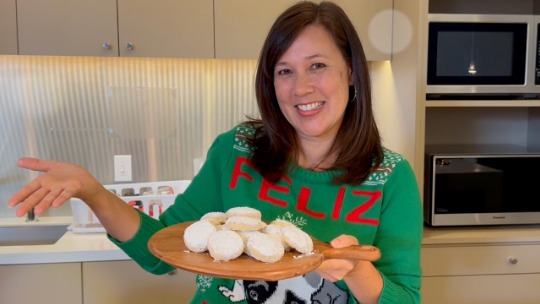 Heather Roylo with her Mexican wedding cookies.
In honor of National Cookie Day, Roylo shares her favorite cookie-related holiday tradition. She also demonstrates how to make Mexican wedding cookies, a recipe that's been in her family for more than 50 years.
Islandscene.com cookie roundup
Looking for more yummy cookie recipes? Check these out: