I've had peanut butter for breakfast, lunch, and dinner. Not on the same day, of course. Throughout my life, peanut butter has sustained me when there was nothing else to eat, when I didn't have the energy to cook, and when I simply craved it. On bread (toasted or not), bagel, crackers, celery, apple slices, a spoon … peanut butter is cheap, filling, and satisfying.
While we can celebrate peanut butter any day, we can officially celebrate it on January 24, which is National Peanut Butter Day. I plan to observe the day with a cookie or two. Although I have a favorite cookie recipe, I was intrigued when I heard about a flourless version.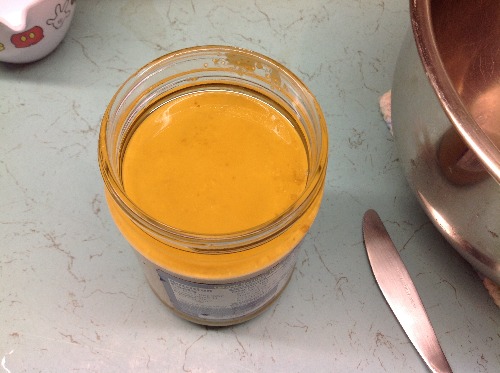 This is a jar of "natural" peanut butter. It contains peanuts and salt. That oil on top? It's normal. Stir the whole thing with a sturdy butter knife until the oil is incorporated.
Regular peanut butter may contain sugar, salt, preservatives, and worst of all – hydrogenated oils. They're the result of a chemical process that turns liquid oil into a solid, which is bad news for your heart, arteries, cholesterol, and blood pressure.
Some natural peanut butters may contain a stabilizer like palm oil that prevents the oil from rising to the top. Check the ingredients label to make sure you're getting what you want.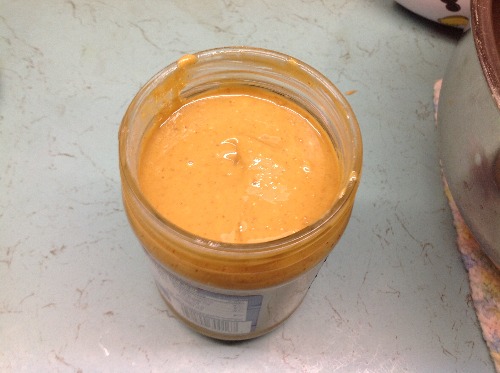 Stirred, not shaken.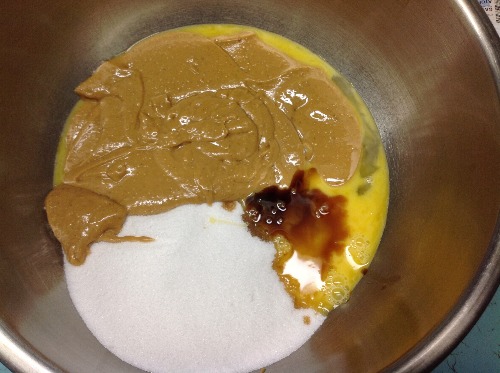 Cookie dough usually starts with creaming sugar with butter, beating in the egg, then stirring in flour. Since this is a no-flour cookie, everything goes into the mixing bowl at the same time. Sugar, peanut butter, vanilla, and egg. I like to beat the egg before adding it to any dough or batter.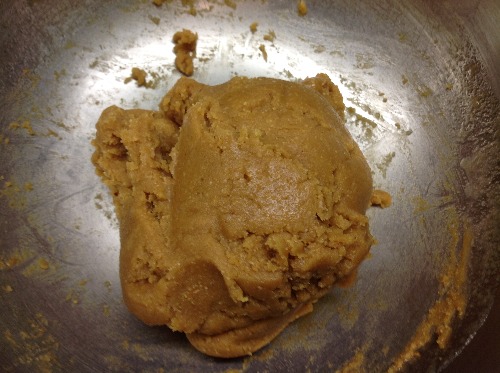 The dough comes together quickly. I mixed with a wooden spoon.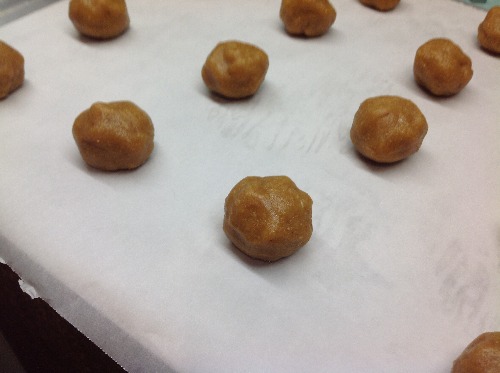 Form dough into balls slightly larger than 1 inch. Place on cookie sheet lined with parchment paper. I spaced these about 2 inches apart, because I didn't know how much they'd spread while baking. Turns out they don't spread at all.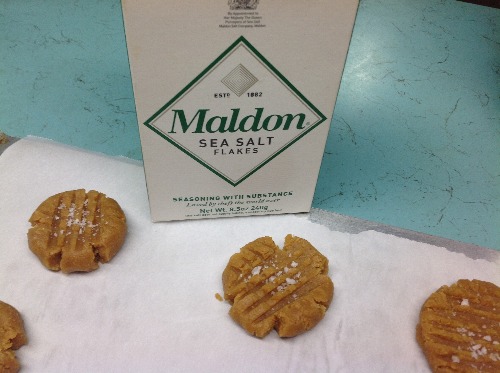 After flattening the balls with a fork, sprinkle with coarse – preferably flaky – sea salt. I think chunky Hawaiian salt would be … too chunky. Bake in preheated 350-degree oven for about 10 minutes.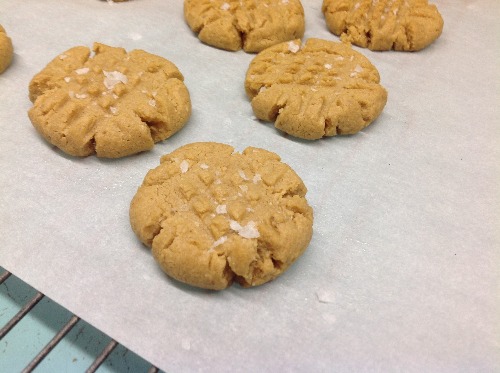 Hot from the oven! Slide the parchment paper onto cooling racks. The cookies are extremely soft, but firm up as they cool. The taste? Peanut-buttery!
Happy National Peanut Butter Day!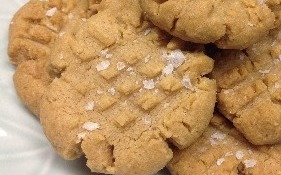 Flourless Peanut Butter Cookies
1 cup natural peanut butter
1 cup sugar
1 tsp. vanilla
1 egg
Coarse sea salt
Preheat oven to 350 degrees. In a medium bowl, mix peanut butter, sugar, vanilla, and egg until well combined. Form into balls a little larger than 1-inch and place parchment-lined baking sheet. Flatten balls with a fork and sprinkle with salt. Bake about 10 minutes or until edges are brown. Cool on wire rack. Makes about 18.