At Well-Being Hawaii, we love national days of celebration, especially when it involves food. And when it includes chocolate, well, we're there.
August 4 is National Chocolate Chip Cookie Day, which I'll use as an excuse to dutifully celebrate with a cookie or two. Moderation is the key to a balanced, healthy, happy life, right?
Generally, cookies are made with wheat flour, but some people are sensitive to gluten. Some people are downright allergic to it. Gluten is a general term for a variety of proteins in grains such as wheat, rye, and barley. But fear not, you sensitive or allergic humans – here's a grain-free chocolate chip cookie so that you can celebrate the day with the rest of the world. You're welcome.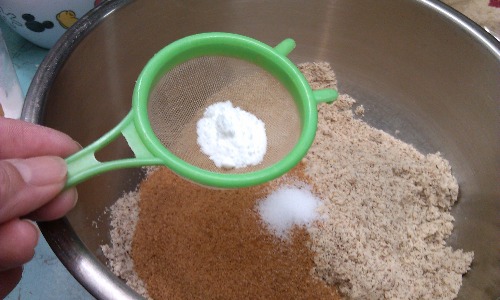 Place almond flour, coconut sugar, baking soda, and salt in a medium mixing bowl. Since baking soda tends to get lumpy, I always sift it. If you've ever eaten a home-baked goodie with a lump of baking soda in it, you'll know why. It tastes terrible and nearly destroys your enjoyment of that succulent goodie.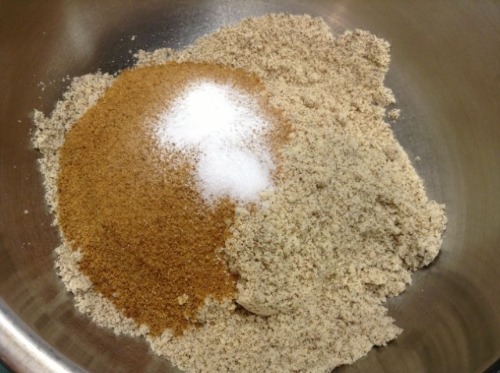 That dark brown patch is the coconut sugar, which is sometimes called coconut palm sugar, but is different from palm sugar. Stir these dry ingredients together.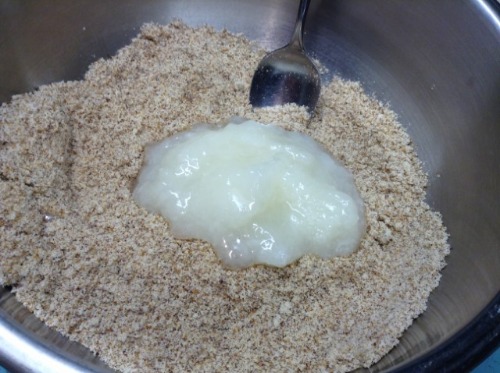 Add coconut oil and mix well. This photo was taken when the weather was quite cool, so the coconut oil was semi-solid. In warm weather, coconut oil is clear and fluid.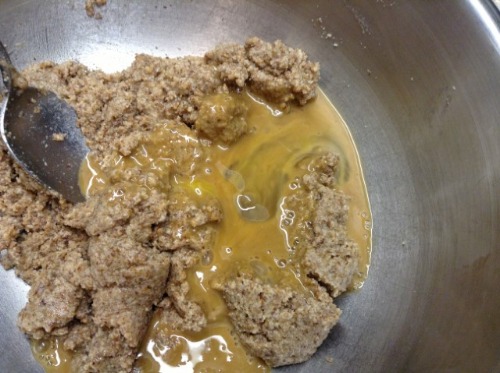 Stir in beaten egg and vanilla. Before adding eggs to anything, always crack them into a small "interim" bowl. (My Mom taught me that.) I like to beat the egg in that small bowl, too, then pour it into the big bowl.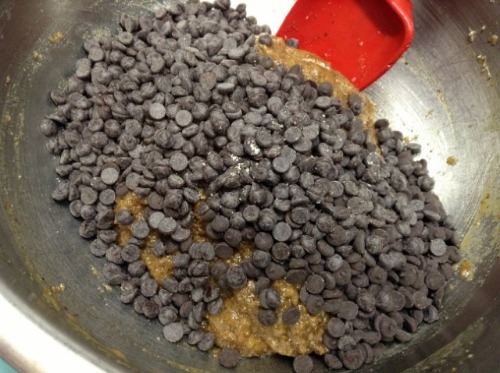 Stir in chocolate chips. I used dairy-soy-wheat-free vegan chocolate chips from a health food store, not to be confused with carob chips. Of course, you can use regular chocolate chips if you aren't allergic to anything.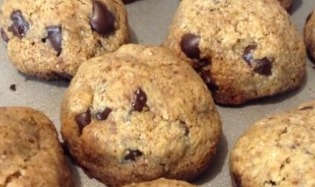 You can either form the dough into little balls or (these are fresh out of the oven, by the way) …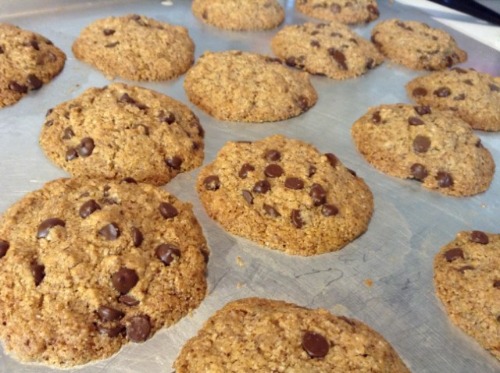 … drop them from a teaspoon (also just out of the oven). Which one looks more appealing to you? The flat ones won't get any crispier than the balls – that's a characteristic of nut-flour goodies. If you like soft, tender cookies, you'll like these.
Wheat-free Chocolate Chip Cookies
2 cups almond flour
1/3 cup coconut sugar
1/2 tsp. baking soda
1/4 tsp. salt
1/2 cup coconut oil
1 egg
1 Tbsp. vanilla
1 cup semi-sweet mini chocolate chips
Preheat oven to 350 degrees. In a medium bowl, combine almond flour, coconut sugar, baking soda, and salt. Add coconut oil and mix well. Add egg and vanilla and stir to combine well. Stir in chocolate chips. Form dough into balls slightly bigger than 1 inch and place on baking sheet lined with parchment paper about 2 inches apart. Flatten balls slightly. (Or, drop dough by teaspoonfuls onto ungreased baking sheet.) Bake 10 minutes or until cookies are just starting to turn golden brown. Remove from baking sheet and cool on wire racks. Makes about 1 dozen.
You'll find all the ingredients at health food stores.