It's spooky season, which means it's also time for sweets and treats! Keep your little ghosts, superheroes, princesses, and pumpkins safe while they trick-or-treat this Halloween. The communications director of the American Red Cross Pacific Islands Region shared these safety tips to help make sure everyone has a happy holiday.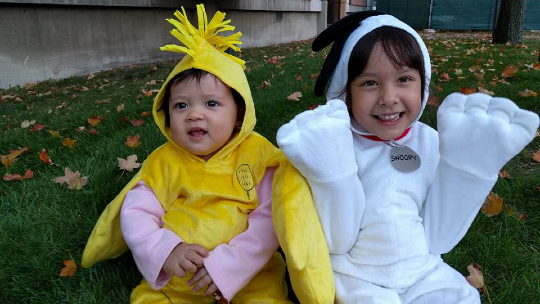 Happy Halloween!
Trick-or-treating
Make sure your trick-or-treaters are visible to others. Provide kids with reflective gear, flashlights, and glow sticks to help make them easier to see in the dark. Add reflective tape to costumes and treat buckets to increase your trick-or-treater's visibility to traffic.
Keep your hands clean. Bring hand sanitizer and wash your hands when you get home.
Practice pedestrian safety. Look both ways before crossing streets. Use sidewalks to walk to the next destination. If sidewalks aren't available, walk on the edge of the road facing traffic. Cross at the corners of the street, not between parked cars.
Be considerate of other people. Visit only the homes with a porch light on and accept treats at the door.
Know where your trick-or-treaters are going and who they'll be with. Have a parent or responsible adult accompany young children during Halloween activities.
Adults should check candies before eating. Throw away any loose candy, candy with open wrappers, candy that could be a choking hazard, or unfamiliar brands.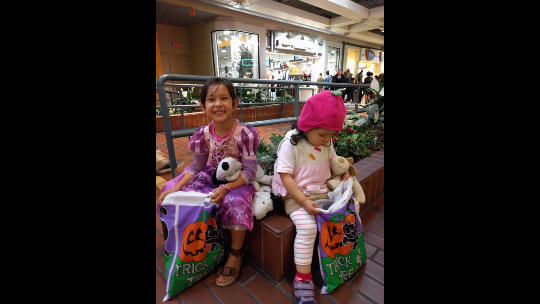 Keiki may want to check their candy (just to make sure it's still there!), but make sure adults go through their bags before they eat anything.
Handing out candy

Provide proper lighting and clear your sidewalks and steps. Having good lighting and a clear path helps visitors see where they're walking and prevent stumbles or falls.
Don't hand out candy if anyone in the household isn't feeling well or is isolating. This helps keep everyone as healthy as possible.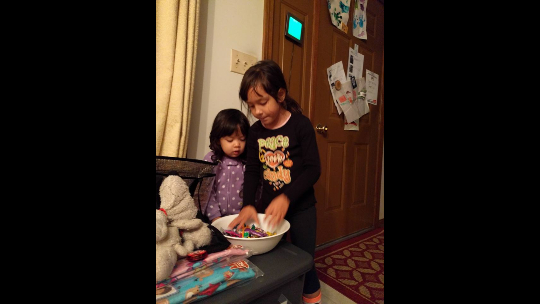 Keiki can help pass out candy, too! Just make sure an adult is there with them.
Driving on Halloween
Watch for trick-or-treaters. Sometimes people may forget to look both ways before crossing streets, so make sure you pay attention while driving. Many areas practice daytime trick-or-treating on Halloween, too, so children will be on the streets throughout the entire day.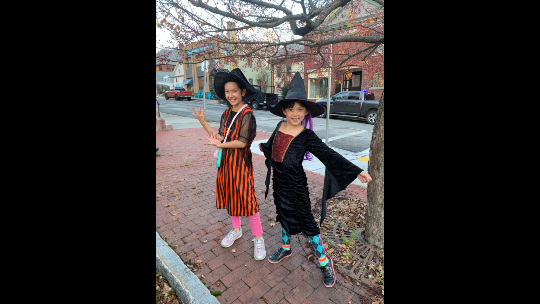 Keep an eye out for little witches, superheroes, and princesses crossing the street.
Memories of Halloween past
Trick-or-treating may traditionally be just for kids, but adults like dressing up and participating in Halloween festivities, too! We asked some HMSA employees about their favorite part of the holiday and their memories as keiki.
Allison Valdez
My favorite Halloween tradition is dressing up my son, Robin, who's a dog, and taking pictures of him and his dad (my husband). They really get into the Halloween spirit!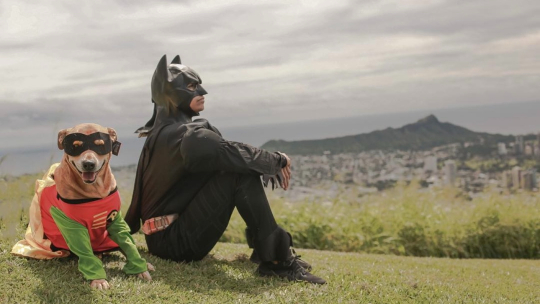 Robin (the dog) and Batman, his crime-fighting partner. Photo courtesy Allison Valdez.
Claire China (Mizushima)
Halloween in Kekaha on Kauai was all about the candy and being out in the dark with friends without parents. Our costumes were just brown paper bags with holes cut out for our eyes, nose, and mouth. That was it. But we knew where all the houses were that had the "good candy" and we headed there first — the caramel ones were the absolute best!
After a night of trick-or-treating, my two brothers, two sisters, and I would spread all our candy on the bed and sort and count and eat, sort and count and eat. Once in a while we'd hit the jackpot with a few of those mini Hershey's or a nickel or dime from the aunties and uncles.
Courtney Takabayashi
My daughter Cassidy was 3 months old for her first Halloween! She had one outfit (a black cat onesie) and two costumes. The first costume was a Subway sandwich. My husband loves Subway so he was tickled.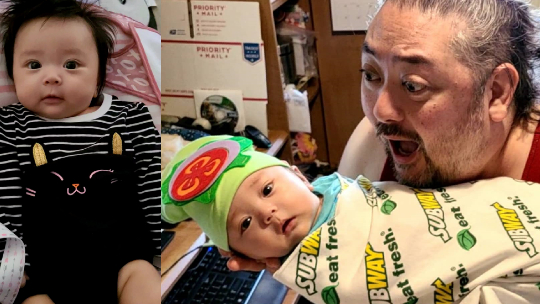 (From left): "Cat-ssidy"; Cassidy as a Subway sandwich. Photos courtesy Courtney Takabayashi.
When we were brainstorming baby names, I thought that if we chose the name Cassidy, it would be fun to call her "Cas" like they call Castiel in the TV show Supernatural. So her second costume was of Castiel! I made her a blue tie onesie, my friend's mom loaned us Scruff McGruff doll's trench coat, and I found black mini angel wings at the Halloween store! My best friend and I dressed up as the show's main characters, Sam and Dean, who are brothers. My husband was supposed to be Bobby (the older, grumpy father figure), but he lost his hat.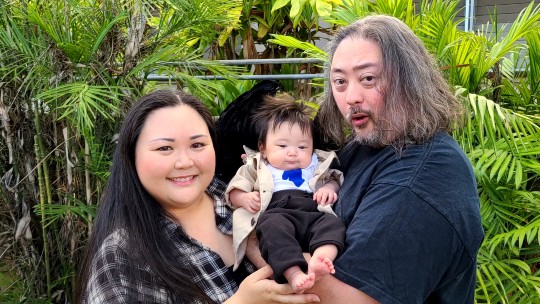 Courtney with Cassidy and her husband for Cassidy's first Halloween during the pandemic. Photo courtesy Courtney Takabayashi
Craig DeSilva
My fondest Halloween memories is flying to Maui with friends for the annual block party in Lahaina. It was the few times I got to visit the town's historic Front Street. I remember thinking how the old plantation-style shops, restaurants, and inns differed from Waikiki's more modern concrete jungle.
As for my costume, I always have a hard time deciding what to dress up as and it usually comes at the last minute. One year, I decided to go as shower man – I wore a bathrobe and bath slippers, wrapped a towel around my head, and carried soap, a body scrubber, and rubber ducky. But the showstopper was putting shaving cream on my face! My friends teased me about my low-budget costume compared to their fancier costumes. But I got the most comments from people as we walked the streets The downside was having to find a bathroom throughout the night to reapply shaving cream from the bottle I kept in my bathrobe pocket.
Erica Pobre
My best Halloween memory is enjoying Mickey's Halloween Party at Disneyland with my son, Kaulana! We rode the Nightmare Before Christmas ride 12 times in a row because the park was empty. They passed out regular-sized candy bars, healthy snacks, and treats a 5-year-old boy would love to have for dinner. Leaving the park, I weighed my son's candy bags and it was 25 pounds! It was too much to add to our check-in luggage, so we left a lot of candy and hand-decorated Happy Halloween cards for the hotel housekeeping crews.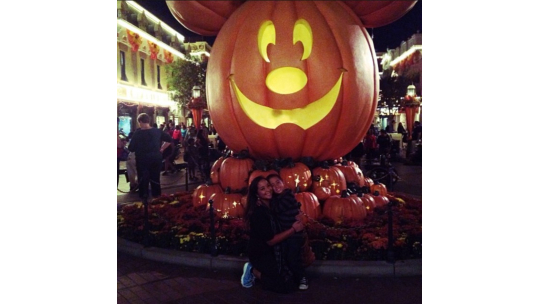 Erica and her son posing with the iconic giant Mickey pumpkin in Disneyland. Photo courtesy Erica Pobre.
Jana Onosaki
We love decorating cookies! The boys mainly love the icing for the cookies and eat it as they decorate.
My kids also love all their Halloween goodies from school, family, and friends. It's like Christmas and Easter in October! We spend time with our friends on Halloween – it's usually a late night with school the next day – but there's nothing better than seeing them have fun with the people they love.
During the COVID-19 lockdown, our neighbors set up treat stations with individual packages of goodies and games. We masked up and it was still a grand time for all the keiki and grown-ups.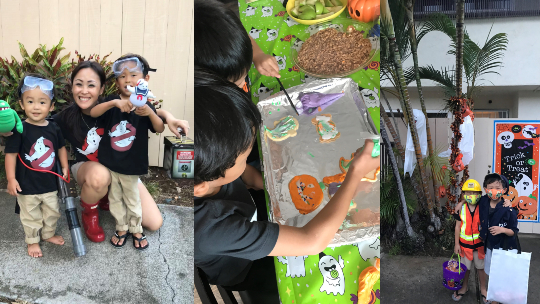 (From left): Jana and her sons in 2017; the boys decorating cookies; Halloween during the pandemic. Photos courtesy Jana Onosaki.
Lisa Baxa
We had a costume contest in middle school at Niu Valley. I put on my bon dance kimono and won most beautiful costume!
Melanie Lau
My favorite Halloween memory became a beloved memory in retrospect. When I was 8 years old, my parents picked out a pumpkin costume for me to wear to a Halloween party. All my friends had cute costumes; they were dressed as princesses or cool movie characters. But I had this lumpy, unflattering pumpkin costume and I was so embarrassed. I did enjoy how much candy I could store in the front pocket of my costume. Looking back, I think the costume was hilarious and my parents just wanted me to feel comfortable and have fun.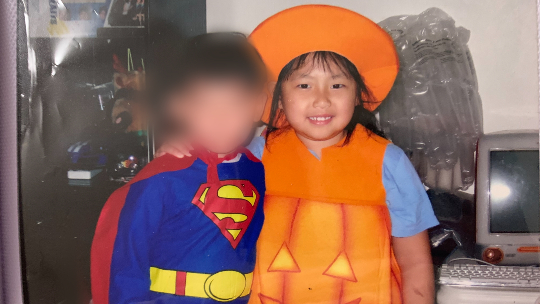 Melanie in her pumpkin costume. Photo courtesy Melanie Lau.
More Halloween fun
Check out these treats and crafts to make your Halloween spookier and sweeter!
diy mini mummy pinatas
Transform toilet paper rolls into mini mummy pinatas filled with candy! Your little ghouls and goblins will enjoy making, filling, and bursting them.
diy no-carve pumpkin decorating
Spruce up your Halloween pumpkins with a costume this year! All you need are a few supplies and your imagination to make your pumpkins into works of art.
kid-friendly halloween recipes
Learn how to make some Halloween treats, including spooky sandwiches, pumpkin and skeleton treat bags, and monster munch.