Whether you're an adult who turns your home into a haunted house or a kid who has five costumes lined up, Halloween is a magical night filled with tricks, treats, and fun. Here are some easy recipe ideas you can make to hand out or nibble on as the witching hour approaches.
SPOOKY SANDWICHES
The great thing about these sandwiches is that they're totally customizable. Use any type of bread, cookie cutters, and fillings you already have. We made peanut butter and jelly spiders and bats and cream cheese and cucumber ghosts and pumpkins. Other sandwich ideas include ham and cheese, chicken salad, egg salad, and bacon, lettuce, tomato.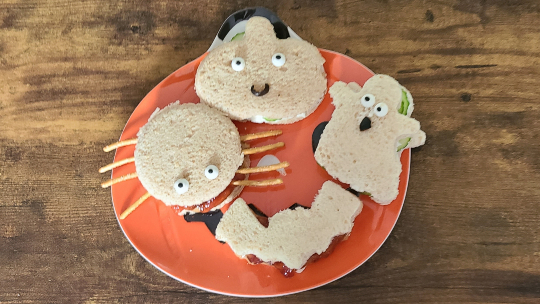 Ingredients
Whole-wheat bread
Peanut butter
Jelly
Low-fat cream cheese
Cucumbers, sliced
Pretzel sticks
Candy eyes (optional)
Olives (optional)
Supplies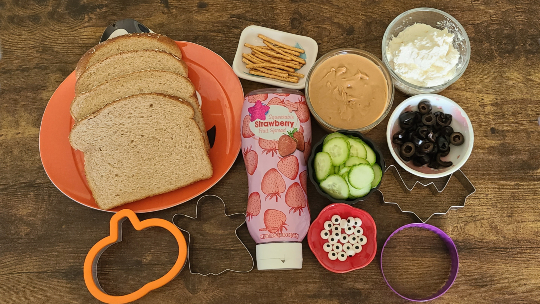 Instructions
Use cookie cutters to cut shapes out of bread. You need two slices of bread for each shape.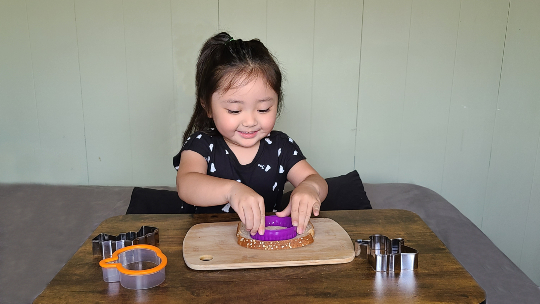 For peanut butter and jelly spiders, spread peanut butter and jelly onto one side of bread. Close sandwich and add eight pretzel sticks for legs. Use a tiny bit of peanut butter to stick on the candy eyes or use olives or chocolate chips instead.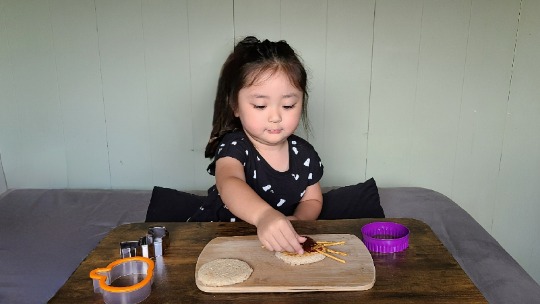 For the cucumber cream cheese sandwiches, spread cream cheese and top with cucumbers. Close sandwich and add candy eyes and olives for the mouth.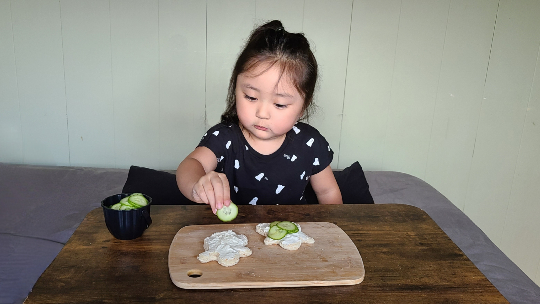 Admire your ghoulish creations and dig in!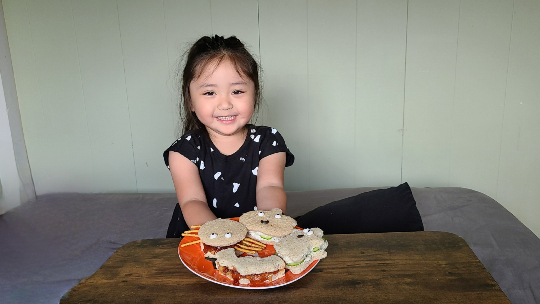 PUMPKIN AND SKELETON TREAT BAGS
These adorable treat bags are fun and simple for kids to make. Plus, they can show off their creativity and artistic skills while drawing the pumpkin and skeleton faces (or decorating them however they want). Whether you make pumpkins, skeletons, or both, they're perfect for giving away at school or parties. And we won't tell anyone if you want to keep a few for yourself!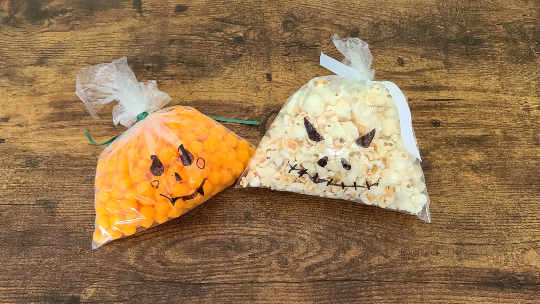 Ingredients
Supplies
Clear treat bags
Permanent marker
Green and white ribbon
Scissors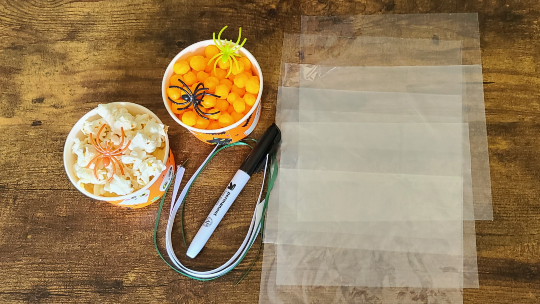 Instructions
Draw cute, silly, or spooky faces on the bags.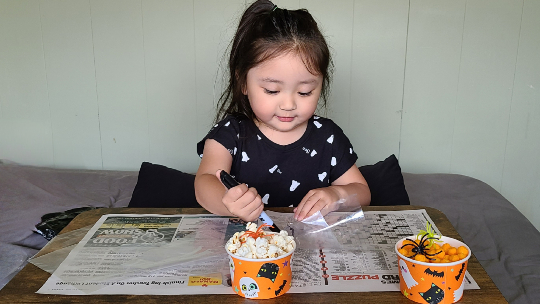 Add cheese balls to the bags you want to transform into pumpkins and popcorn into the bags destined to become skeletons. Note: We used a little stand to hold the bag open in the photo below.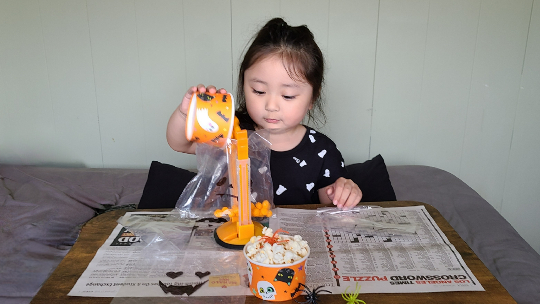 Tie a green ribbon to the top of the pumpkin bag and a white ribbon for the skeletons. You're done! Be sure to share them with your friends!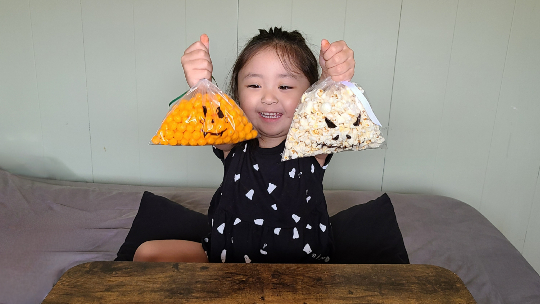 MONSTER MUNCH
This Halloween snack mix is a nice break from candies and chocolates and gives you the chance to enjoy other seasonal delights. We found ghost veggie chips, bat pretzels, creepy critter animal cookies, and more! We also added orange ingredients like fish crackers and cheddar multigrain chips for a more festive feel. Lastly, we incorporated a few candies for a sweet and salty balance. Feel free to add or omit anything you want. This is your kooky concoction!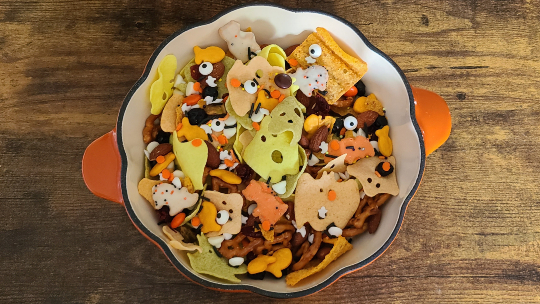 Ingredients
Bat and pumpkin pretzels
Cheddar fish crackers
Dried blueberries
Dried cranberries
Ghost veggie chips
Halloween sprinkles
Mixed nuts
Multigrain cheddar chips
Peanut butter chocolate candies
White chocolate chips
Note: If you have leftover pretzels, candy eyeballs, cheese balls, or popcorn from the previous recipes, add them to the mix!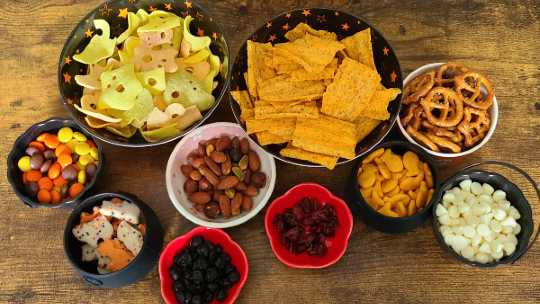 Instructions
Carefully pour ingredients into a cauldron, giant pumpkin, or huge bowl, whatever you have on hand. Be sure to do quality control checks by tasting ingredients as you go along.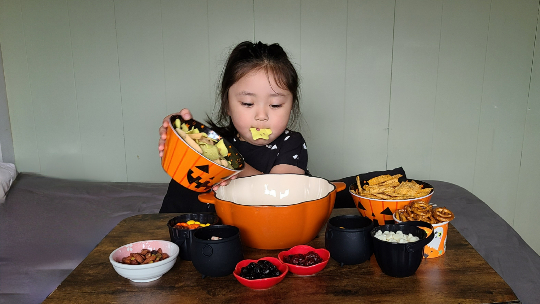 Once you've added all the ingredients, mix gently.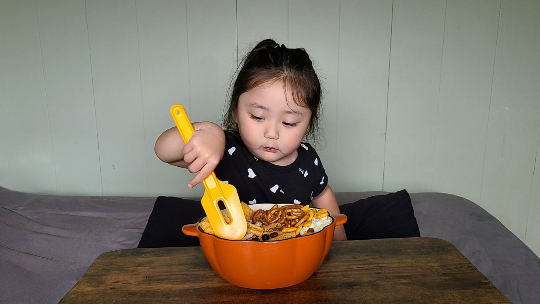 You're done! Taste your mix, make sure it meets your spooky (and tasty) standards, and offer it to any witches, goblins, or ghosts you encounter.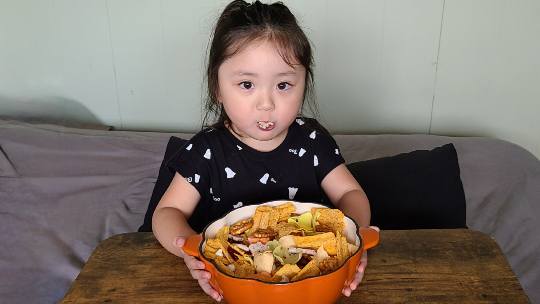 And there you have it! Fun Halloween treats without the terror of spending all day in the kitchen.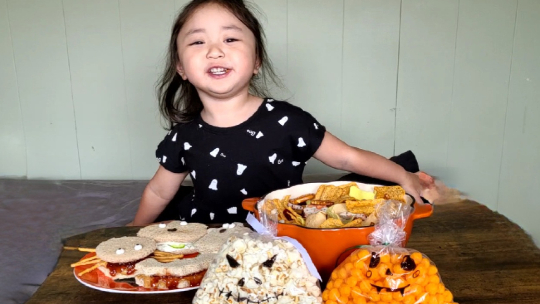 Be safe and Happy Halloween!
Witness the Halloween magic
First they made chi chi dango for Girls' Day. Now, mother and daughter duo Courtney and Cassidy Takabayashi demonstrate how to make easy and fun Halloween recipes.
Discover more
Check out more Halloween treats, crafts, and spooky stories!
3 spooky halloween treats
See how to make spooky Halloween teeth, apple spiders, and festive fruit kabobs.
5 healthy halloween snacks
It can be tough to find healthy options amid the parade of junk food offered during the Halloween season. Here are a few recipes that are so cute, your kids will forget they're eating healthy!
diy mini mummy pinatas
Gather your little ghouls and goblins (or children if you have them) for a fun and easy Halloween craft. They'll enjoy making, filling, and bursting these mummy pinatas made out of toilet paper rolls.
diy no-carve pumpkin decorating
Carving pumpkins is traditional at Halloween, but how about something a little different this year? With no-carve pumpkin decorating, all you need are a few supplies and your imagination.
diy spooktacular black cat treat holders
Make these adorable cat-shaped containers, stuff them with goodies, and give them to your friends.
halloween charcuterie board
Hosting your favorite gals and ghouls this Halloween? Then make this festive, customizable, and spooky charcuterie board. By incorporating a variety of meats, cheese, and other tasty tidbits, you're sure to please even the pickiest witch.
meet hawaii's real-life ghostbuster
Gabriel Del Aragon of Spooky Kine Investigations shares spooky tales of life as a paranormal investigator in Hawaii.