Cycling is good for the heart and soul. But riding a bicycle — an activity many of us can take for granted — can be a challenge for those with injuries or disabilities. Enter adaptive cycling. Adaptive cycling equipment and events offer people with physical disabilities the opportunity to experience cycling outdoors. For example, a handcycle can be used by a person with limited leg function and a recumbent bike can be used by a person with back or balance issues.
On March 18, REHAB Hospital of the Pacific, Adaptive Adventures, and other community partners held their first adaptive cycling event at Kapiolani Park in Waikiki.
Adaptive Adventures, a nonprofit that brings adaptive sports to communities, provided the specialized biking equipment. Trained physical therapists and other volunteers outfitted participants with an adaptive bike that fit their needs. Participants then enjoyed a ride around the park with a volunteer riding alongside. A red flag on a tall, thin pole was attached to their bikes for visibility.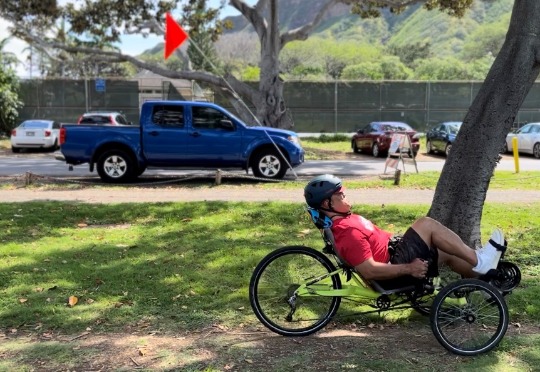 Participant Sepasitieni Feleunga.
One of the participants was Sepasitieni Feleunga, an HMSA member and spinal cord injury survivor who has limited leg mobility. Feleunga is an adaptive surfer and previously attended an adaptive cycling event on Oahu. He appreciated the opportunity to get outside and experience biking again with support from volunteers.
"I know that I'm safer doing these activities with this group instead of by myself," says Feleunga. "I'm counting on their expertise to help me not get more injured than I already am," he adds. "[Adaptive cycling] gives you the feeling of living again. It's like catching the first wave in a long time. When you're disabled and you don't do these normal things, just the little things in life really helps."
Stephanie Nadolny, President and CEO of REHAB, was excited to see the event come to life. Nadolny also serves on the Board of Directors of AccesSurf Hawaii, an organization that empowers people with disabilities through accessible beach and water programs such as adaptive surfing.
"With our beautiful weather and collective spirit of togetherness, Hawaii is the perfect place for adaptive sports. We're thrilled and excited to have our first adaptive cycling event on Oahu," she says. "There's incredible value that resources and programs like these have for our communities, and we look forward to providing more opportunities for people with disabilities and their families and loved ones."
Abbi Williston, a health and lifestyle coordinator at REHAB and exercise physiologist by background, was happy to join REHAB in returning to the community in one of their first in-person community events since the pandemic. "Exercise can be used as medicine. When people are disabled or have become disabled, it's really nice to see them using exercise to better their lives," she says.
See the action at the adaptive cycling event:
Event organizers say they plan to offer a series of adaptive cycling events down the road. To learn more, visit rehabhospital.org.
Want to read more about exercising in the community? Here are some articles to check out: