Daphne Manago regrets not hugging her son Zachary before he set off on a day-long bike ride around the island with his friends.
During that ride a week before Christmas in 2010, the 18-year-old Hawaii Pacific University freshman was killed by a hit-and-run driver near Wahiawa. "It was his last day of school and he was super excited preparing for the ride," she remembers. "To this day, it bothers me that I didn't hug him when I dropped him off."
Zachary, who started riding earlier that year, would bike from their home in Moanalua to HPU's Downtown campus and to baseball practice at Keehi Lagoon. He wrote an essay for a school assignment about the dangers of biking on Honolulu's roads and why the city needs more bike paths. "He was a careful rider," she says. "He always wore his helmet and used lights
at night."
Although he didn't live to see it, Zachary's vision for more bike lanes became reality in 2018 when the city and county of Honolulu dedicated the Zachary M. Manago Memorial Bikeway on Ala Napunani Street where he grew up. Although it doesn't erase the pain of losing her son, Manago takes comfort in knowing the bike lane on her street will help save lives. "It's what he'd want," she says.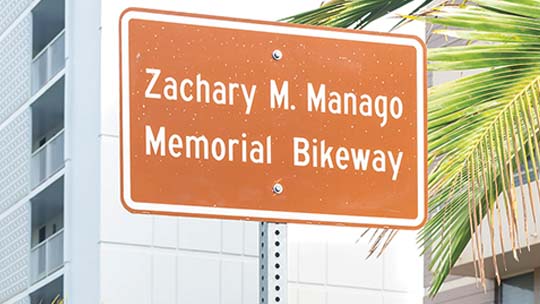 The city and county of Honolulu created a bikeway in Zachary Manago's Salt Lake neighborhood to honor his memory.
Since Zachary's death, the Hawaii Bicycling League (HBL) advocated for more bike lanes on his behalf. "Zach was so young and had such great promise. No family should go through that pain," says HBL's Chad Taniguchi.
In the past 10 years, Honolulu has created more bike lanes and paths, which has led to more bike riders and fewer crashes. "The best way to honor Zach's memory is to make our roads safer," says Taniguchi.
Last July would have been the 10th anniversary of Zachary Manago's Ride in Paradise, a 47-mile ride from the North Shore to Zachary's bike lane that was created to promote bike safety. Last year's event was canceled because of the pandemic, but Manago is looking forward to participating in the event this year.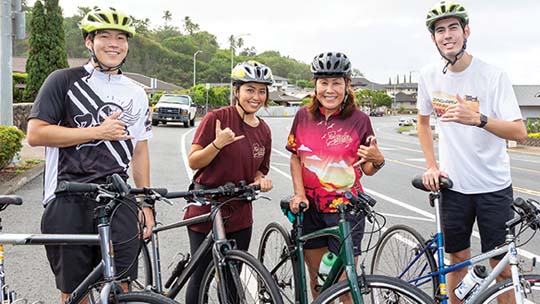 Daphne Manago (second from right) enjoys biking with a community of cyclists.
She recently took up biking during her retirement and logs about 30 miles a week. She enjoys the exercise and making friends with other cyclists. It's also given her first-hand experience of the hazards that bikers experience on the road. "I think Zachary made a difference," she says.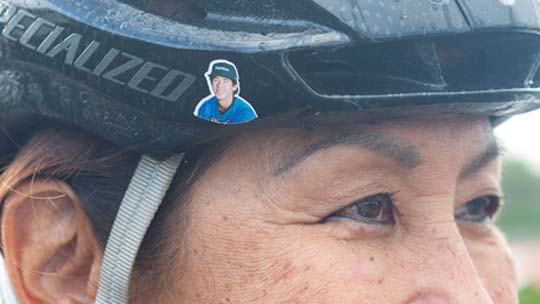 Daphne Manago's son is top of mind while cycling.
Although she never got to bike with him, Manago remembers the smile on his face when he'd ride and takes comfort biking in the lane named in his honor.
"I feel that he's riding next to me," she says.
like bike?
Interested in biking but don't know where to start? Look for safety classes, biking demonstrations, and other resources to make riding safer and more enjoyable.
Visit Biki's website or call 1 (888) 340-2454 toll-free.
Photos: Rae Huo