When the University of Hawaii's Lyon Arboretum closed last month because of social distancing orders, so did Phyllis Look's forest bathing sessions.
The expansive arboretum in Manoa Valley was an ideal location for forest bathing, a Japanese concept of immersing yourself in nature for better health and well-being.
But Look, founder of Forest Bathing Hawaii and the state's first certified forest bathing therapy guide, didn't want her 2-year-old business to go dark. Like many people dealing with workarounds while social distancing, Look got creative. She guided a virtual tour of her Manoa backyard garden using her mobile phone and a videoconferencing platform. Against the backdrop of shrubs, flowers, birds, and bees, she created a virtual forest bathing session for people to experience online.
"People participating throughout the state and on the Mainland commented how connected they felt to everyone and everything," says Look.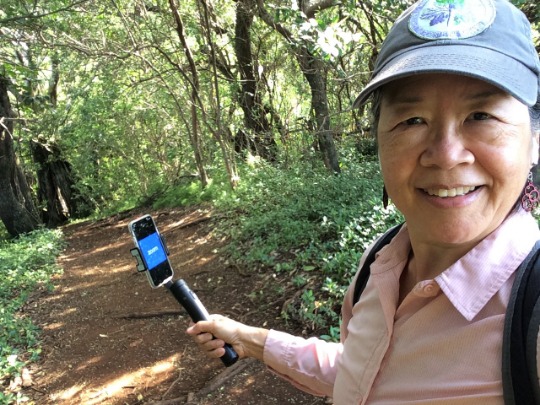 Forest Bathing Hawaii's Phyllis Look uses technology to give a virtual forest bathing session.
During this uncertain time, Look says nature therapy is more important than ever. It can help ease anxiety people may have due to health and financial concerns from COVID-19. "Whether forest bathing indoors or outdoors, taking just an hour to devote your attention to the natural world can be a profound, healing experience," she says.
Look has even gotten support from her Manoa neighbors who are allowing her to take virtual tours in their yards and farms. Even when social distancing orders are lifted, she may continue to offer virtual forest bathing as one of her services. "It allows older people who aren't mobile to still remember their relationship with nature," she says. "And it's ideal for young people since they're used to doing everything online anyway."
Forest Bathing Hawaii's virtual session will be free on Earth Day, April 22. Otherwise, there'll be a modest charge and a pay-it-forward option for people to sponsor complimentary virtual walks for first responders and essential employees.
"It's an opportunity to unplug from the daily news," says Look. "People can find peace and re-orient to find their way back to what's really important."