Nature. Wildlife. Conservation. These are a few things that inspire artist and author Caren Loebel-Fried. Her work, easily identified by her use of the ancient art of block printing and vibrant colors, is also inspired by Hawaiian culture and places in Hawaii.
While Volcano on the Big Island is her home, she's often exploring the Islands, studying native species and their habitats and researching Hawaiian history. Loebel-Fried hopes that her art and books will help people learn about the natural world and inspire them to care for it.
Legend in the making
Loebel-Fried's award-winning children's book, Legend of the Gourd, was published by Kamahoi Press (an imprint of Bishop Museum Press) in 2010. Loebel-Fried came across the legend while browsing the Bishop Museum archives. "It grabbed my attention as a compelling Hawaiian story loaded with tradition, drama, cultural practices, and powerful characters," she says. "I thought a picture book would be a great way to share this story of the strong, independent spirit of the people of Kau."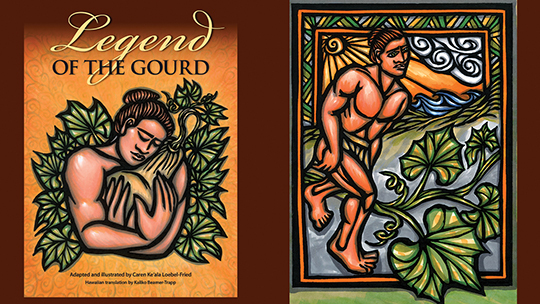 Cover and artwork from Legend of the Gourd.
When park ranger Wendy Scott-Vance, who works in the Kahuku Unit of Hawaii Volcanoes National Park, read Legend of the Gourd, she had an idea. She thought that the illustrated story laid out as panels along the trail could create an opportunity for visitors to walk through a storybook.
"Wendy proposed the idea of a storybook trail in Hawaii Volcanoes National Park as an event at Kahuku and spearheaded the project," Loebel-Fried says. "It was a huge thrill for me to walk the trail with Wendy. At the summit of the trail and end of the story, we stood high above and looked at the breathtaking, expansive view below. Our eyes swept across the storied Kamaoa Plain, taking in the ahupuaa of Kahuku in Kau, going north toward the Kona district, exactly where the story takes place."
A gift from mother to daughter
Loebel-Fried learned the art of block printing from her mother, Sheilah Loebel. "She carved blocks and created block prints throughout my childhood," Loebel-Fried says. "I still love the block-printing medium, which continues to intrigue and challenge me. I find it to be the perfect way to tell stories. My mom has been an artistic inspiration to me my whole life." Loebel continues her lifelong passion of art as self-expression. She's been using gourds as a medium for her art for the past six years, painting them in her signature style.
Spreading the word
A true steward of the natural world, Loebel-Fried creates educational materials about wildlife, conservation, and cultural connections for children, adults, conservation organizations, government agencies, and more. Every other year, Loebel-Fried volunteers on Midway Atoll for six to eight weeks with the albatross census team, counting about 500,000 active albatross nests, studying the seabirds and other wildlife. "I've always been obsessed with birds," she says. "They make excellent conservation ambassadors. Fun and fascinating to watch, endemic birds also teach us about the health of our forests and oceans."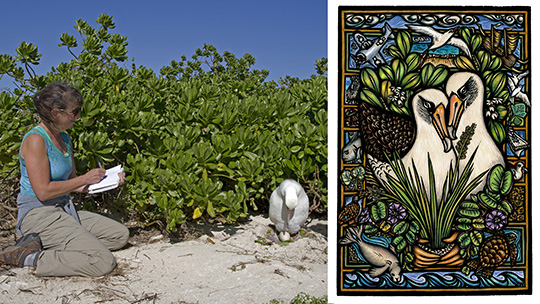 Sketching a Laysan albatross on Midway; block print inspired by Midway Atoll.
Learn more about Legend of the Gourd at Bishop Museum Press.
For a block printing demo and insight into Loebel-Fried's creative process, check out artist and champion of the albatross.