Award-winning author and artist Caren Loebel-Fried learned her signature style of block printing from her mother, Sheilah Loebel. "I grew up with her woodcut prints all around us, with her always carving wood blocks on the beach," Loebel-Fried says. "She's always been supportive of my own interest in art." After experimenting with drawing and painting, Loebel-Fried found her passion in block printing, Now, it's a special bond between mother and daughter. "It's fun to share aninterest with my mom," she says. "We talk almost daily about art and life."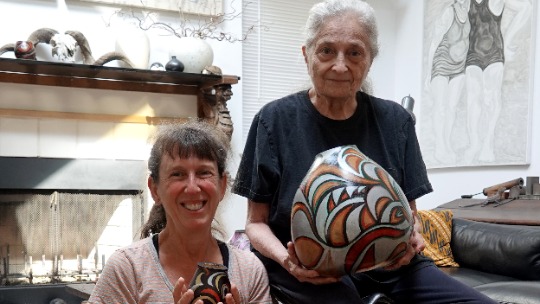 Loebel-Fried with her mother, Sheilah, holding her mother's painted gourds. Photo by Neil Fried.
Though she's been a block print artist for many years, Loebel-Fried still finds ways to challenge herself. "With each project, I try to find the best way to bring my subjects to life," she says. "I started adding color to black and white block prints with my first book project, Hawaiian Legends of the Guardian Spirits." Loebel-Fried's color medium of choice is watercolor pencils, which create textured, translucent color washes. "Watercolor pencils are perfect for visually playing with bird feathers, sea creatures, leaves, moss, wind and waves."
Check out Loebel-Fried giving a block printing demonstration:
World of seabirds
A lifelong bird enthusiast, Loebel-Fried has enjoyed learning about seabirds through her volunteer work. "Getting to know seabirds has been an incredible joy to me," she says. "Seabirds aren't easy to see because they live over the ocean and come to land only to nest. And, some seabirds are active only at night, making their lives even more hidden from us."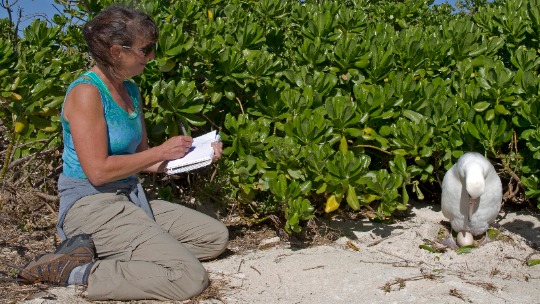 Loebel-Fried sketching a Laysan albatross. Photo by Dan Clark.
Having a special place in her heart for albatrosses, Loebel-Fried found an opportunity to volunteer with the albatross census team on Midway Atoll. "As I learned more about how vulnerable nesting seabirds are, my work became a way for me to bring their stories to people," she says. "I'm currently working on a new storybook about the Hawaiian petrel, a federally endangered native bird, and a young girl who loves them." For Loebel-Fried, it's important to tell hopeful stories, especially when it's a challenging subject, and educate readers about ways they can help. "I've always found art to be a great way to help tell a story."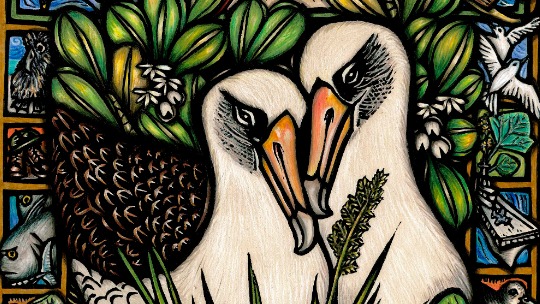 Midway Atoll hand-colored block print by Loebel-Fried.