If you've ever felt the joy and comfort of a family pet, you can begin to understand the power of animal-assisted therapy.
In animal-assisted therapy, providers use dogs, cats, horses, birds, or other animals as part of their treatment plan. It complements and enhances traditional behavioral health therapy and allows patients to feel more comfortable and supported.
James Westphal, M.D., medical director at Carelon Behavioral HealthSM, has seen the positive effects of animal-assisted therapy for people who have difficulty communicating with humans. "That may include people who have autism, psychotic disorders, depression, or anxiety," he says. "Animals can provide unconditional acceptance and support that humans often have a difficult time doing."
As a past medical director for the Hawaii State Hospital, Dr. Westphal says he's seen firsthand how patients who didn't relate to people very well would relate to animals.
"Some of the most withdrawn people who didn't respond to the nursing staff or other health care professionals would often pet or hold a dog. I consider that a breakthrough."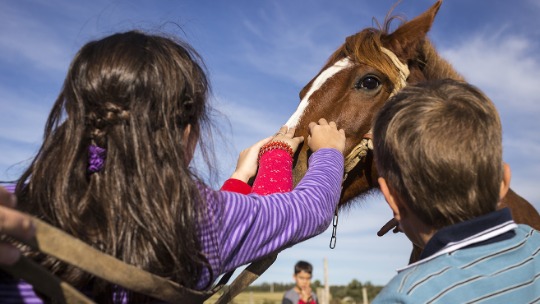 According to Pet Partners, a national organization promoting the health and wellness benefits of animal-assisted therapy, interaction with therapy animals in medical settings has been correlated with:
Decreased perceptions of pain.
Improved recovery rates.
Decreased anxiety and stress.
Less fear and worry.
Improved biobehavioral markers of stress.
Benefits of animal-assisted therapy have been seen in people of all ages with a variety of conditions. A 2018 study, for example, says that animal-assisted therapy may be helpful for children with cerebral palsy, Down syndrome, and autism. Another study looked at animal-assisted therapy for kupuna in long-term care facilities and concluded that it reduces loneliness in the residents particularly when they previously owned a pet.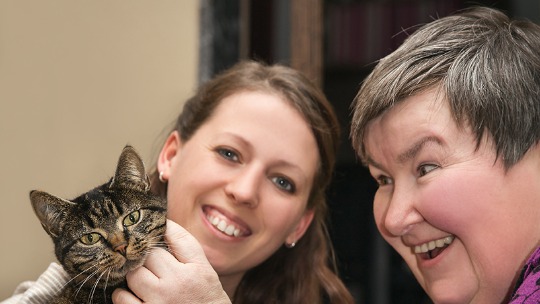 Emotional support animals and service animals also play a vital role in the lives of patients, but they're not the same as the animals that therapists use during a session. Service and support animals live with patients to provide companionship and help with day-to-day activities. Service animals are trained to help with a variety of issues and tasks such as mobility and balance, retrieving items, and guiding the handler to a specific place. Medical response service animals alert their handlers to an oncoming seizure or heart attack.

Dr. Westphal admits that more long-term research is needed to prove the benefits of animal-assisted therapy. But there's plenty of existing studies and anecdotal evidence of how well it works.

"I'm a wholehearted supporter of this type of therapy," says Dr. Westphal.

Check out more animal-related articles
all kinds of paw-some
There are many reasons people welcome a pet into their home. Whether it's for companionship, security, or just plain love, these creatures become part of the family. Here are a few stories of how four-legged friends influenced the health and happiness of humans.

finding a forever home
They're furry, friendly, and in need of a home. There are an unprecedented number of animals at the Hawaiian Humane Society right now. Learn how you can get involved and what you need to know if you're looking for a new addition to your family.

hope through action
Find out how one woman's medical misfortune led her to start Paw Posse Ohana, a Facebook group that reunites lost pets with their families.

how pets can improve your health
Pets are adorable, goofy, and full of love. But did you know that having pets can help improve your health? Here's how you can make the most of owning a pet.

the joys of small pets
Although many small pets still require a substantial amount of time and dedication, they can be a great alternative for people with pet-related allergies and new pet owners.

pets are the best medicine
Learn how pets can help your health and well-being.

Carelon Behavioral HealthSM is an independent company providing behavioral health utilization management and quality improvement services on behalf of HMSA.