There are many reasons people welcome a pet into their home. Whether it's for companionship, security, or just plain love, these creatures become part of the family. Owning a pet even has health benefits. According to the Centers for Disease Control and Prevention, walking or playing with a pet regularly can lower blood pressure and cholesterol levels. Pets can also help with loneliness and depression.
Here are a few stories of how four-legged friends influenced the health and happiness of humans.
Something to bark about
Sure, your dog can play with a pizza plushie or crinkle doughnut, but imagine them gnawing on an iconic white and red doughnut box complete with three squeaky powdered doughnuts. Thanks to Leah Lukela's ingenuity and creativity, your four-legged family member can play with plush toys shaped like shave ice, lau lau, Spam musubi, a bag of poi, and even Asato Family Shop sherbet.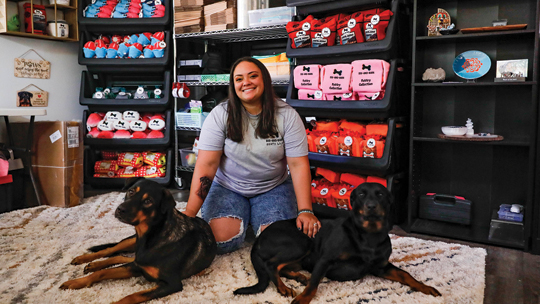 Lukela with her fur babies and merch. Photo courtesy Honolulu Star-Advertiser.
Lukela started Dis-and-Bark in 2021 in the midst of the pandemic. While she designs all the products, she answers to the CEO of the company, Rollo, her Rottweiler/German shepherd mix. "Rollo tests and approves all toys," Lukela says. "He has high standards!"
Since Rollo loves interacting with humans and other dogs, Lukela started planning dog meetups. "We hang out at the beach where the dogs can enjoy the sun, sea, and each other's company," Lukela says. "And the fur parents can talk story and relax."
Visit disandbark.com to browse and shop. Lukela is known for previewing new product releases on Instagram.
Fostering fuzzballs and love
Jennifer Farey's love for animals started at a young age. She has fond memories of her cat, Chewie. "He'd curl up in my lap whenever I'd read," Farey says. "I loved him so much." Years later, when she saw that Maui Humane Society had a fostering program, she signed up.
Farey has fostered a variety of kittens. "They've ranged from bottle babies to kittens with upper respiratory infections, to healthy ones that just needed time to get bigger," Farey says. "The first kitten I fostered needed eye drops twice a day and oral medicine once a day for 10 days."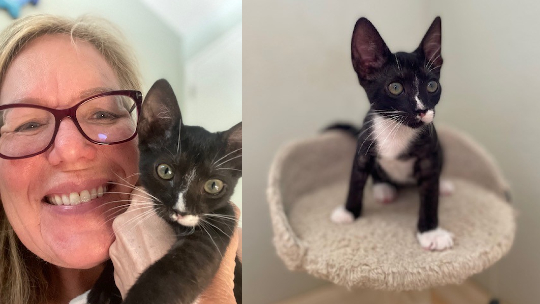 Farey and one of her foster fuzzballs. Photo courtesy Jennifer Farey.

Though it can be a lot of work, helping tiny kittens grow stronger is rewarding. "Fostering might be for you," Farey says, "if you're up for the challenge and have room in your home and heart."

Interested in fostering? Check out more fostering tips from Farey.

Helping cats and humans


Anyone who isn't allowed to have a pet at home but still would like to enjoy feline companionship can visit a cat café. Originating in Taiwan in the 1990s and gaining popularity in Japan, cat cafés recently made it to Hawaii.

Toe Beans and Dreams in Aiea is more than the typical cat café. While they offer refreshments and the chance to play with cats and adopt them like other cafes, they also provide job training for young adults with developmental disabilities.

Kat Charities, a nonprofit cat rescue, started the café to help connect animals in need of homes with those who are ready to enter the workforce, but could benefit from on-the-job training. Employees can choose whether they want to learn server skills or how to care for cats.

One employee, Momoka Gillis, always dreamed of being a barista. However, due to her anxiety, working in a high-stress environment didn't seem possible. The first time she walked into the cat café, she was so nervous she could barely speak. Now, she's a trained junior barista who greets customers and takes and makes orders. "Working at Toe Beans and Dreams taught me employable skills while building my confidence," Gillis says. "I've also made wonderful friends and discovered a sense of purpose in life."

She's currently broadening her skill set and is training to be a cat hostess as well. "I'm on my way to making my dreams come true."

Gillis tending to the cats. Photo courtesy Romeo Collado.
To learn more about cat adoption, programs, or volunteer opportunities, visit toebeanshi.com or call 808-488-7369.
Forever dog families
Dogs do a lot for us. They make us laugh, calm us when we're agitated, and surprise us with apparent forethought or perception. Dogs can also test our patience, annoy us, and maybe destroy something valuable. But it's OK because their eyes beam with unconditional love.
Having a dog in the family is like having a foot in the door to friendships that extend beyond the dog park. Even the most introverted individuals readily reply when a stranger asks, "What's your dog's name?" It's especially easy to reply when the stranger has a dog, too.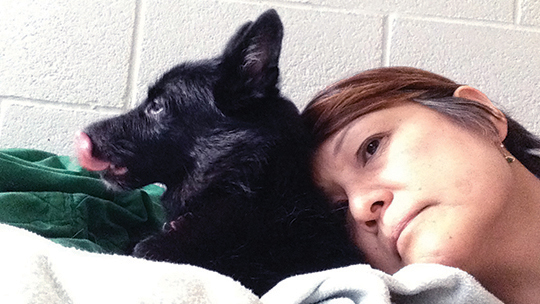 Marlene Nakamoto and Shadow, one of three Schipperkes that went over the Rainbow Bridge at 18 years old. Photo courtesy Marlene Nakamoto.
Eventually, the strangers learn each other's name and chat about sports, binge-watching TV shows, food, music. As friends, they share difficulties and challenges, gains, losses, and vents.
Many friendships endure after the dogs have gone over the Rainbow Bridge. But long before that, the friends were already family. That shared experience, that shared pain, serves to bond them further.