What does it mean to be a role model? You can probably remember someone in your life who encouraged you, saw you for who you are, and gave you something to aspire to. But many of today's LGBTQ+ teachers didn't have queer role models at school.
Jess Valdenarro is a teacher and performing arts teaching assistant at Kamehameha Schools. They identify as genderqueer and nonbinary, but they never had an LGBTQ+ teacher growing up.
"It wasn't something that was accepted then and it wasn't something that was talked about," says Valdenarro. "When people talked about the ones [teachers] that they thought were gay, it was always negative."
Witnessing discrimination and prejudice can have a lasting impact on kids who are just beginning to understand their identity. The 2017 National School Climate Survey found that 60% of LGBTQ+ students felt unsafe at school because of their sexual orientation. In Hawaii, LGBTQ+ youth are at startlingly high risk of drug and alcohol abuse, violence, and self-harm.
In contrast, having an "out" teacher gives students a safe adult to talk to. It's a lot to ask of LGBTQ+ teachers, who also face prejudice and discrimination in schools. But Keil Oberlander, a teacher at Waianae High School, says being out at work was the right decision for him.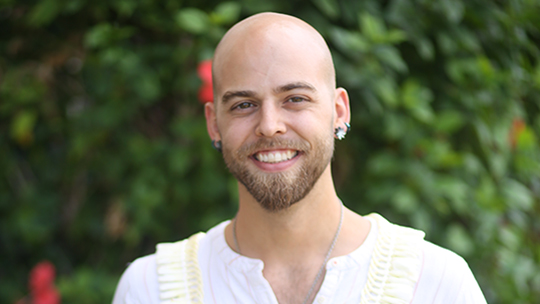 Keil Oberlander
"I've never had a problem with a student being in my classroom because I'm gay," he says. "I think by showing my true self, that made people more comfortable around me."
Oberlander is Lakota, a Native American tribe in South Dakota, and he recognizes a lot of similarities between the tribe's two-spirit identity and the Native Hawaiian mahu identity. Two-spirit Lakota people were what we now call transgender or nonbinary, they were spiritual leaders with elevated status and respect. Although the word "mahu" is sometimes seen as derogatory, it has a similar history.
This culture of inclusion and acceptance is one reason Oberlander thinks there's a stark contrast between his own experience of bullying in school and his students' experiences today. "At this school, it's just so cool to see people be so much more comfortable with it," he says. "It's just so much more part of the natural landscape at a majority Hawaiian and Pacific Islander school. And I think that extends from Hawaiian culture."
Despite the cultural advantages of living in Hawaii, some kids find their schools less accepting. It's common for LGBTQ+ youth to seek safe teachers like Oberlander and Valdenarro in the absence of support at home. "I spend a lot of my time making sure that I make it known to kids that it's a safe space, that they're able to have meaningful, deep conversations with me because I don't know who else is gonna do it for them," says Valdenarro.
For these students, having LGTBQ+ role models creates an opportunity to build resilience. Valdenarro recalls a seminar she took with clinical psychologist Robert Brooks about "charismatic adults," or adults who help children build strength and resilience. They learned that if students feel that teachers genuinely care about them, they feel safer.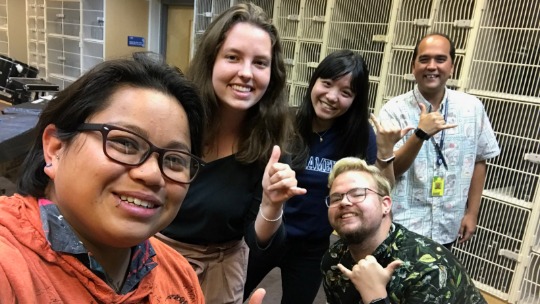 Valdenarro with her director and student teachers
"It struck home with me because I thought about it and I was like, 'Who was my charismatic adult? Who was my person that made me feel like I was the only person in the room when I needed someone to talk to?'" they say. "And that's what I ultimately do with the kids."
Being out at school is a personal choice that can come with big risks and sometimes, big benefits. Oberlander says his choice has made him feel at home in his classroom and with his students. "I think being out with my students was one of the best things that I could have done in my teaching experience because openness begets openness," he says.
If you or someone you know needs help, call the Crisis Line of Hawaii on Oahu at (808) 832-3100 or 1 (800) 753-6879 . The National Suicide Prevention Lifeline is also available 24/7 to provide free, confidential support for anyone in distress. Call 1 (800) 273-8255 or chat with a trained crisis worker.
Read more about Oberlander and Valdenarro in this story about how Hawaii's gay sports leagues foster community.