Keil Oberlander has always loved sports. He played year-round in high school, every sport except football. In his small South Dakota town, he was known as a star athlete. "In a town of 600, sports is everything," says Oberlander.
He was also known as the only person who was openly gay in a place where he says, "gay is the worst thing you can be." He'd been bullied since childhood for being honest about who he is. Despite his natural talent, Oberlander chose not to play football because of the macho culture of his school team.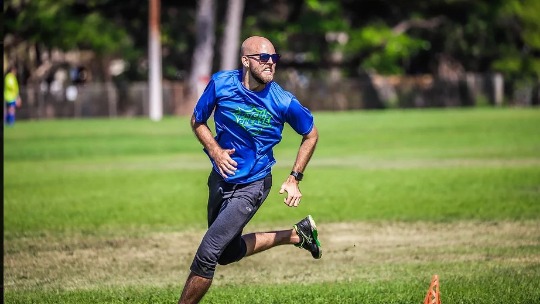 Oberlander playing with the Hawaii Gay Kickball League
Oberlander moved to Hawaii six years ago through a job with Teach for America. Since then, he's found a sense of belonging in Hawaii's gay sports leagues. He's been playing in the Hawaii Gay Kickball League since it started five years ago and he recently accepted a position on its board. "There was something unique about joining a gay sport because, as an athlete my whole life, I had never met another gay athlete. I always wished I had that community," he says.
He even joined the Hawaii Gay Flag Football League. "Just not being surrounded by that machismo made me love the sport so much in a way I never thought I could," he says.
Chasing rainbows
Melanie Murray and Jess Valdenarro have both played on traditional sports teams but only found family once they joined gay sports. "It's just a much different experience, going from a traditional league to a league that's geared toward our culture and geared toward our community," says Valdenarro.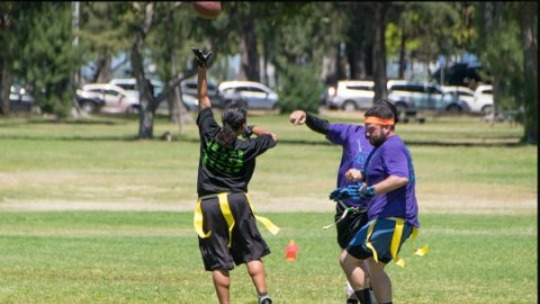 Murray playing with the Hawaii Gay Flag Football League
Murray played sports on high school teams where she'd had to hide that she's a lesbian. She's also played on the Police Activities League basketball team, traditional adult teams that were mostly men, and ones that were a mix of queer and straight women. Playing gay sports has been a different experience. Since she started five years ago, she's developed a sense of connection she was missing in traditional sports.
"I will always see this place [Hawaii] as a second home because it was so accepting," says Murray. "I have family here, yes, but it's the people I met who became instant family, who accept me and others the way they are. That's why I stay so close with the Hawaii Flag Football League and the Hawaii Kickball League."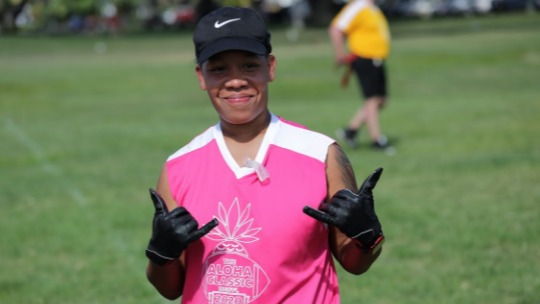 Melanie Murray
Sports family
For Valdenarro, games are an all-day affair. "I look forward to kickball every week. I show up early. I stay late. I help out where I can. If I didn't participate in gay kickball, I don't think I would have found a place to be happy," they say. "I'm a very social person. I'm a very community-oriented person. I volunteer a lot. When I moved here, I didn't have that."
Valdenarro values the gay sports community for their kids, too. Armani, 9, and Parker,13, tag along to games every weekend. They thought Armani would be bored, but he has fun jumping from tent-to-tent, eating and playing with an extended family of aunties and uncles.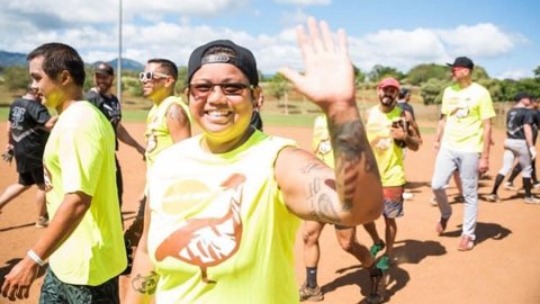 Valdenarro with their kickball team
It's been especially valuable for Parker, who identifies as transgender. "The awesome thing about kickball is we have a variety of people and there's just so many walks of life," says Valdenarro. "We have a lot of people who are trans that talk with Parker. One of them gave Parker two or three books that were written by a trans person for young trans people that might not be out or might have struggles for whatever reason, which I think is awesome because as much as experience as I have as a lesbian and gender nonconforming person, I don't have the same experiences that Parker needs."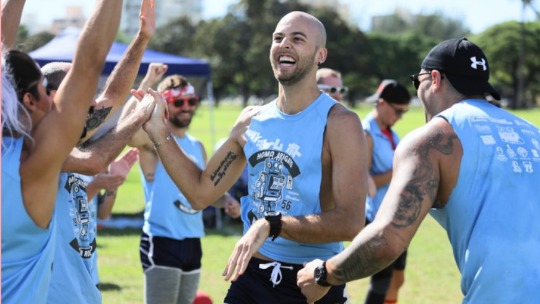 Oberlander celebrates with his kickball teammates
One thing Oberlander, Murray, and Valdenarro agree on is that gay sports is all about acceptance and community. It's competitive, but it's also accessible to anyone who wants to play. Any skill level, any sexual orientation or gender, any body size. All are welcome.
"That's what we do is we hang out and we support each other and we're truly there for each other and we're the family that we don't have here," says Valdenarro.