A ketogenic diet is high-fat, low-carb, which forces the body to use up its store of glycogen to reach a state of ketosis in which it burns fat. January 5 has been designated National Keto Day, which is the perfect day to celebrate with Keto Zuppa Toscana Soup.
Important: Consult your doctor before changing your diet.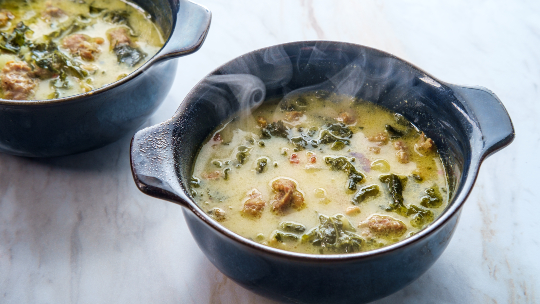 Ingredients
1 lb. mild Italian sausage, casings removed
4 slices bacon, diced
32 oz. beef broth
1 onion, diced
3 garlic cloves, minced
1 head cauliflower, cut into small florets
5 oz. baby spinach or coarsely chopped kale
1/2 cup heavy cream
Salt and pepper
Shredded Parmesan cheese
Instructions
In a Dutch oven over medium-high heat, crumble sausage and brown it with the bacon. Add broth, onion, garlic, and cauliflower. Bring to a boil. Reduce heat to medium, then cover and cook 15 minutes or until cauliflower is tender. Add spinach and stir about a minute until wilted. Stir in heavy cream and salt and pepper to taste. Remove from heat. Top each serving with shredded Parmesan.
If you're doing keto and want some real bread, bake a loaf of Ultimate Keto Bread.