Are you doing keto? How about low carb? If you're doing either of those, what's the first thing you cut from your diet?
Is it bread?
Anyone who does keto knows the struggle. Whether it's 90-second bread, "fathead" bagels, almond- and coconut-flour loaves, it seems that none of them can satisfy that craving … that need … for bread.
Here's a recipe that's on Reddit, which was based on a YouTube recipe. We tested the recipe and were ecstatic with the result –- a big, beautiful brown loaf that had risen higher than other grain-free bread recipes we tried. With 4 grams net carbs per slice, you can finally enjoy a real sandwich.
Read the notes for important tips.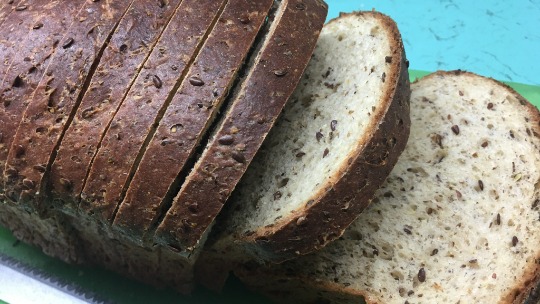 ULTIMATE KETO BREAD
Ingredients
1/4 cup warm water (80 degrees)
1 tsp. honey
1 Tbsp. instant dry yeast
1 cup oat fiber (NOT oat bran)
2/3 cup ground golden flax seed
1 cup vital wheat gluten
1/4 tsp. xanthan gum
1 tsp. salt
2 Tbsp. unsalted butter at room temperature
3/4 cup reduced fat (2%) milk warmed to 80 degrees
2 eggs at room temperature, beaten
Cooking spray
Instructions
In a small bowl, mix water and honey. Add yeast and stir to dissolve. Set aside.
Place remaining ingredients (except cooking spray) in the bowl of a stand mixer with a dough hook attachment. Add yeast mixture and mix on low speed to blend the wet ingredients with the dry. Stop mixer and scrape the bowl with a rubber spatula. Continue mixing on low speed for 10 to 15 minutes until dough is elastic and springs back when touched.
Remove dough to a work surface and shape into a smooth loaf. Place in 9-by-5-inch loaf pan prepared with cooking spray. Let rise 2 hours or until double in bulk.
Bake 40 minutes in preheated 375-degree oven.
Notes

Oat fiber is available online. Do NOT substitute oat bran.
If you can't find xantham gum at the health food store, get it online.
A stand mixer with a dough hook is highly recommended. If you don't have one, you may have to knead by hand for twice as long.
We got 15 slices from one loaf; you may get one or two more. A serrated bread knife is mandatory.
Per slice (15 from one loaf): Calories 110, protein 10 g, carbohydrates 8 g, total fat 5 g, saturated fat 2 g, cholesterol 30 mg, sodium 170 mg, fiber 3 g, total sugar 1 g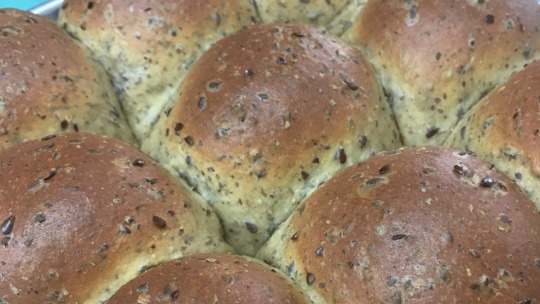 Rolls
Divide dough into nine pieces and place in a square baking pan prepared with cooking spray. Let rise 2 hours or until double in bulk. Bake in preheated 375-degree oven for 20 to 25 minutes.