Tending to loved ones who are seriously ill is a heavy burden that shouldn't have to be carried alone. After Harvey Young spent weeks in the hospital with no improvement, his wife Ginny received great news. An admissions nurse from Navian Hawaii realized the Youngs were HMSA members and that Harvey qualified for HMSA's Supportive Care Program.
"That was at the beginning of my hospital stay and I wasn't getting well," says Harvey, a Hawaii Kai resident.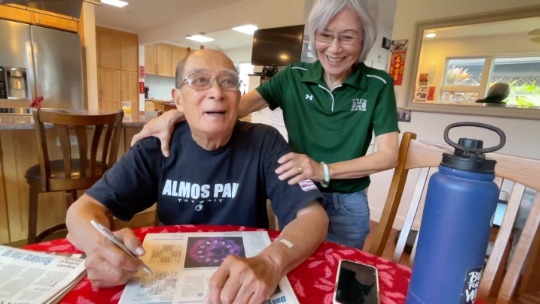 Harvey and Ginny Young
"When my husband got sick, it started with an infection," continues Ginny. "And then it turned to pneumonia in the right lung and then it was full blown pneumonia in both lungs. And that was on top of acute kidney disease. So things really got bad and we didn't know what to do."
For years, Navian Hawaii and HMSA have partnered to care for Hawaii's residents. Supportive care is offered regardless of the prognosis and can address physical, emotional, psychological, and spiritual concerns. It equips members and their caregivers with knowledge, resources, and personalized care to provide the best health outcomes.
"Integrated care and supportive care are our palliative care programs," says Navian Hawaii Admissions Registered Nurse Andrea Stamp. "The HMSA Supportive Care Program offers a comprehensive team approach to prevention and wellness. We have nurses, aides, chaplains, social workers, volunteers. We can provide so many services that people need. And it's not just for the patient, but for their families, too."
"I had all the help I needed," says Ginny. "I had the supplies and equipment. Everything was just so wonderful. The team that came … oh my goodness. I just want to thank them so much for their support. They were always there. They always came on time."
"In these situations, people are kind of scared and lost sometimes. It's so rewarding for me to be able to help them during that time," says Stamp.
"I'd like to thank the admissions nurse for being so akamai. They knew we needed a program where Harvey would have care and, most importantly, he would have curative treatment," says Ginny. "It's knowing that you have help and you're not in this alone. And if you have HMSA, you're in good hands. You're in very good hands."
To learn more about Navian Hawaii Integrated Care, call 808-924-9255. For more information on HMSA Supportive Care, talk to your primary care provider, visit hmsa.com/well-being, or call 808-948-5377.